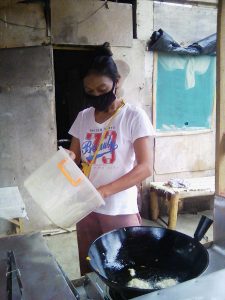 For Dina Dador and her family, life before the pandemic was already hard. But when the country imposed the community quarantine, living was like competing in a survival game.
Before the pandemic happened, Dina's family solely depended on the income that her husband earns from driving a "padyak" or pedicab in Butuan City. The family resides in Barangay San Agustin, Carmen, Agusan del Norte but due to lacking employment opportunities, Dina's husband had no choice but to stay and work in Butuan City.
Despite the means to support their family's needs, making ends meet was still difficult for the Dador family. In a day, Dina's family would earn Php250.00 only. From his daily earning, he would shell out Php40.00 to pay for the rent of the pedicab, Php5.00 to spend for his use of the public restroom where he takes a bath, and Php55.00 to buy his food. So at the end of the day, Dina's husband only has a take-home of Php150.00 for his hard work. He saves this and sends it to his family in Carmen. In order to lessen his expenses, Dina's husband also opted to sleep in the pedicab at night instead of renting a room.
Dina also experienced this situation when she went to visit her husband and check how he was doing.
But when the country imposed the community quarantine, almost all means of transportation, including pedicabs, were barred from operating. Dina's husband was forced to go back to Carmen.
Luckily, Dina and her family were surrounded by kind-hearted and helpful neighbors. Their neighbors discussed the family's plight and decided to refer them to the Carmen Municipal Social Welfare and Development Office as the family's neighbors deemed them to be a potential family beneficiary of the Livelihood Assistance Grant of the Department of Social Welfare and Development's (DSWD) Sustainable Livelihood Program.
After a tedious validation process, the DSWD-SLP found the family eligible to receive the livelihood assistance. Hence on December 23, 2020, the family was granted an amount of Php 10,000.00 to be used as seed capital fund for the family's street food cart – the livelihood project proposed by Dina.
Through the livelihood aid, Dina and her husband built a small food cart and bought the raw materials needed for their small business.
Last January, Dina started selling banana cue, fish ball, lumpia, kwek-kwek, kikiam, tempura, and fried chicken. In a day, Dina earns about Php 800.00-Php 1,000.00. Using her income, she would allot a portion of it to buy additional raw materials; a chunk to support her family's needs; and a wedge of it for savings.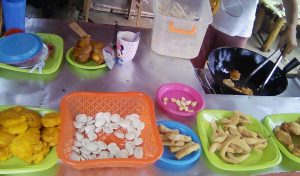 Fortunately, her husband has also been able to resume driving his pedicab in Butuan City since the city has already lifted the public transportation ban.
Although it is still a struggle to get by each day, Dina is still grateful to the DSWD-SLP for the livelihood assistance given to them. She said that it was the precise answer to their cry for help.
"Ang grant nakatabang og maayo sa among pamilya. Bisan gamay lang ang among income, dako na kaayo nga tabang ni aron makapamalit kamo og panginahanglanon sa balay. Kini sab naka-abag sa akong bana sa iyang pagpaningkamot og drive didto sa Butuan City (The grant has greatly helped our family. In spite of having only a little income, the earnings we generate from this has already been a huge assistance to us as it helps us buy our needs at home. In addition, this has also served as an aid for my husband who continues to work hard by driving his pedicab in Butuan City)," Dina shared.
Life may be harder for Dina and her family during the pandemic, but it isn't a reason for her to stop working hard and to cease taking care of her family. With the spark of hope brought by the Livelihood Assistance Grant, Dina had more reasons to strive harder for her family.