In observance of the National Women's Month Celebration, the Regional Inter-Agency Committee Against Trafficking and Violence against Women and their Children (RIACAT-VAWC) – Caraga, chaired by the Department of Social Welfare and Development (DSWD) Field Office Caraga, initiated its annual Women congress dubbed as "Womentum" via ZOOM, last March 26, 2021.
WOMENTUM or Women Momentum was institutionalized in 2018. It was established due to the inter-agencies' campaign that Women are a powerful force for development. This activity gives tribute to extraordinary women with extraordinary roles in the fight against Trafficking and other Gender-Based Violence (GBV) cases in the region. These women have contributed to the mandates of the Committee in ensuring safety and addressing gender needs of everyone especially women and girls.
Considering that this year's NWM celebration highlights the theme "We Make Change Work for Women" Juana Laban sa Pandemya:Kaya!, DSWD FO Caraga together with the RIACAT-VAWC Caraga agreed to highlight and recognize the active women-partners whose selfless commitment helped in addressing advocacies related to the medical and prosecution issues related to women and girls.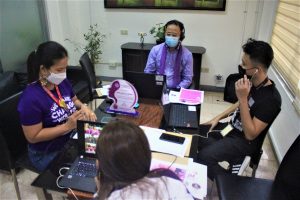 "We believe that they (the duty bearers) can give a big impact and share to accomplish our mechanisms in order to combat Gender-Based Violence (GBV)," Protective Services Division (PSD) Chief Jessie Catherine B. Aranas said. She also emphasized that the accomplishments of the fight against GBV cases would never be possible without the help of the stakeholders and the inter-agency committee.
With the official hashtag #JuanaBidaKaSaCaraga, four (4) extra ordinary women shared their experiences in their fight against human trafficking and VAWC.  They were Benjilieta P. Notada, M.D, Medico-Legal Officer/MHO at Taganaan, Rural Health Unit; Pros. Noreen T. Ato, Assistant Provincial Prosecutor in Agusan del Norte; Pros. Leilani C. Empeso, Deputy City Prosecutor in Butuan City; and Maria Christine G. Mordeno, M.D., Medical Officer III at the Agusan del Norte Provincial Hospital, Butuan City.
They also gave their expertise in identifying cases of human trafficking and GBV cases, as well as articulating the trafficking in person's act and other related laws to the audience.
Dr. Mordeno, who is assigned at the women and children protection unit, shared the services they offer for women and children who were victims of violence, which resulted to depression and some, eventually led to teenage pregnancy.  She showed the specified rooms in the clinic, such as the assessment area, playpen area, and examination area intended for the recovery of the victims.
"Women in the Legal Profession are sometimes regarded to as very emotional and very sympathetic, and sometimes these qualities are looked upon as our weaknesses. But being in the legal profession for quite some time already, I believed that these qualities are our strengths. Personally, these qualities have helped me handle all my cases successfully." shared Pros. Empeso.
Prosecutor Ato also shared the values she learned in her years of service as a prosecutor. "I have learned a lot about women, I have seen two (2) kinds of strong women. The first one is the one who will endure as much as she can and for as long as she can. And the second one is the strong woman who is able to stand up for herself and say "enough is enough". My hope is that we will aspire to be not just the first kind of strong women, but also the second kind. The one who has the strength to make her voice heard asserts her rights," she said.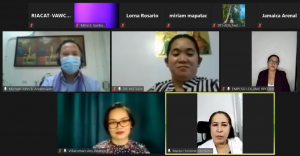 Dr. Notada also shared that in her 11 years in service, she witnessed the struggles of women, especially in order to fit in the society's expectations on women. "To help them cope u, our department focuses on work that can help alleviate that women have to deal with. We offer them family planning services, vaginal deliveries, Pap smear or VIA. We advocate Violence Against Women and their Children by educating them on their basic human rights." she added.
The activity ended with the giving of plaques of recognition to the speakers. In this continuing fight to combat GBV cases, RIACAT-VAWC Caraga and DSWD Field Office Caraga urges everyone – men and women, to participate in any means and capacities in creating a world that is free from gender-bias and violence.