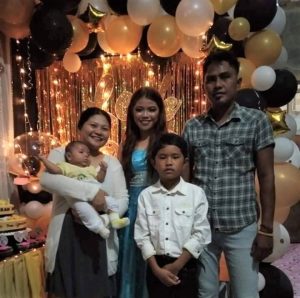 You will know when you are in Barangay Cagbaoto, Bayabas town, Surigao del Sur province, if you will hear the name Loyda, Loyds, Ate Loyd, or Loyda Egina. This is not because she is someone in power but because she is everyone's favorite person to call. You need help or any assistance? Call, Loyda. Someone got in an accident? Call, Loyda. You want to eat bilibid and ice candy? Ask for Ate Loyda.
Loyda Pacheco Egina is a loving wife and a mother to three beautiful children. At 36, she has dedicated her life into serving not only her family but the community.
She is a community volunteer for Kapit-Bisig Laban sa Kahirapan – Comprehensive and Integrated Delivery of Social Service (KALAHI-CIDSS) program since 2014. She was also the president of the Women's Organization under Sustainable Livelihood Program (SLP), a parent leader of the Pantawid Pamilyang Pilipino Program (4Ps), a Barangay Health Worker, and a member of the Community Emergency Response Team. Recently, she was hired as KALAHI-CIDSS Municipal Community Empowerment Facilitator (CEF).
KALAHI-CIDSS, SLP, and 4Ps are the three anti-poverty core programs of the Department of Social Welfare and Development (DSWD).
With all the different responsibilities she has, she still manages to bond with her friends, cook for her family, and even breastfeed her three-month-old baby. However, it wasn't always easy for Loyda, she has her share of uphill battles in life.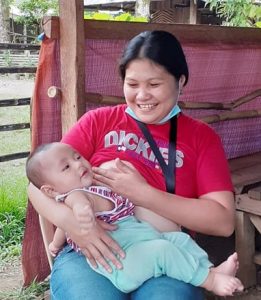 Life's trials and uphill battles
Married at a young age, Loyda experienced the harsh reality of life. Just one month after giving birth to her eldest child, Loyda was forced by her mother to find a job away from home. Loyda was hesitant about the idea because she wanted to be with her daughter always. However, due to the hardships her family was in and her mother's disappointments, she made the sacrifice.
For two long years, Loyda worked hard from being a cook, a sales lady, to a househelp. She sent all her hard-earned money to her mother, who was the one taking care of her child. Eventually, Loyda decided to go back home to be with her husband. The eldest child was still in the custody of Loyda's mother though.
The couple were happy when Loyda gave birth to their second child. However, just when they thought everything was sailing smoothly, life's trials began to emerge. The second child was diagnosed with rickets, a disorder that softens and weakens the bones that developed due to lack of vitamin D.
Loyda was hurt to see her child suffer in pain and could not do anything. Not having enough money to sustain her child's medical needs makes it even more difficult. She has no one to turn to other than her husband, who earns meager income working as a laborer in a construction site. The couple was devastated when the child succumbed to the illness.
Loyda felt helpless thinking that maybe her mother was right: if only she finished her studies and had a good job then she will not be in such devastating situation. They eventually lost their second child due to the condition.
However, Loyda won't easily give up. She is a fighter. Slowly moving on with the loss, she maintained a positive outlook in life and held on to her strong faith in God, who blessed them with a third child – a healthy baby boy.
To support their growing family, Loyda and her husband had to work double time. At night, the couple prepare and cook bilibid (a delicacy made of grated cassava) which they will sell at P5.00 each in the morning. They also peddle ice candy. Such small businesses helped Loyda, who also offers manicure and pedicure services. Loyda was fully contented with all the love and everything that her family have. Years later, she gave birth to another child.
However, Loyda experience another blow when the said child was diagnosed with rickets, the same illness that claimed the life of her second child. Loyda stayed strong for her daughter.
Loyda recalled how hard it was when her daughter was confined in a hospital in Davao City. She was alone in taking care of the child. When she realized that her daughter won't make it to recovery, she brought her back to Bayabas. A day after the death anniversary of her second child, her fourth child passed away.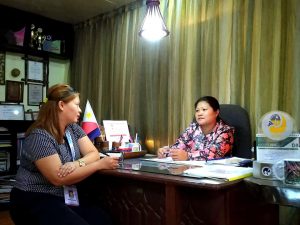 Standing up, staying strong
That time, despite being busy taking care of her sick daughter, Loyda accepted the responsibility to become the president of the Women's Organization. She also later volunteered to become a Barangay Health Worker. In 2014, she was elected as Barangay Sub-Project Management Committee (BSPMC) chairperson for the KALAHI-CIDSS program. It was the time when Loyda felt she wasn't carrying her burdens alone as there are many good people willing to help her.
With a teary-eye, Loyda repeatedly said how grateful she is to the DSWD, to the Municipal Government of Bayabas, to the Social Welfare and Development Office, and to everyone who supported her along the way.
Despite the many trials and challenges that Loyda experienced, she stood up and opened up her life to the people. She decided to serve the community through the programs and services of the government.
Loyda has found a brighter side and have met many good people along the way. The choices she made helped her to become a better person. As KALAHI-CIDSS CEF, she is now changing lives by empowering people of Bayabas. Indeed, Loyda is a "wonder mom" and full of malasakit (compassion) to the people. (Story by Bea Josephine Ann S. Eco, MFA)