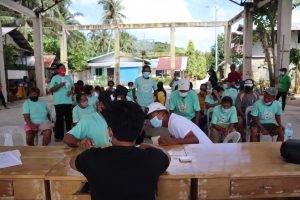 DSWD Field Office-Caraga – The Department of Social Welfare and Development (DSWD), in coordination with the Local Government Units (LGU) in Caraga region, is currently conducting the Social Pension for Indigent Senior Citizens Program payout/distribution of the stipend grants for the 1st Semester of 2021.
As of April 26, 2021, DSWD Caraga has a total amount disbursed of Php239, 775,000.00 distributed to the 23, 134 senior beneficiaries in Agusan Del Norte, 34, 808 in Agusan Del Sur, and 21, 983 beneficiaries in Surigao Del Norte. This brings the total to 79, 925, or 53% of the total 170, 000 targeted beneficiaries for the region have received their grants.
Relative to the generation of payroll and schedule of pay outs, an on-going validation to the non-validated active beneficiaries across Caraga Region is also being conducted. The Field Office still has 38, 000 active beneficiaries for validation/revalidation, which is composed of temporary replacement senior citizens and waitlisted individuals or new applicants. But with determination of the Department in delivering its services 14, 723 have already been validated as of this writing. DSWD workers have been augmented to expedite the validation process and ensure that all payouts for the 1st semester will be completed by June.
Base on the Omnibus Guidelines in the implementation of the Social Pension for Indigent Senior Citizens Program, to ensure effective and efficient implementation of the program, one of the steps in the generation of the payroll is actual validation as proof of qualification for the beneficiaries.
DSWD is trying all efforts to explain to those who are yet to receive their pension since they are yet to be part of the current payroll, pending validation. DSWD explains that after they will be validated, another payroll will be prepared and a special payout will be scheduled for them to receive their pension by June.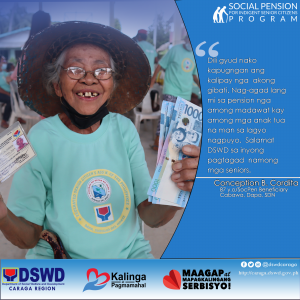 For those who have received their pension, they are all thankful for the timely payout by the Field Office.  Conception Cordita, 87 years old  beneficiary from Cabawa, Dapa, Surigao Del Norte expressed her thanks saying "Dili gyud nako kapugngan  ang kalipay nga akong gibati. Nag-agad lang mi sa pension nga among madawat kay among mga anak tua na man sa lagyo nagpuyo. Salamat DSWD sa inyong pagtagad namong mga seniors (I Can't contain the happiness I felt. We depend on the pension we get from Social Pension since our children are already living far from us. Thank you DSWD for your thoughtfulness to us seniors)", she happily shared.
For bedridden beneficiary Zenaides Solana of Cabawa, Dapa, SDN who received her grants through house-to-house release, she could not help but be overwhelmed by the act of the paymasters who really went out of their way to give her her pension.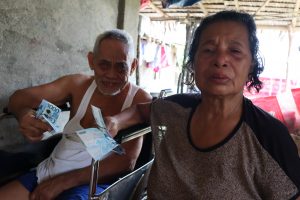 "Oy, Salamat kaayo sa inyo DSWD sa inyong sakripisyo aron mahatagan ako sa akong pensyon. Wala gyud mi pangita para makasustinir sa among inadlaw adlaw nga panginahanglanon. Para masustinar among matag adlaw, manghulam kog kawarta o kaha magkuha lang ko sa tindahan unya bayaran ra nako inig makadawat na mi sa among pension (Thank you so much DSWD for all your sacrifices to give me my pension. We do not have any source of income to sustain our daily needs. To get through the day, would sometimesI borrow money or get some goods from neighbor's store then pay them once I receive my pension)", she shared.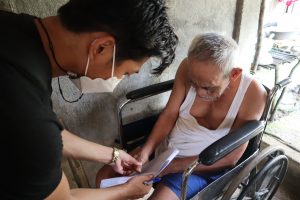 Republic Act No. 9994 or the "Expanded Senior Citizens Act of 2010" institutionalizes social protection to senior citizens by providing government assistance through the Social Pension for Indigent Senior Citizens (SPISC) Program, of which they are entitled to a Php500 monthly pension that aims to augment the daily subsistence and other medical needs of the beneficiaries.