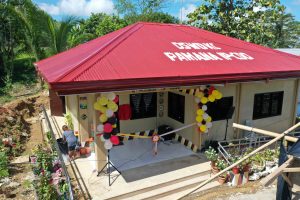 The Department of Social Welfare and Development (DSWD) Field Office Caraga have officially turned over two tribal centers, which are subprojects under the KALAHI-CIDSS PAMANA Indigenous People-Community-Driven Development (IP-CDD) program Cycle 2, to the Manobo tribal communities of Barangay Sta. Cruz and Barangay Maligaya in Rosario town, Agusan del Sur province.
The turnover ceremonies in Barangay Maligaya and Barangay Sta. Cruz were held on May 11 and April 29, 2021, respectively.
PAMANA (PAyapa and MAsaganang PamayaNAn), under the Office of the Presidential Adviser on the Peace Process (OPAPP), is the government's framework for peace and development. It is implemented in conflict-affected communities, as well as in areas covered by existing peace agreements.
KALAHI-CIDSS (Kapit-Bisig Laban sa kahirapan – Comprehensive and Integrated Delivery of Social Services) falls under the second strategic pillar of the PAMANA framework, which is building resilient communities. The project objective is to improve the access of KALAHI-CIDSS areas classified as conflict-affected barangays (CABs) to basic social services and responsive, transparent, and accountable local governments.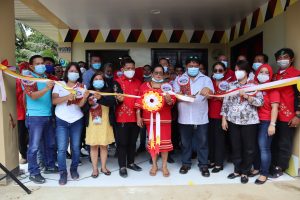 In Barangay Sta. Cruz, the 89 square-meter Himunanan Tu Tribu (tribal center), which cost Php2,856,924.00, has two restrooms, an office, and a small kitchen. It is complete with a rainwater collector, split-type inverter air conditioning unit, Wi-Fi, three wall fans, a water dispenser, two office tables, fire extinguishers, and 50 monoblock chairs.
The building amenities are in-kind counterpart from the local government unit (LGU) of Sta. Cruz. The facility is built not just for the Manobo tribal community but including the non-Indigenous Peoples in the barangay.
The project, which was completed on December 12, 2020, is expected to serve 206 household beneficiaries in the said barangay.
Hawudon Gawahon Emeliano Pugosa, Sta. Cruz Community Sub-Project Management Committee chairperson, said that the IPs have a huge role in nation-building, adding that many IPs join the leftist movement due to lack of government projects or services in the far-flung tribal communities.
"Dako ang role sa tribu sa community. Ang atong nasud hinay ang pag-usad sa ekonomiya tungod sa insurgency. Almost 70% tribu ang nabiktima, tungod kay ang tribu is a vulnerable sector sa atong society, tungod kay usahay dili maabot ang serbisyo sa goberno sa pinaka ubos ug layo nga lugar sa komunidad. Mapasalamot mi nga gihatagan kahigayunan, pinakusgan sa atong Presidente Duterte ang ELCAC [The tribal community have a huge role. Our country experience slow economic growth due to insurgency. Almost 70% of the IPs, which is a vulnerable sector in our society, (fell victim to the communist ideology) as the government's projects and services could not reach the remote areas in the country. We are thankful that we were given a chance through President (Rodrigo) Duterte's strong push for ELCAC.), Pugosa said.
The Philippines is experiencing over 50 years of communist insurgency and is now doubling its effort to combat and quash the rebellion through the "whole-of-nation" approach by the National Task Force to End Local Communist Armed Conflict (NTF-ELCAC).
DSWD Caraga PAMANA IP-CDD focal person Annabella Madelo, during the turnover ceremony last April 29, said that the project was completed because of the cooperation and unity of the community as well as the contribution of the LGU.
"Kabalo ko nga dili ni ma ingani ang hitsura kung wala ang pagtinabangay sa tanan stakeholders nga nagpuyo dri sa Sta. Cruz ug sa municipality sa Rosario. Karun pa ko kakita og usa nga building nga gi.implementar namo sa KALAHI-CIDSS nga adunay aircon ug fully-furnished. Sa among gihatag nga plan, gipasobrahan pa gyud pinaagi sa in-kind nga counterpart sa munisipyo ug sa barangay. Gi-acknowledge na sa Departamento (This building won't be completed without the cooperation of all the stakeholders in Barangay Sta. Cruz. Since I started in DSWD, it is only now that I saw a building of KALAHI-CIDSS that has an air conditioning unit and is fully-furnished. The Department acknowledges the fact that the LGU has even given more than what was in the plan for the project)," Madelo said.
"On behalf of our OIC-Regional Director Ramel F. Jamen, gipaabot namo among mainiton nga congratulations sa katawhan sa Barangay Sta. Cruz ug mainiton nga pasalamat sa LGU sa Rosario, ug sa suporta sa tribung Manobo (we would like to extend our warmest congratulations to the residents of Barangay Sta. Cruz as well as our warmest gratitude to LGU of Rosario and the support of the Manobo tribe)," she added.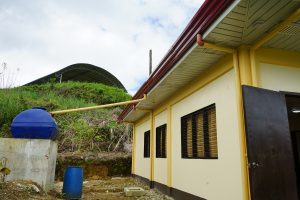 "Ang kaning subproject pakapin lang kini sa atong proseso. Sa KALAHI-CIDSS, ang giimplemtar gyud namo sa ang proseso nga CDD (Community-Driven Development). Kung mo-ingun gani ta CDD, ang komunidad ang modesisyon kung unsa gusto nila nga kalambuan ug kung unsaon nila pagamit sa pondo nga gihatag sa OPAPP pina-agi sa DSWD (This subproject is just a bonus. In KALAHI-CIDSS, what we really implement is the CDD process. When we say CDD, it is the community who decides what development they want and on how to use the fund given by OPAPP through the DSWD)," Madelo added.
In the mountain barangay of Maligaya, an 89 sq.m. tribal center was also turned-over, complete with two restrooms, an office, a small kitchen, a rainwater collector, wall fans, and water dispenser.
The construction of the tribal center, which costs Php3.4 million, started in September 11, 2020 and was completed on December 22, 2020. The subproject targets to benefit 98 household beneficiaries in the area.
"Ang proyekto dili sa DSWD. Ang proyekto nag-gikan sa inyo. Mao na nga ang kaakuhan inyo gyud na nga ipadayon. Kay sayang proyekto nga nagkantidad og P2.6 million kung dili maatiman (The project does not belong to DSWD, but to the people. Thus, it is important for you to continue the responsibility of taking care of the project so that Php2.6 million won't just go to waste)," KALAHI-CIDSS Deputy Regional Program Manager Ester V. Villamor told the Manobos in Barangay Maligaya.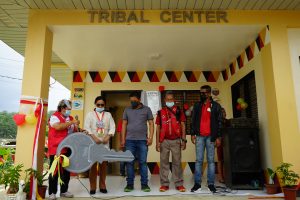 Rosario Municipal officials were thankful to the government for the Himunanan Tu Tribu and commit to take care of the said tribal centers.
"Ang commitment nako ani isip amahan sa lungsod sa Rosario is pag-suporta ra gyud. Kung unsa man na inyong gusto mahitabo sa inyo nga mga programa, 101% suporta gyud mi (My commitment as mayor of Rosario is that I will support. Whatever programs you will implement, I will 101% support," Rosario Mayor Jupiter C. Abulog said during the turnover ceremony in Barangay Sta. Cruz.
"Ang ato local government, ang ato municipal mayor, kami sa legislative, andam gyud kami mag-suporta kung unsa mga kakuwangon. (The local government, the mayor, and we at the legislative body are ready to support what will be needed for the project)," Rosario Councilor Rex Fuentes said during the turnover ceremony in Barangay Maligaya.