As of January 2021, there are 890 confirmed HIV-positive individuals reported to the HIV/AIDS and ART Registry of the Philippines (HARP), in which 1% of it comes from Caraga. To date, there are already 63 reported deaths due to different causes among people with HIV in the country. Along these lines, the Department of Social Welfare and Development (DSWD) Field Office Caraga, being one of the members of the Philippine National AIDS Council (PNAC), joined in its first commemoration of the International AIDS Candlelight Memorial last May 16, 2021 at the Regional Office, R.Palma St. Butuan City.
The Human Immunodeficiency Viruses are two species of Lentivirus that infect humans. Over time, they cause Acquired Immunodeficiency Syndrome, a condition in which progressive failure of the immune system allows life-threatening opportunistic infections and cancers to thrive. In some countries, it is one of the leading causes of death.
With this, in 1983 the People Living with HIV started the International Candlelight Memorial as a way of showing support to the families who have lost their loved ones due to HIV/AIDS. The former President Fidel Ramos signed Executive Order 39 creating a national advisory body, PNAC, which reviews and recommends policies on HIV/AIDS and to direct national approaches against HIV/AIDS.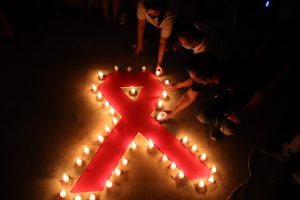 The International AIDS Candlelight Memorial is a time to remember the many lives lost to AIDS, thus, beaming this year's theme "We Remember, We take Action, We live Beyond HIV". One of People Living with HIV (PLHIV), who is having treatment in the Palliative and Wellness Care Center of the Butuan Medical Center (BMC) quoted that the International AIDS Candlelight Memorial is also an opportunity to honor those who dedicated their lives to helping the PLHIV.
OIC Regional Director, Ramel F. Jamen pressed the significance of lighting the candles around the life-sized red ribbon – "We light the candle in memory of our friends, our brothers and sisters who have died due to AIDS and we pray for their repose. This also serves our continuing effort to mobilize our community in solidarity to combat HIV/AIDS"
The Red Ribbon has become an international symbol of solidarity and support for people living with HIV/AIDS. Moreover, the staff of DSWD as well as the five (5) invited PLHIV affixed their signatures on the tarpaulin printed with the text "International AIDS Candlelight Memorial".
Confronting a Deadly Pandemic – How DSWD ameliorates PLHIV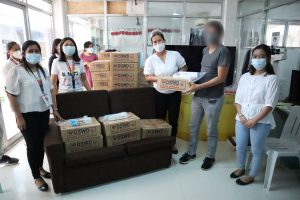 DSWD being one of the members of PNAC bares their support for PLHIV by providing financial and psychosocial assistance. On the following day, 17th of May, the Chief of the Protective and Services Division, Jessie Catherine B. Aranas, together with the Crisis Intervention Section Focal Person, Sarah Rose M. Salingay, as well as a-few staff of the Department, extended the commemoration of the event by giving a total of 50 hygiene kits and food packs to 25 PLHIV who are undergoing treatment at the Palliative and Wellness Care Center of the Butuan Medical Center (BMC).
One of the PLHIV who comes with the nickname Sky expressed his gratitude to DSWD. "Since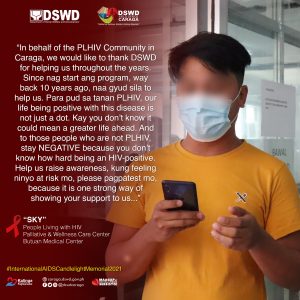 nag start and program, way back 10 years ago, naa gyud sila to help us (Since the beginning of the Program ten (10) years ago, they are always there to help us)," he said.
DSWD FO Caraga has been one of the major contributors of all the PLHIV residing and undergoing treatment at the Palliative and Wellness Care Center of the Butuan Medical Center (BMC). Since then, the Department has been but altruistic in giving financial and psychosocial assistance to PLHIV. Jovi (not his real name) said that the financial assistance of the Department helped him a lot to compensate his laboratory and treatment fees.
Oscar Clint K. Villanueva, III, HIV and AIDS Core Team (HACT) Nurse, stated that because of DSWD's assistance, more and more clients are encouraged to undergo treatment and to stay healthy. "…through their assistance, ma feel nila nga hindi sila nag-iisa. So we are thankful not only sa financial but also sa emotional assistance pud (…through their assistance, the PLHIV will feel that they are not fighting their battle alone. We are thankful not only to the financial but as well as to the emotional assistance DSWD gives)," he added.
To date, more and more People Living with HIV are no longer hiding. Because of the motivation they receive from other PLHIV, and through the evident support the government give to the community suffering with HIV, more and more people who assume that they have the disease, are encouraged to be tested.
Having said all these, DSWD FO Caraga stands with Sky on saying "To those people nga negative, please stay NEGATIVE kay you don't know how hard it is to be positive." (To those people who are negative with HIV, please stay NEGATIVE because you don't know how hard life is to be HIV-positive). DSWD FO Caraga also urges everyone, who think that they are at risk with the disease, to not doubt and get tested, it is one simple action but will bear a big impact for the rest of the People living with HIV and to lessen the HIV/AIDS case in Caraga and around the globe.