Even with the number of COVID-19 cases consistently rising in the Philippines, this has not stopped the rise of live-stream sexual abuse as the country is among those with a high number of cases, based on a study by the United Nations International Children's Education Fund (UNICEF).
The Department of Social Welfare and Development (DSWD) is one of the agencies mandated to provide comprehensive, trauma-informed aftercare services, collaborative case management, therapy, education and economic empowerment, and legal assistance to those who have been through sexual abuses. Along with all these, DSWD has continued to provide orientation to the families of a-few Trafficking in Persons (TIP) victim-survivors.
On May 20, 2021, the Recovery, Reintegration Program of Trafficked Persons (RRPTP) of DSWD Field Office Caraga conducted an anti-Online Sexual Exploitation of Children (OSEC) campaign through orientation on RA 9208 as amended by RA 10364, RA 7610 and RA 9775 to the Barangay Council for the Protection of Children (BCPC), together with some paternal family of Trafficking In Person (TIP) victim-survivors at barangay Pagatpatan, Butuan City.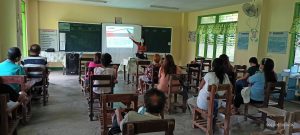 With the Department's commitment to improving the quality of life of Filipino children, who are at risk, disadvantaged, and vulnerable to abuse, DSWD FO Caraga hopes to impart important knowledge on the laws related to the anti-OSEC campaign towards people who are most likely to have direct social interaction with a child.
Among the four (4) special laws in the Philippines in the Revised Penal Code that punish OSEC in its various forms, DSWD FO Caraga opted to impart three (3), RA 9208 as amended by RA 10364, RA 7610, and RA 9775.
First, the Congress enacted RA 9208, the Anti-Trafficking in Persons Act of 2003, as expanded by RA 10364, wherein it punishes the act of recruitment, transportation, transfer, harboring, adoption, providing, offering, maintaining or receipt of a child for the purpose of pornography.
Second, RA 7610, the Special Protection of Children Against Abuse, Exploitation and Discrimination Act, more commonly known as the "Child Abuse Law" which provides special protection to children, not only to those below 18 years old but also individuals who are unable to protect themselves from harm due to a physical or mental disability or condition. This law punishes the sexual abusers of a child in various forms, including child prostitution, child trafficking, other neglects of cruelty and abuse, obscene shows, and employment of children beyond safe parameters.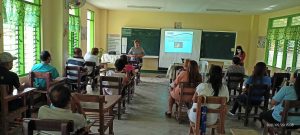 Lastly, RA 9775, the Anti-Child Pornography Act of 2009 which prohibits the production, offering, distribution, and possession of "child pornography."
RRPTP Focal Person, Bernape C. Bantayan emphasized that OSEC refers to a wide array of acts of exploitation or abuse, some of which include live streaming, possession, transmission, and alike.
DSWD Field Office Caraga, together with its partner interagency, desires to extend the common yet essential knowledge on significant laws to help combat OSEC. In the meantime, the Department urges everybody to speak up if cases as such happen. You may message the official social media accounts of DSWD FO Caraga – DSWD Caraga for the Facebook page and @dswdcaraga for Instagram and Twitter. You may also contact 09189473954.