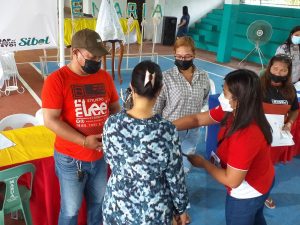 TANDAG CITY – About 103 families in Tandag City, Surigao del Sur received livelihood assistance from the Sustainable Livelihood Program of the Department of Social Welfare and Development (DSWD) Field Office Caraga on Tuesday May 18, 2021.
These families were displaced from their homes due to a fire accident in August 2018,
During the release of grants, Surigao del Sur (SDS) Acting Provincial Administrator Esmeraldo Raymundo, SDS Provincial Social Welfare and Development Officer Charlita Montenegro, and Tandag City Mayor Roxanne Pimentel took part in the activity. Tandag City Social Welfare and Development Officer (CSWDO) Tessie Buniel and staff from Tandag CSWDO and DSWD-SLP joined them, too.
Johny Lupas, one of the beneficiaries, expressed his gratitude to the program and said that he didn't expect such assistance from the national government.
"Mapasalamaton kami sa among nadawat tungod kay wala mi nagdahom nga naa pa mi madawat. Amo gayud kini gamiton para mulambo ang among panginabuhian (We didn't expect to receive it; hence, we are grateful for this financial assistance. We will wisely make use of this money for the expansion of our livelihood)," he said.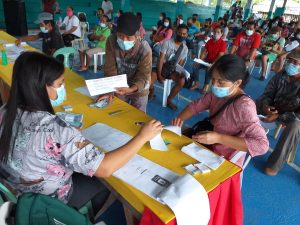 Through this livelihood assistance, the DSWD-SLP aims to help provide the families with access to necessary assets that will allow them to engage in various livelihoods of their choice.
DSWD-SLP has allotted a total grant of Php20,000 to each eligible family. In addition, once the beneficiaries can buy raw materials and ingredients for their livelihood, they are tasked to return and present receipt of all their purchases.
Before these families in Tandag City, the DSWD-SLP has also disbursed Php25,000,000 livelihood grants to 1,259 internally displaced families throughout the Caraga Region. This year's distribution began last February 2, 2021.