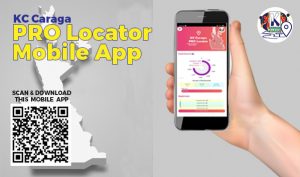 To answer the growing demand of digitalization, the Regional Program Management Office (RPMO) of KALAHI-CIDSS launched on Monday, May 24, 2021, its new mobile application that allows users to track and access information of any sub-projects implemented by the program in Caraga Region.
KALAHI-CIDSS or the Kapit-Bisig Laban sa Kahirapan – Comprehensive and Integrated Delivery of Social Services is one of the poverty alleviation programs of the government being implemented by the Department of Social Welfare and Development (DSWD).
The KC Caraga PRO (Program Resource Online/Offline) Locator Mobile App is built to help users search and navigate subprojects, whether online or offline, with the use of mapping technology.
Users can search and filter by province, municipality, barangay, or even year a subproject was implemented.
The application could also provide summary of sub-project data and detailed breakdown per province and modality and allow users to view information, location and updated photos of subprojects.
On Monday's virtual convocation and launching of the app, DSWD Caraga OIC-Regional Director Ramel F. Jamen and KALAHI-CIDSS Deputy National Program Manager Ma. Consuelo Acosta, on behalf of Director Janet Armas, commended the Field Office especially the RPMO for the said innovation.
"It is with gladness that I commend the efforts of DSWD Caraga for developing a way to digitalize our efforts to deliver uncompromised solutions," Acosta said. "The KALAHI-CIDSS Program Resource Online/Offline Locator Mobile App is among our solutions to tackle the challenges ahead of us. Not that it only provides creative solutions to our logistical challenges but it is also a smart answer to the growing demand of digitalization."
"In an era of digitalization, this free and innovative tool offers efficient and smart solution to challenges that come our way. The power is literally in your hands because the information and data is within your reach. In one QR code scan you'll get a glimpse of what's in store for you. Data gathering is more accessible now more than ever," she said.
"This product of sheer ingenuity, creativity, and passion is a testament of DSWD Caraga and KALAHI-CIDSS to deliver no less than what the people deserves," Acosta added.
Currently, the RPMO's team who developed the mobile app is working double time to add features that allow users to upload photos of the subproject as well as fix issues to ensure smooth usability of the app.