There is no higher religion than human service. To work for the common of good is the greatest creed. – Woodrow Wilson.
People are thirsty of the services of the government – quality services that would help uplift their lives specially in this time of pandemic where crisis is being felt all over the world. Every program or service, whether how big or small it may be, during dire times, would eventually be appreciated by those who need them the most.
Just like other offices in the government, the Department of Social Welfare and Development (DSWD) Field Office Caraga unceasingly provided undeniable intervention to poor people who are greatly affected by COVID-19. From the higher officials down to the staff and field workers in every municipality, they team-up to get the work done quickly specially in providing timely services to the people.
However, there are field workers who, even in the midst of the pandemic, continue to do their job but are not recognized due to the fact that people are focusing on cash and goods provision for their needs.
DSWD Listahanan enumerators, those seen doing the rounds in poor communities in their blue vests and carry along their attaché cases with essential documents – they are the silent heroes of the department. They visit and interview households, even in the far-flung areas, to collect pertinent data for the Listahanan Database of poor households. And no matter how near or far they go, every completed assessment would earn them fifty (50) pesos – yes, Php50.00 pesos for every completed form.
50 PESOS EVERY HOUSEHOLD
In line with the Executive Order (EO) 867, the conduct of household assessment is done every 4 years. Thus, the department hires Area Supervisors, Enumerators, Encoders and Verifiers who will serve as front liners in carrying out the implementation at the regional level during the validation and finalization phase of the Listahanan. Each of them has different roles and functions but everyone serves an important role in the completion of the 3rd Round Listahanan household assessment.
Among those field workers, the enumerators are likely to be in the field most often. They are the ones who visit households and interview eligible respondents or household members even in the far-flung areas.  They are not sitting in an air-conditioned office, rather, they are in the field enduring the scorching heat of the sun, or the unpredictable weather.
"Bisan gamay ra ang 50-pesos matag interview, andam nako adtoon ang mga lugar bisan unsa kalayo ug kakapoy. Wala nako isipa ang kantidad tungod kay andam ko mo serbisyo sa mga tao nga nagkinahanglan kay sa kana nga pamaagi nakatabang ko. (Even though Php50.00 is a small amount for every interview, yet, I am ready to visit the households despite distance and exhaustion. I am ready to give my service to the people who are in need because in that way I can help them)," Leziel Hayagan, enumerator assigned in Lanuza, Surigao del Sur, said.
Moreover, the team assigned in Esperanza, Agusan del Sur had a dreadful experience in going to remote areas in exchange for the Php50.00 they will earn for every completed household assessment, but this did not stop them to do their job.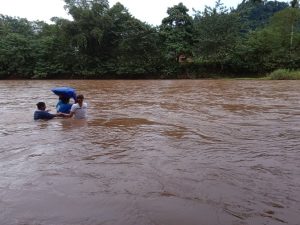 "Kung nagtan-aw lang mi sa kantidad nga 50 pesos nga among madawat human sa interview, dili mi mu-risgo sa among kinabuhi labina na kadtong nitabok mi sa suba nga grabe ka dako ug kasulog sa tubig. Maskin ang barangay officials sigeg pangutana sa amoa kung mudayon mi tungod sa ka-delikado sa tubig. apan, disidido kayo mi nga nitabok padulong sa komunidad bisan aduna mi kahadlok. (We are not after the 50 pesos we will receive after the interview, because if we did, we will not risk our lives in traversing the strong current and chest-deep water in the river. Even the barangay officials asked us many times if we will go further, still we decided to traverse going to the community even though it was frightening),'' Cristopher Cabellero, enumerator assigned in Esperanza, narrated.
The said municipality has 47 barangays of which 14 are categorized as Geographically Isolated and Disadvantaged Areas (GIDA) due to physical and socio-economic factors such as challenges for transportation, presence of vulnerable sectors, unreachable and underserved communities.
Using the Household Assessment Form (HAF), the interview will last about 15-20 minutes depending on the family size. Information collected would range from socio-economic status, household roster, and health status are collected and inputted on the HAF. This information is very vital as these will become basis for the computation that would determine whether a family falls under the category of Poor or Non-poor household.
REACHING UNREACHED PEOPLE
A long walk along mountain trails, muddy roads, a lengthy drive in a skylab (motorcycle with wings), or a wet bamboo raft ride under the heat of the sun or pouring rain was a journey towards giving hope to poor families for the Listahanan enumerators. These are common scenarios experienced by the enumerators every day during the Listahanan household assessment in the region.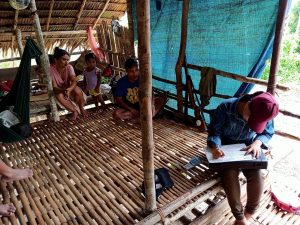 One of the most important responsibilities of an enumerator is to reach the unreachable households. Every household missing out on the assessment would mean they will miss the chance to be included in the list of poor households who will be served or will enjoy the anti-poverty programs of the government. This has been emphasized by the Department during the series of trainings for the field workers. And, this has been proven by the enumerators since day 1 up until the end of each validation activity.
"Gi-assign ko sa akong Area Supervisor sa Barangay Rajah Cabungosoan apan sa dihang nakabalo akong papa nahadlok siya tungod sa ka-delikado ug kalayo sa area. Pero walay nakapapugong sa akoa nga nipadayon sa maong dapit bisan nibati ko og kahadlok. Pag-abot nako sa dapit, halos kalasangan among naagian og kung naay balay, labaw pa sa social distancing. Naa pay isa ka balay nga kapig usa ka oras among gi-biyahe sakay ang habal-habal nga miagi sa grabe ka-batohon nga dalan para lang ma-interview. Pero sa dihang niabot mi, grabe ang kalipay ni Tatay kay naay taga DSWD nga niabot sa ilang lugar. Nahuman nako ang interview nga aduna poy kalipay sa akong kasing-kasing. (My Area Supervisor assigned me in Barangay Rajah Cabungsoan but when my father knew about my area of assignment, he was afraid of the danger it might bring considering the distance and the place itself. Yet, no one can stop me from doing my job, and even I was also frightened. When I arrived, all there was are forest covers and houses were too far from each other. There is one household where we travelled more than an hour on habal-habal just to conduct an interview. When we arrived, immeasurable joy was felt by Tatay after seeing that DSWD workers visited him. I ended the interview with a joy in my heart too," Tessa Castro, enumerator assigned in Lingig, Surigao del Sur, shared.
GLIMMER OF HOPE
The smile in their eyes and the gladness on their faces were common scenario witnessed by the enumerators as they were welcomed by the households especially those who are living in far-flung areas where public transportation is inaccessible.
A Manobo resident testified how he is grateful for DSWD-Listahanan workers who gave priority for LUMAD people living in Agusan del Sur.
"Pasalamat mi kay bisan unsa kalayo sa among dapit, naka abot mo para makita lang mi. Salamat sa inyong paghatag pagtagad. (We are thankful that you came just to see us despite the distance of our place. Thank you for valuing us)," Jomix Manpinsahan, a Manobo resident of Sitio Kalampayan, Barangay Kasapa II, La Paz Agusan del Sur, shared.
Another testimony from an enumerator whom, despite the exhaustion, experienced going to places she never visited before, not even thinking that family live in such areas. She witnessed the joy and hope of the households she interviewed.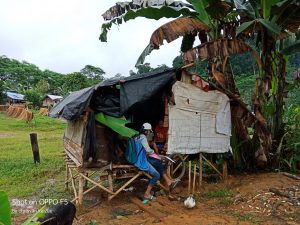 "Sa akong pagka-enumerator, nakita gyud nako mismo ang kahimtang sa pamilya nga wala nako damha nga naa pa diay magpuyo niining dapita tungod sa kalayo ug kalisod sa mga dalan unya pila pa ka oras among gibiyahe ug gibaklay. Nakita  pud nako ang kalipay sa matag pamilya ug paglaum na unta maapil sila sa mga pamilyang kabus. (Being an enumerator, I have personally seen the different economic statuses of the households that I've never thought existed because of the distance and difficulties of traveling to their places. I have also witnessed the joy in their faces as they saw with hopes to be included in the list of poor households)," Sandra Bacocho, enumerator assigned in San Miguel, Surigao del Sur, shared.
These are the DSWD-Listahanan field staff, an example of truly devoted workers who work even in the midst of the pandemic just to make sure that every household will be assessed; not mindful of the challenges they face for Php50.00 they would earn per completed household assessment. ### Social Marketing Section