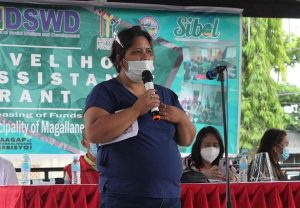 "Lisod gyud kaayo among kinabuhi sa niaging tuig kay sunod-sunod gyud ang kapait nga among nasinati. Nawalaan nami og panginabuhian, nagsunod-sunod sab ang problema sa among pamilya."
This is how Rosilda Sumagaysay describes their life during the peak of the pandemic. To say that the pandemic has gravely affected the people's jobs, livelihoods, and health is an understatement. It is undeniable that it has turned people's lives upside down – including Rosilda and her family's life.
Rosilda, 45 years old, is a Pantawid Pamilyang Pilipino Program (4Ps) member and parent leader from Barangay Caloc-an, Magallanes, Agusan del Norte. She is a mother of four and a wife to Eddie Sumagaysay.
For a living, Eddie catches fish while Rosilda sells coffee and bread to fisherfolks. She also vends fish as an additional source of income.
Everything was going well in the Sumagaysay family. Both husband and wife can support and provide for their family's needs. Then the pandemic happened.
Having no other options, Rosilda had to stop selling and stay at home. For some time, Eddie also temporarily ceased catching fish in compliance with the declaration of the community quarantine. But once given the signal, Eddie took the risk of getting exposed to the virus and resumed his livelihood just to put food on his family's table.
Unfortunately, one fateful afternoon, Eddie had an accident. While they were fishing, Eddie got hurt by a gunshot that another fisherman fired. The bullet went through his lower back – causing him to be half-paralyzed.
With no stable source of income, this accident became another struggle for the family. Rosilda did all means, such as borrowing money to keep up with their expenses at the hospital.
Rosilda shared that while her husband was recovering in the hospital, her husband would randomly thank her for her sacrifices. She said that she never cried in front of her husband or children because Rosilda wanted them to think that she was strong. But little did they know, she was getting tired and desperate.
To make matters worse, two of their children working in Metro Manila lost their jobs as well. Their daughters used to extend help to them, but now that they were jobless, Rosilda had to help her daughters until they could go home to Magallanes.
Just when she thought she already had enough problems, one of her daughters gave birth to a baby who had a cleft palate. Seeing her daughter's pain, Rosilda assisted her child in looking for an organization that would sponsor the baby's operation.
With all these obstacles, Rosilda felt that the whole world was on her shoulders. She tearfully shared that sometimes, in the middle of the night, she would pray and cry silently in the dark. She didn't want her family, especially her husband, to see that she was falling apart. Rosilda knows that for her family, she is their source of strength and hope.
Rosilda's prayers began getting their answers when her two daughters went home to Magallanes earlier this year through the national government's Balik Probinsya Program. It became easier for Rosilda to extend support to her daughters now that they were nearer.
A few months after that, on May 11, 2021, Rosilda received the Livelihood Assistance Grant (LAG) from the Department of Social Welfare and Development's (DSWD) Sustainable Livelihood Program. Through the assistance, Rosilda plans to set up a general merchandise store.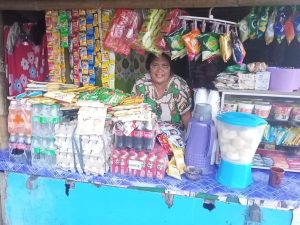 "Dili gyud lalim among nasinati sa akong pamilya. Grabe ang mga pagsulay ug kalisod. Makahilak gyud ko magdumdom sa mga nahitabo. Pinaagi ani nga assistance, maarang-arang among kahimtang ug aduna mi makuhaan na sa among mga kinahanglan. Maningkamot gyud ako nga mulambo ni para sa akong pamilya (What my family went through wasn't easy. We experienced several challenges, and I would cry thinking about everything. Through this assistance, I hope that our situation will improve. We now have a source for our needs. I will work hard for my family)," Rosilda stated.
A mother's love for her family is always unconditional. No matter how hard it was for Rosilda to balance everything, she still managed to be hopeful and persistent. Putting up their livelihood and sustaining it will never be easy, but Rosilda is ready to do anything that it takes to give her family a good life.