The DSWD Field Office Caraga underscored the 2020 operations of the Pantawid Pamilyang Pilipino Program (4Ps), by holding the first-ever virtual Program Implementation Review (PIR) with the theme, "Our 2020 Journey: Rising Above the Felt Crisis," last June 7, via Zoom and Google meet.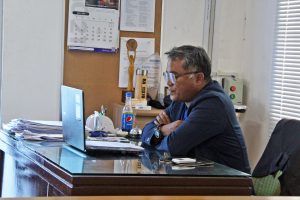 In his opening message, OIC-Assistant Regional Director for Operations Jean Paul Parajes congratulated the Regional Program Management Office (RPMO) for spearheading the virtual event.
"This PIR is also a recognition of the exemplary performance of the Pantawid staff especially in times of a global pandemic. We are here because we did it. We did it because we are united. We are united because we have one common goal, and that is to serve our beneficiaries," Parajes noted.
The following are the list of winners for the individual awards during the PIR:
BEST SOCIAL WELFARE ASSISTANT – JUREDEL CUARTERON – Veruela, Agusan del Sur
BEST COMMUNITY FACILITATOR ASSISTANT – CARLA JADE MENDOZA – Tubay, Agusan del Norte
BEST ADMINISTRATIVE ASSISTANT – NESTY HANNAH MARIE PARCON – Agusan del Sur
BEST MUNICIPAL ROVING BOOKKEEPER – JONATHAN B. BARRIGA – Agusan del Norte
BEST PROVINCIAL MONITORING AND EVALUATION OFFICER –  IGMEDIO INTAS JR. – Surigao del Sur
BEST CLUSTER BENEFICIARY DATA OFFICER – ADELFO MARATAS – Cluster 1, Agusan del Sur
BEST CLUSTER COMPLIANCE VERIFICATION OFFICER – MANDELYN M. TACULOD – Agusan del Norte
BEST CLUSTER GRIEVANCE OFFICER – MARIA KATRINA P. YU – Surigao del Norte Mainland
BEST COMMUNITY FACILITATOR – TINA MARIE RENDON – Veruela, Agusan del Sur
BEST CITY/MUNICIPAL LINK – EDDIE PACALDO JR – Bayugan City, Agusan del Norte
BEST PROVINCIAL GRIEVANCE OFFICER –  ORSON CRIS TORAL – Surigao del Sur
BEST SOCIAL WELFARE OFFICER III – SHIELA J. BURATO – Cluster 2, Surigao del Sur
BEST SAP TEAM LEADER – DANIEL L. DUMPA JR. – Siargao Island
BEST PROVINCIAL LINK – RUTH P. TAMBURA – Agusan del Norte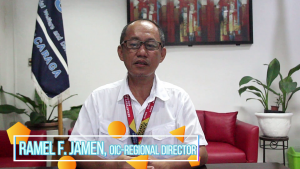 Ramel F. Jamen, OIC-regional director, delivered his inspirational message which emphasized the efforts of the Pantawid staff in doing their part in the implementation of the Program which led to the "hakot awards" and national recognition received by 4Ps Caraga.
"If you noticed, that my supervision in you is lesser, because I feel comfortable that you alone can go on and deliver. Don't rest in your laurels, much are still to be done, we have not fully fulfilled our dream and our purpose that in the nearest future… no one is poor in Caraga," Jamen said.
The RPMO also commended those staff or team that served as the social marketing arm in intensifying the advocacy of the Field Office for the year 2020. Here are the list of some special awards:
#BeyondTheRequisite – This award goes to the POO through the PMEO who submitted the most number of success and photo stories in 2020.
POO Surigao del Sur through Igmedio Intas Jr. – 169 stories submitted in 2020
#WithAnImpact – This award is given to the Pantawid staff who crafted the most impactful story of a Pantawid beneficiary.
Glenn Blair Sayawan, Community Facilitator – "MCCT beneficiary shares SAP grants to needy" The story was published by Pantawid NMPO "4Ps IP Communities show unwavering malasakit spirit" and was chosen by Worldbank to be published by the Department of Foreign Affairs and Trade (DFAT)
#SERVE1stSojourn – This award is given to the best narration of a Pantawid staff in her journey as a field worker.
Labella N. Mapoy, Social Welfare Assistant "Endure to Serve the People"
#MoreThanPunctual – This award goes to the POO through the PMEO who submitted the earliest and before the indicated time frame.
POO Agusan del Sur through Argen A. Luga – PMEO of Agusan del Sur
#PerfectlyPackaged – This award recognizes the Pantawid staff who crafted the and documented the story perfectly.
Kimberly L. Jacon, City Link – "Badjaos in the Urban"
Moreover, OIC-ARD for Administration Ramil Taculod also congratulated the RPMO for the momentous celebration.
"Thank you for the continuous support to our programs for the poor, marginalized, and disadvantaged sectors of the society. Congratulations on this big occasion," OIC-ARDA Taculod mentioned.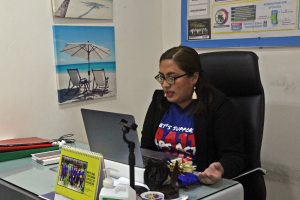 To cap off one of the biggest virtual activity of 4Ps Caraga, Division Chief and Regional Program Coordinator Crislea D. Celeste described the team as the BEST (Boundless Potentials, Empowered to Face Adversities, Sincere in Evolving, and Team So Gifted), thus also incorporating the hash tag #4PsCaragaTranscending.
It has been eminent that even with the threats of the pandemic, 4Ps Caraga has managed to rise above the challenges and sustained its responsibilities to its clienteles by providing them untiring services – from Social Amelioration Program (SAP) payouts, to disaster-related augmentations, to Set 10 registration, and other programs/project's validation such as the Social Pension for Indigent Senior Citizens. They have inculcated in their work the #SERVE1st mantra of the Program.In between the awarding ceremony, each Provincial Operations Office (POO) showcased their recorded presentations. A parade of the most ingenious face masks was also uniquely done by the Pantawid staff, in which COO Butuan City won. A song cover of Alicia Key's "Good Job" was also performed by the RPMO staff as a tribute to all frontliners, heroes in disguise, and angels in red vests in today's crisis. ###(Social Marketing Section/DSWD Field Office Caraga)