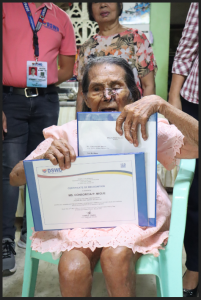 Even amidst this pandemic, the Department of Social Welfare and Development (DSWD) is relentless in its job in reaching a centenarian, thru the implementation of the Centenarian Act of 2016.
Recently, DSWD Field Office Caraga, through its Protective Services Division (PSD), spearheaded the awarding to a centenarian grantee at Golden Ribbon, Butuan City, Agusan Del Norte.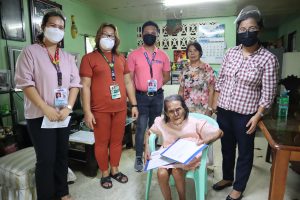 Consorcia P. Mique, a centenarian grantee, born on May 20, 1920 (precisely 101-year-old), was awarded a certificate of recognition from the DSWD FO Caraga, letter of felicitation/greetings from President Rodrigo Roa Duterte and a cash incentive on May 26, 2021 by PSD Chief Jessie Catherine B. Aranas and Ana T. Semacio, Centenarian Focal Person.
Division Chief Aranas extended a heartwarming message of respect to Nanay Consorcia to honor her contribution in shaping and upholding the values as a Filipino Citizen.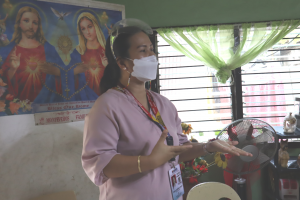 "Congratulations Nay, akong taas nga pagtahod sa imong nakab-ot nga katas-on sa imong edad karon. Salamat nga nahimo kang kabahin sa mga teachings ug pagmold ilabina sa imong mga kabataan nga nahimo na usab karong mga maayong citizen (Congratualtions Nay, my snappiest salutation for reaching this far of your existence. Thank you for playing a significant role in teaching and molding good citizens, especially to your kids)," Aranas expressed.
At the age of 101, Nanay is not experiencing severe illness except for minor conditions like stomachache or fever. She has arthritis, but it doesn't affect her that much. When asked about Nanay's secret to getting a hundred and one years old, "Nothing, she doesn't even limit what foods to eat," Teresita M. Monteveros, daughter of Nanay Consorcia shared.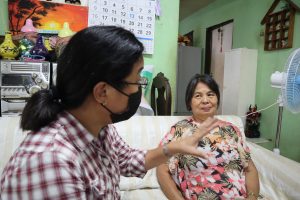 While Nanay is busy holding and staring at the award she received during the ceremony, her children can't contain but share a few of Nanay's upbringing as to being a mother of eight. "Maayo kaayo na siya nga inahan namo bisan karon ang iyang pagpadako sa amo niadtong mga bata pa mi duna gyud dakong lugar sa among kasingkasing, kana iyang pag-amuma ug pagmahal. Ang iyang pamaagi sa pagdisiplina igo gyud sa amua nga makakat-on mi. Salamat DSWD sa grant nga inyong gihatag kang mama (She's a good mother to us, even up to now; her upbringing when we were just kids is inculcated in our hearts – her love and care. Her way of imposing discipline is enough for us to learn lessons. Thank you, DSWD, for the grant extended to my mama)," Teresita, gladly shared.
Republic Act 10868 also known as "An Act Honoring and Granting Addition Benefits and Privileges to Filipino Centenarians, and other purposes, or otherwise known as the "Centenarian Act of 2016" gives honor to Filipino Centenarians whether residing in the country or abroad.
DSWD FO Caraga adapts to the new standard-setting by conducting a house-to-house delivery of centenarian grants in consideration of the safety and physical capability of the grantee.