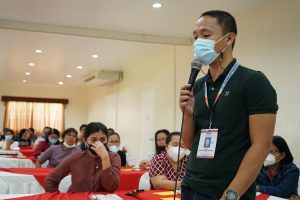 The Department of Social Welfare and Development (DSWD) Field Office Caraga is all set to do its part in the implementation of the Balik Probinsya Bagong Pag-asa (BP2) program in the region.
BP2 is a government program that aims to decongest highly-urbanized areas, such as cities in the National Capital Region (NCR), by encouraging people, especially informal settlers, to return to their home provinces and assist them in this transition with support and incentives on transportation, family, livelihood, and education, among others.
The program, which was institutionalized through Executive Order 114 signed by President Rodrigo R. Duterte in May last year, also aims to lessen COVID-19 cases in these highly-congested cities.
A BP2 Council will be created composed of 21 different national agencies, including the DSWD, that will work hand-in-hand for the 4,442 target families this year.
It is estimated that around 50 municipalities will be engaged per year with this project.
BP2 Caraga Social Worker Officer III Kennneth John Andohoyan said the program also aims to provide hope for a better future for Filipinos through equity in resources throughout the country and boost countryside development.
Andohoyan said that they have already oriented the local government units in Caraga Region on the BP2's processes and implementation mechanism.
"BP2 has long been a plan of the national government as a continuing strategy to drive inclusive and balanced urban and rural development, ensure rural prosperity, and complement initiatives towards attaining resilient and sustainable communities," Andohoyan said.
For Caraga Region, 106 families or 335 individuals are targeted to be served this year.
Andohoyan said that for this year, only the provinces of Agusan del Norte (36 families), Agusan del Sur (26 families), and Surigao del Norte (44 families) will be served.
Criteria
The BP2 program will benefit low-income families who will opt to move out from Metro Manila or other highly-urbanized cities and return to or relocate to other provinces due to but not limited to the following:
– the family decided to resettle to the identified rural provinces,
– loss of a job or other source of income,
– unsafe dwelling places; or (iv) exposure to health – and safety risks and other environmental hazards in their current area of residence.
Types of Assistance for individuals
Transportation Allowance – Provision of Php3,000 to Php5,000 or actual transportation cost and limited food assistance while in transit through the Assistance to Individual in Crisis Situation (AICS).
Livelihood Assistance – A maximum of Php15,000 shall be provided, following the implementation process for individual referrals and walk-in clients as stipulated in the MC 22 s. 2019 of the Sustainable Livelihood Program of the Department of Social Welfare and Development, if BP2 program participants are not eligible to receive livelihood support from other agencies such as Department of Labor and Employment (DOLE), Department of Trade and Industry (DTI), Department of Agriculture (DA), etc.
Types of Assistance for Family
Transportation/Relocation Assistance – This is a financial support that will be provided to the family beneficiaries ranging from Php3,000 – Php35,000 to move to their properties from their current residence to the identified place where they will relocate. The amount of the package will depend on the mode of transportation arrangements with the Department of Transportation (DOTr).
Transitory Family Support Package – This is a provision ranging from Php10,000 – Php70,000 that will cover the food and non-food items needed while the family is in the transition phase.
Livelihood Settlement Grants – This is a start-up financial assistance using the SLP mechanism to directly provide each eligible recipient family in the establishment or continuity of their livelihoods economic activities in the communities where they will return/be resettled; returning families that cannot be covered by other agency's livelihood support. The LSG shall only be provided once per eligible family should other agency does not have available funds for the purpose and assistance shall not exceed the maximum of Php50,000.
Transitory Shelter Assistance – Provision for rental subsidy for a maximum of one year to a maximum of two years subject to review of the case manager. Rental subsidy with an estimated range of Php120,000 – Php250,000 for a year, will be provided while waiting for the NHA housing to be constructed or awarded.