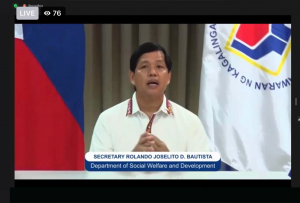 June 19, 2021 marks the 3rd Philippine Social Worker's Day Celebration. With this, a one-day virtual event was launched on that morning hosted by the Philippine Association of Social Workers, Inc. (PASWI) with the theme "Strengthening Solidarity and Interconnectedness among Filipino Social Workers".
One of the highlights in the event is to recognize the Social Workers across the country on their unwavering commitment, accomplishments, and contributions to the social development practice in the country. Social workers from different national organizations, agencies, and associations were awarded and recognized.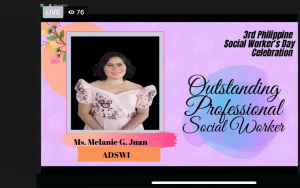 One of the three awardees as an Outstanding Professional Social Worker from the Association of DSWD Social Workers, Inc. (ADSWI) is Ms. Melanie G. Juan, the OIC-Division Chief of the Disaster Response & Management Division of DSWD Field Office Caraga. Ms. Juan won a PRAISE National Award recognized as the Best Technical Social Worker. Alongside with her are Ms. Elena G. Salazar, of DSWD Field Office 6 who won as Best Community-Based Social Worker, and Ms. Emelita Cruz-Bolivar, of DSWD Central Luzon who won the Best Center Head for the National & Regional Categories in 2019 and who was also awarded the PAG-ASA Regional Award by the Civil Service Commission.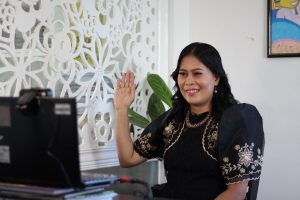 In his message, DSWD Secretary Rolando Joselito D. Bautista expressed his gratitude to all Filipino social workers for dedicating their lives to empower communities and to enhance the overall well-being of the poor, marginalized and vulnerable sectors in the community. "The Department will continue to support Filipino social workers by developing efficient and effective strategies that will foster camaraderie and responsive capacity building mechanisms for the advancements of the social work profession" Sec. Bautista stated.