A total of Php 11,807,600 was disbursed by the Department of Social Welfare and Development (DSWD) Field Office Caraga through its Emergency Shelter Assistance (ESA) and Cash for Work (CFW) program to several municipalities of Surigao del Sur (SDS), Agusan del Sur (ADS), and the Province of Dinagat Islands who have been hit by Tropical Depression Vicky last December 2020.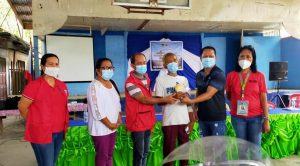 A total of 666 households were able to receive the cash assistance intended to repair and/or reconstruct their damaged houses caused by the typhoon.
For both ESA and CFW, SDS received a total of Php 8,620,400 aid; Php 7,820,000 for ESA while a total of Php 800,400 for the CFW program. This significant amount was disbursed to the following municipalities with this following breakdown: Php 3,837,600 for Tago, Php 1,633,600 for Barobo, Php 905,200 for Bislig, Php 631,200 for Cantilan, Php 112,000 each for Carrascal and Lanuza, Php 427,200 for Lianga, Php 66,000 for Madrid, Php 315,200 for Tagbina, and Php 580,400 for San Miguel.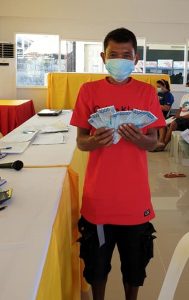 Meanwhile, ADS received a total of Php 3,164,800; Php 2,920,000 for ESA while a total of Php 244,800 for CFW. This was received by the following municipalities in this respective breakdown: Php 1,111,200 for Bunawan, Php 1,846,800 for Rosario, Php 142,000 for Sibagat, and Php 32,400 for Veruela.
In Dinagat Islands, Php 22,400 was allocated for the municipality of Loreto; Php 20,000 for ESA while Php 2,400 for CFW.
Households with partially damaged houses received Php10,000 while those houses that were totally damaged received Php30,000. This money will be used to buy materials intended to build their damaged houses. To ensure that the cash assistance is duly spent for purchase of shelter materials, a receipt should be provided upon DSWD staff's request. Thus, this is also the basis for the cash-for-work assistance. Beneficiaries are obliged to present receipts as proof that assistance provided for the repair and/or reconstruction are used for its intended purpose.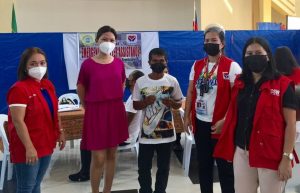 The identification of ESA beneficiaries was based on the assessment and validation report submitted to DSWD by the Local Government Unit (LGU) who identified the eligible recipient of the said cash grant. The list underwent a thorough validation process of beneficiaries before conducting the payout.
As of writing, on-going payouts are scheduled to the municipalities of Dinagat, Agusan del Norte, Surigao del Norte, and Surigao del Sur for the victims of TS Auring this time.