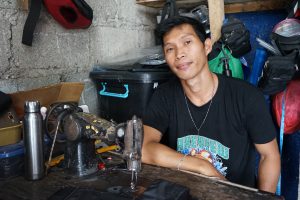 "Sunog! Sunog!"
On March 9, 2020, the lives of 251 families residing in Barangay Ong Yiu and San Ignacio, Butuan City changed when a big fire destroyed all that they had. People did not only lose their homes, but many also lost their livelihoods. Everything was just burned down to ashes.
Sanny Boy Enoy is one of the residents whose home and livelihood were ruined by the fire. Sanny Boy is a local bag-maker and works in one of the shops located in Barangay San Ignacio. When the fire happened, he was away, so he wasn't able to save any of his tools and materials.
He was very devastated when he came home to see the remains of his home and workplace. "Wala man ko katong nahitabo ang sunog. Pero pag-uli nako ug pagkakita nga wala nay nabilin jud sa among lugar, naguol ko pag maayo kay wala ko kabalo asa ko magsugod ug unsa akong buhaton (I wasn't there when the fire happened. But when I got home and saw what was left of our place, I was disheartened because I didn't know what to do. I had no idea where to start)," Sanny Boy tearfully shared.
It was a depressing moment in Sanny Boy's life. He was the breadwinner of his family. He took the responsibility of supporting his mother and his sister. He pays for their rent, food, utilities, and other expenses. At that time, he could only look at the remains of the shop he works at with tearful eyes and a painful heart – he was hopeless.
For months, Sanny Boy tried his best to make ends meet and provide for his family. It was hard because he had to start from scratch. Amidst the hardships, he prayed hard that an opportunity would come knocking on his door and answer all their family's struggles.
Finally, on February 4, 2021, Sanny Boy got the answer to his prayers. He was included among the 132 beneficiaries who received livelihood assistance through the Sustainable Livelihood Program (SLP) of the Department of Social Welfare and Development (DSWD) Field Office Caraga. Under the Internally Displaced Persons (IDP) Special Project of the DSWD-SLP, Sanny Boy was granted an amount of PhP 20,000 to establish a livelihood of his choice.
Without second thoughts, Sanny Boy opted to set up his own bag-making shop. He built his mini-shop beside a relative's sari-sari store.
Sanny Boy makes a variety of bags such as belt bags, sling bags, body bags, and pouches. Sometimes, he also sews thermal bags for delivery riders. He sells his bags at around PhP 100-PhP 500. But for thermal bags, he offers them at PhP 1,000 as this type of bag requires more materials and harder to make.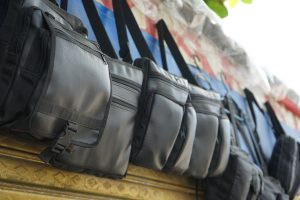 There are also instances when Sanny Boy sews covers for small furniture such as sofa chairs and couches. As much as possible, he wants to explore other products to increase the number of his customers and become more skillful in this field.
"Naga-try jud ko og buhat og laing produkto kay para sab madugangan ang pagkakitaan nako labi na kay ako baya nagsuporta sa akong pamilya. Malingaw man sab ko sa akong ginabuhat (I'm the one who supports our family that is why I try to explore other products to have additional income. It's not a problem for me because I also enjoy what I'm doing)," he shared.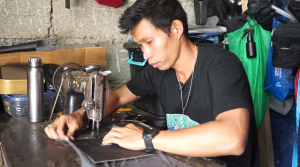 Most of Sanny Boy's clients are tricycle drivers, delivery riders, and market vendors. In a month, customers would buy his bags or ask him to customize bags.
Currently, even if Butuan City is in Modified Enhanced Community Quarantine (MECQ), customers still flock to Sanny Boy's shop. But he admits that his income is reduced a little due to the MECQ. Also, he cannot immediately accommodate customized orders because the supplier of the raw materials he uses temporarily closed in compliance with the MECQ.
Nonetheless, Sanny Boy is filled with gratitude because he can still provide for his family's needs.
"Sa pagka-karon gyud, medyo hinay ang kita. Dili man gud ko makabasta-basta dawat og orders kay sarado pa akong ginapalitan sa akong mga materyales. Kaluy-an sa Ginoo, naa man gihapon mopalit sa ako og ginagmay sama anang mga gagmay nga bags (As of now, my income has been a little low. I cannot instantly accept orders because the supplier's shop is still closed. But thank God, I still earn because there are some who still buys the small bags I make)."
A year after the big fire, Sanny Boy is glad that he is able to start again and set up his own livelihood. He's aware that he needs to work harder to sustain his shop and expand it, but he doesn't mind this as long as he has something that he calls his own.
"Daghan pa angay buhaton para mulambo ning panginabuhian nako pero dili ko mu-give up kay naa baya koy pamilya nga naga-asa sa ako (I know that there are a lot of things I ought to do to ensure that this livelihood prospers. Despite this, I will not give up because I still have a family who needs me)," Sanny Boy said.
The tragic fire incident has changed Sanny Boy's life in many ways. Everything he had was burned to ashes. Fortunately, the despair he felt was eventually replaced with hope.
For Sanny Boy, the memories of that fateful day will always be painful, but it will also serve as a source of hope and motivation to push further in life.