As the only breadwinner and the eldest among his four siblings, Jayson works more than eight hours a day to make ends meet and to do some penny-pinching for a better cause.
For four years, Jayson Cliff Templa has been working at the Department of Social Welfare and Development (DSWD) Field Office Caraga as an Administrative Aide III. His daily function includes maintaining the premises of the office. Jayson is also a skilled worker, as such, he contributed a lot in keeping the office well-functioning and problem-free because of his expertise in carpentry and painting. From keeping the plants alive to deep-cleaning bathroom floors and loo, never did all these bother Jayson.
The work he puts up every day are all part of his functions as an admin aide, or as a utility worker. Although the job may seem easy, but it is far from being a walk in the park. The work done by the utility and maintenance personnel is what keeps every corner of offices clean, ready to accommodate countless clients daily. Jayson manages all these and makes sure that everything is functioning properly.
But no matter how hard Jayson works, it just seems that life's odds are not in favor with him. On April 29, 2021, at exactly 12:10 in the afternoon, Maximo, Jayson's father, was rushed to Butuan Doctor's Hospital. Hearing this news, Jayson's world crumbled once again. With a cold foot, all the memory of 2013 immediately struck him in like lightning.
It was around the summer of 2013 when Maximo was doing his typical daily job. Hoping to earn enough money to feed his family, the sweltering afternoon heat never weighed him down. As he parked the truck that he was driving, he suddenly felt his face tingling and limbs slowly numbing. Maximo lost his balance and fell in a swampy area. By the time he got in the hospital room, he could not speak at all. After some time, Maximo woke up with his body completely paralyzed. Jayson couldn't say anything after the doctor told them their father suffered from a stroke.
Years passed by and Jayson thought everything's going to be okay after his father slowly recovered from the stroke. But complications arose, as Maximo had problems with blood circulation due to his history of stroke, leaving some of his body organs affected. Upon his admission and after undergoing a series of laboratory and diagnostic tests, Maximo was diagnosed with Uremic Syndrome, Chronic Kidney Disease Stage 5 secondary to Urate Nephropathy, and Hyperuricemia.
Due to chronic kidney disease, Maximo was recommended confinement and emergency hemodialysis treatment. The Hemodialysis treatment is the only means to prolong his life. However, it is a costly procedure, and it will be a lifetime procedure to be able to prolong his life. The family knew it will be costly.
"Bug-at kaayo sa among paminaw nga wala gyud mi maduolan. Lisod kaayo among kahimtang kay naapektuhan gyud among pamilya gikan sa pang adlaw-adlaw. Nabalda na pud ang ubang trabaho, sige nakog absent. Maulaw na gud ko usahay mananghid, pero mo trabaho lang gyud gihapon ko. Akong manghud ra gyud akong masaligan tanan. Isa pa gyud ana, lisod kay tungod sa pandemic, so kinahanglan isa ray makabantay sa Hospital (It was taking a toll on us because we don't have anyone to ask for help. Our day-to-day life has been severely affected. In my case, I had absences from work, and it has affected my income. I'm always embarrassed to ask my direct supervisor, but even with the difficult situation we were in, I still have to accomplish my duties. I could only lean and trust my younger sibling. It was even harder when the pandemic happened since only one (1) person is allowed to assist him in the Hospital)," Jayson shared, clenching his fist to control his emotions.
Before being completely engulfed by hopelessness, Jayson's colleague advised him to ask for assistance from the Crisis Intervention Section of the Department. After a careful and intensive review of Jayson's case, DSWD Caraga, through the intervention of the CIS, was able to extend Jayson a total of P 67, 000.00 as medical assistance to help settle the hospital bill and to cope with the crisis situation their family is in.
After a week, Maximo was subjected to fistula cannulation which is only available in Cagayan de Oro City. Without any doubt, Jayson tried seeking support once again from CIS for transportation assistance. With Jayson's high hopes, his prayers were answered all at once when DSWD FO Caraga acknowledged his request and hastily approved it.
At this point during the interview, Jayson's eyes brightened "Dako kaayo akong pasalamat sa DSWD dili lang sa opportunity sa trabaho, akong mga pang adlaw-adlaw diri nako gi kuha. Dili mi ma ingani kung wala ang DSWD. Gikan sa pagsugod nako og trabaho hangtud karon. Nakasandig gyud mi sa gobyerno sa among sitwasyon (We are very thankful to DSWD not only for the given opportunity to work here at the Department, which has sustained us for our daily need. We won't be able to experience all the relief without DSWD's assistance. The moment I started working here, even up to now, we really benefited from the Department's help)."
Because of the Department's continuing efforts to provide assistance to those who are in crisis situations, Jayson benefited the most. Some may think that Jayson do not qualify to be a beneficiary of the program, but considering his situation, not only the meager income he earns, but also the current situation his family is in, the program guidelines say otherwise.
Jayson is among the few of the beneficiaries who benefited from the Assistance to Individuals in Crisis Situation (AICS) of DSWD. Although this program will soon be devolved to the Local Government Unit, through DSWD's influence and trust to its partner LGUs, DSWD believes that by the realization of the Mandanas Ruling, more and more Caraganons will benefit from the various services offered by AICS. The LGUs, with the sustained support of the Department, aspire to provide all the necessary assistance to each Caraganon who is under crisis situations. In the long run, as DSWD's commitment will be unified with the LGUs, individuals in crisis situations, such as Jayson, will soon part their stories to their confidantes to reassure all and sundry that the government does provide the needs of those who are in need or are in crisis situations.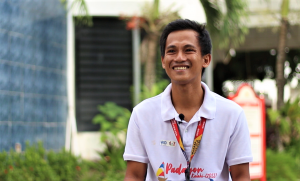 "Gihimo ang DSWD nga mahimong instrumento sa Ginoo nga mo tabang kanamo. Salamat kaayo DSWD sa pag-abag kanamo labina sa akong papa (God made DSWD as an instrument to help us. Thank you so much DSWD for the absolute assistance you have given us, especially to my father)." Jayson shared.