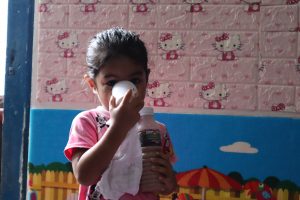 "Wow! Yay! Is that freshmilk mama?" –  Baby Tamarah.
This is the excited greetings from Baby Tamarah every time her Mother Lutche Balmocena gets home after securing their weekly milk ration.
As part of the government's thrusts in strengthening and maximizing the Public-Private Partnerships along with the implementation of various programs and projects, the Department of Social Welfare and Development implements the Supplementary Feeding Program (SFP) in partnership with the Local Government Units and non-government organizations to improve the nutritional status of the targeted undernourished individuals.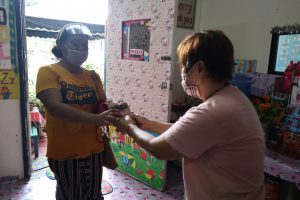 Despite the blended learning approaches in schools amid the Covid-19 pandemic, the feeding program continues. Gloria Jalandoni Rulona, the Child Development Worker of Barangay Dagohoy gladly shared her observation as the teacher of the fresh milk-recipient pupils. "Kids are always excited, they even wanted to get in advance or more than one in a day. They are wittier and more active now," Rulona said.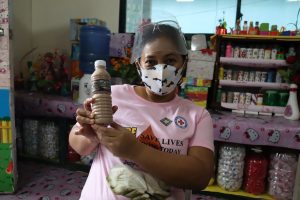 The fresh milk distributed contains vitamins and minerals that could contribute to the growth and development of the child. Lutche D. Balmocena is quick to notice the improvements on her daughter Tamarah, "Niwang man akong anak. Sa pila ka semana, nabantayan nako nga nibug-at siya sukad nga gainom siya anang fresh milk. Makaingon ko nga kining fresh milk ang hinungdan tungod kay wala man ni siya nag-vitamins gud, (My daughter is quite skinny. In just a few weeks, I noticed how she gets to gain weight. I could say it's the fresh milk because she doesn't have any vitamins taken)," – Lutche said.
The SFP's 10th cycle of implementation is considered to be successful. One of the factors that strongly contributed to the success of the implementation lies on how it impacted the children. Just as how these parents express their gratefulness to the government's program for undernourished children.
"Okay gyud kaayo ni nga programa. Salamat sa DSWD sa pagpangga mga kabataan labina sa akong anak kay ni-improve siya mas inactive siya kumpara sauna, (This is a really good program. Thank you DSWD for the love for the children especially to my kid, I can see so much improvement on her compared before)," – Annaliza E. Salvador, parent, complimentarily said.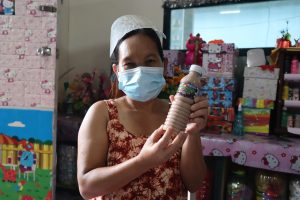 "Salamat. Ilabi na run nga panahon imbes nga amo pang paliton amo nalankg i-save ang kwarta kay naa may libre nga hatag sa DSWD.  Maexcite gyud permi akong anak gusto dayon niyang ablihan. Salamat DSWD sa inyong pagmahal sa mga bata, (Thank you. In these trying times, instead of buying it, we are fortunate to at least save the money because the DSWD has it for free. My kid gets excited and tells me to open it immediately when I reach home),"- Reynaldo Ernest P. Malaluan, said.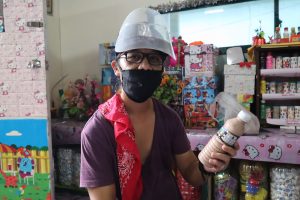 The SFP is the provision of food in addition to the regular meals to children currently enrolled in child development centers. Children are given food supplementation in the form of fresh milk during snacks or mealtimes five days a week for 120 days. SFP Caraga was able to serve 72, 332 children for its 10th cycle of implementation.