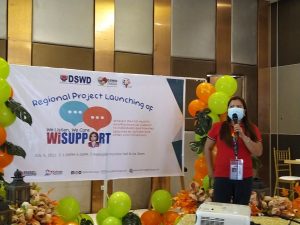 The Department of Social Welfare and Development (DSWD) Field Office Caraga launched a new project dubbed as the Wireless Mental Health and Psychosocial Support or WiSUPPORT – a technology-based platform that addresses the mental and psychosocial needs of individuals and families affected by COVID-19 and other crisis situations through psychological first aid and referral networks at Watergate Hotel, Butuan City, recently.
The creation of this project is rooted in DSWD's Administrative Order (AO) No. 3, Series of 2020, or the Department's COVID-19 Response and Recovery Plan for 2020-2022. One of the primary goals included in the AO is the development of a technology-based Mental Health and Psychosocial Support (MHPSS) and modules directed for individuals, families, and communities with a high number of COVID-19 cases.
OIC-Regional Director Ramel Jamen stressed that the DSWD's programs must attend to the poverty situation in the country and support its mental health services.
"It is our mandate to provide the disadvantaged individuals, families, and communities with necessary programs and services to uplift their living conditions. Our programs should address not only the poverty situation but also the considerable lack of mental health services in our country," Jamen explained.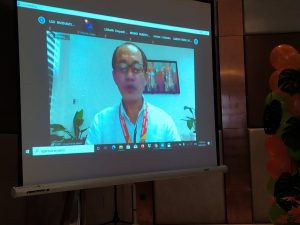 As designed, the WiSUPPORT Project has four components namely: (1) Platform for the Online MHPSS Sessions; (2) MHPSs Provision; (3) Learning and Development Interventions and (4); Referral Pathway. The platforms utilized in this project include a web portal, WISERV text messaging, mobile applications, and call hotline through mobile phones.
OWWA OIC-Regional Director Ma. Ireen Cambaling and United Registered Social Workers (URSW) Assistant Group Leader Sis. Marilou Besere also took part in the launching of the new project. They were joined by the City and Municipal Social Welfare and Development Officers within the region, partners from the Department of Labor and Employment Caraga, DSWD Social Technology Unit, and WiSUPPORT service providers.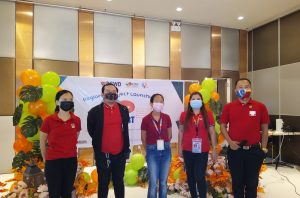 Partners from OWWA, DOLE, and URSW pledged their commitment during the program and promised to support and provide assistance to the implementation of the WiSUPPORT Program as referral network partners.
Should you want to connect with the WiSUPPORT Team, you may reach them through these platforms:
Official Web Portal: wisupport.dswd.gov.ph
Official Website: ekwentomo.dswd.gov.ph
Caraga Region Hotline (Available for call and text): 0963-569-1906 (smart) and 0945-344-9755 (globe)
Nationwide Hotline (Caters text only): 0918-912-2813 (Kindly use this format – DSWD (space) WiSUPPORT (space) Name/Sex/Age/Region/Message or Concern)
Official Email: wisupport.focrg@dswd.gov.ph.
You may also download the WiSUPPORT App via the play store for more details. The WiSUPPORT lines are open from 8:00 AM to 5:00 PM, Monday until Friday, except for the holidays.