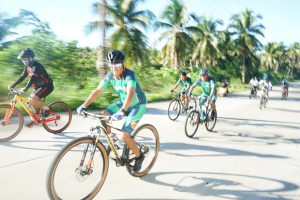 BUTUAN CITY — To bring the programs and services of the Department of Social Welfare and Development (DSWD) closer to the people, as well as promote health and wellness, an Information Caravan on Wheels was conducted in Siargao Islands in the province of Surigao del Norte recently.
OIC-Assistant Regional Director for Operations Jean Paul S. Parajes and Regional Information Officer Marko Davey D. Reyes, together with DSWD Disaster Response Management Bureau Assistant Secretary Rodolfo Encabo, led bike enthusiasts from the Field Office, riding from town-to-town to conduct the activity – distributing IEC (Information, Education, and Communication) materials and explaining the DSWD programs and services, as well as the Mandanas Ruling to residents of Siargao.
During the activity and distribution of IEC materials, DSWD staff who are fully vaccinated against COVID-19, ensured that health protocols are followed.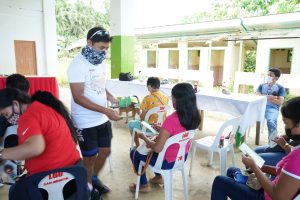 On Day 1, the team rode from General Luna to the towns of Santa Monica, San Benito, and San Isidro to conduct the information drive. On Day 2, the team pedaled to the towns of Burgos, Del Carmen, and Pilar; and on Day 3, the team held the activity in Dapa and General Luna municipalities.
Reyes said that such activity is very important so that people will be aware of their welfare rights and be well-versed of DSWD programs so that they won't be fooled by fake information posted online.
Reyes added that such an event is a way to promote health and wellness not just to DSWD staff but also to the public — that doing physical activities like cycling would help boost the immune system, reduce stress and anxiety, and reduce the risk of depression, especially during this pandemic.
Last year, a similar information drive was conducted in the municipalities of Buenavista, Nasipit, and Carmen, in Agusan del Norte province.
Moreover, one of the highlights of the activity is the presentation to Siargao locals the Devolution of government programs to the LGUs, specifically that of DSWD.
The devolution of programs and services to the LGUs is a result of the Supreme Court's ruling on the Mandanas-Garcia case, increasing the Internal Revenue Allotment share of the LGUs.
"The devolution will start next year and that billions of pesos from the national coffers will be poured to the LGUs. We are telling you this because we need you to be aware of the devolution so that you will know where to avail of the government's services later on," Assistant Secretary Encabo said.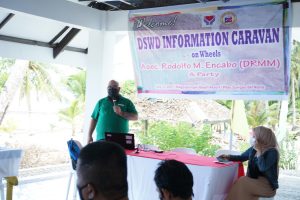 Moreover, Parajes hopes that LGUs will prioritize the soon-to-be devolved programs and services of DSWD such as the Sustainable Livelihood Program, KALAHI-CIDSS, Supplementary Feeding Program, among others.
The municipalities of Siargao were chosen for the said activity to also highlight the impact of the Risk Resiliency Program- Climate Change Adaptation and Mitigation – one of the programs of the agency under the Disaster Response Management Division, where the municipalities of the said island have successfully implemented.