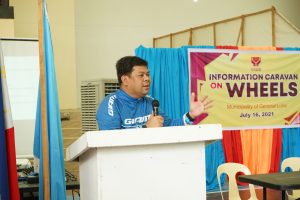 An official of the Department of Social Welfare and Development's (DSWD) Disaster Response Management Bureau (DRMB) has urged Siargaonons to protect the environment and maintain cleanliness in their towns to prevent or reduce the effects of calamaties.
DRMB Assistant Secretary Rodolfo Encabo, who participated in the Information Caravan on Wheels in Siargao Islands last week, challenged Siargaonons to maintain the cleanliness of their towns and protect the environment despite influx of tourists in the island.
Encabo, a cycling enthusiast, joined fellow bikers from DSWD Field Office, riding from town-to-town in Siargao Island to conduct the information drive – distributing IEC (Information, Education, and Communication) materials and explaining the DSWD programs and services, as well as the Mandanas Ruling to residents of Siargao.
"[As DRMB official], nalipay ko nga nagkita ta diri sa Siargao nga walay disaster kay usually makita lang ko sa mga tao kung adunay nay katalagman nahitabo (I'm glad that we've met here in Siargao not during a disaster because usually I'm only visible to the people whenever a calamity happens)," Encabo said in jest.
"Gi-awhag mo nako nga protektahi inyong kinaiyahan para malikayan ang grabeng epekto kung aduna nay kalamidad (I encourage you to protect our nature to lessen the effect of calamities," Encabo told Siargaonons.
Siargao is a popular tourist destination in the Philippines and is frequented by surfing enthusiasts. The island's landscape and seascape had been classified as a protected area, although it has become a favorite destination for international surfers in recent years.