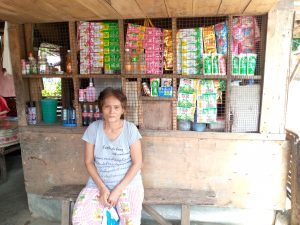 "Manguli na ta."
It was a long, tiring day for Evelyn and her husband. They had been out since early in the morning to tend their farm. It was already near evening, so she and her husband decided to call it a day and go home.
Just when they thought they could come home to relax, they were shocked and downhearted to see nothing but ashes of what used to be their small and humble abode.
A big fire took place and burned down everything they had. Fortunately, none of their children got hurt. Help also came in late because the couple's house was far from their neighbors.
55-year-old Evelyn Parian is a wife, mother, and farmer from Sitio Ban-Ban, Barangay Camam-onan, Gigaquit, Surigao del Norte. Since she started her own family, she promised herself that she would work hard and join her husband to tend their farm to support their family's needs.
But in a snap of the fingers, all of Evelyn and her husband's hard work went down to ashes. The fire just ruined every fruit of their labor. Evelyn felt hopeless.
"Sa kadto nga panghitabo, wala mi kabalo kung unsa ang among buhaton aron mabalik sa normal ang among kahimtang. Grabe namo kalisod ug naluyahan gajud me sa panghitabo (With what happened, we didn't know what to do just to make things go back to normal. We experienced extreme hardships and we were really discouraged)," Evelyn shared as he tearfully remembered what they had to go through at that time.
Despite feeling hopeless, Evelyn prayed day and night. One day, she got the answers to her prayers. Evelyn became a recipient of livelihood assistance from the Department of Social Welfare and Development's Sustainable Livelihood Program. Through the program's Internally Displaced Persons – one of its unique projects that assist displaced families due to various factors such as conflict and disasters, Evelyn acquired PhP 20,000 to establish a mini sari-sari store.
She set up her new business at their new residence located in Barangay Daywan, Claver, Surigao del Norte, with the desire to start fresh and forget the pain caused by the fire incident.
Evelyn narrated, "Diri name nipuyo kay magsakit ang akong kasing-kasing nga makita ang among hinaguan nga balay nga nawala og kalit (We decided to relocate here because I would feel pain in my heart every time I see that the house we worked hard for was just gone)."
As soon as she got the livelihood assistance, Evelyn immediately built a small store and bought all supplies to fill the store. While it is true that the cash assistance she received was not so hefty, but she is already more than grateful because it has already helped her provide for her family and has kept her occupied. Most of all, it has slowly aided her in accepting what happened and has pushed her to move forward.
"Dako kaayo ang paglaom nga gihatag sa DSWD sa akong pamilya. Ang ilang gihatag nga assistance nakatabang og dako sa amo (DSWD gave our family so much hope. This assistance they have extended to us has helped us in a great way)," she said.
Many years will pass by, but Evelyn and her family will never forget that terrible fire. But that fire is only a thing of the past. Now, she is ready to begin again.
Through this small livelihood, Evelyn found the healing that she needed.