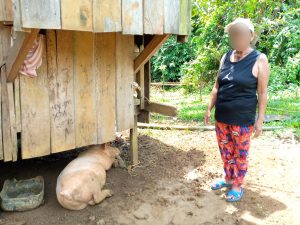 Since her husband was a little kid, Rowena said that his life had not been a bed of roses. Adolfo, Rowena's husband of 34 years, has always lived a difficult life.
Sixth among eleven children, Adolfo (not his real name) had to start working at eight. He would join his parents go farming just to put food on their table. As he grew up, Adolfo was never able to experience a comfortable life which he always dreamed of no matter how hard he worked.
In 1987, Adolfo met Rowena (not her real name). They got married and were blessed with five children. Just like Adolfo, Rowena also had lived a hard life. So when Adolfo and Rowena began their family, both of them built a dream of giving their children a better life.
Sadly, with farming as their only means to get by, achieving their dream seemed impossible. Because of this burden, Adolfo decided to join the New People's Army with the promise that he can provide more for his family.
But instead of having better living conditions, their situation got worse. Food was harder to provide. The family lived in worry and fear. Rowena could not help but cry while imagining that she could lose her husband in the process. As for Adolfo, he only wished that he could turn back time and take back his decision to join the group.
"Ang kahadlok sa akong dughan dili gajud mawaya kay basin og naay mahitabo sa ako ug sa akong pamilya tungod sa desisyon nga ako taghimo (The fear in my heart was undeniable because of the dread that something might happen to my family because of the decision I made)," Adolfo tearfully shared.
Luckily, it was not yet too late for Adolfo. The time came when a window opened for Adolfo and allowed him to leave the group. He surrendered to the Philippine Army and promised never to take that wrong path ever again.
When he surrendered, opportunities for a greener pasture started flooding in. The national government introduced and included Adolfo and his family in programs that provided them safety and development. One of these is the livelihood opportunity through the Department of Social Welfare and Development's Sustainable Livelihood Program. With the help of the DSWD-SLP, Adolfo became a beneficiary of the Livelihood Settlement Grant (LSG). He received PHP 20,000, which he used as a seed capital fund to start his small piggery business.
As Adolfo started his business, Rowena never left his side and became his partner in managing the piggery. Aside from the said business, Adolfo continues to farm and constantly tries to find an additional income. With the couple's hard work, they were already able to purchase one carabao from their earnings.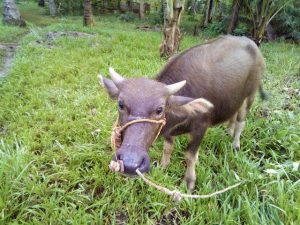 Rowena shared, "Kon sa una, bisan pa og adlaw-adlaw kami magpasuhol, dili gihapon paigo ang amo kita para sa amo pagkaon. Kuman, mapasalamaton gajud ako kay dili na kami maglisod (Before, even if we worked every day, it still wasn't enough for our food. Now, we are very thankful because we don't have to experience the same hardship anymore)."
Now, the couple feels that they are in a better state. Aside from putting food on their table, the couple can also provide an allowance for their children and buy their other needs.
"Makaduhoy na kami sa amo mga bata nan ila pang-allowance para sa ila pagskwela ug dili na kami maglisod kon manginahanglan kami nan kwarta sa panahon sa emergency kay jaon amo babuyan nga madali-dali namo og baligya (We can now provide for our children for their allowance when they go to school. Whenever we need money in times of emergencies, we do not stress about it anymore because we have our piggery and can easily sell our pigs)," both Adolfo and Rowena said.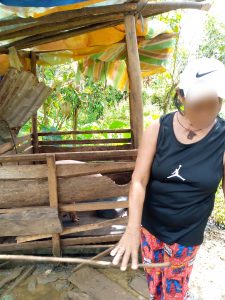 Adolfo and Rowena's journey isn't over yet. This journey is only the first of many more beginnings. Deep in their hearts, both husband and wife know that they will soon find the greener pasture they have always dreamed of if they continue to hold on to each other and believe that there is a beautiful life waiting for them.