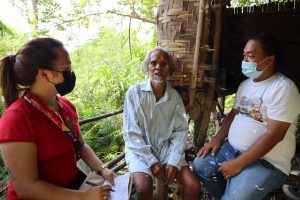 "We are just roaming around the mountains when we saw a pitiful-roofless house with a man living there. The day after, we decided to get back there and brought some food." – Pedro Sombrio, Barangay Sua's 2nd Kagawad said.
As a Social Pension for Indigent Senior Citizens Program beneficiary, the story of a 79-year-old Florentino O. Aldaya started that way. In the middle of the forested surroundings, Florentino relished his every day singing his favourite song or if not, doing some light chores considering his old age.
Soon as he heard noises approaching, he looked towards the direction where the noise came from. It was the group of youth led by Kagawad Sombrio wandering around the area. They stopped at Tatay Florentino's and took a rest beside him, and spent some time exchanging stories while getting to know Tatay.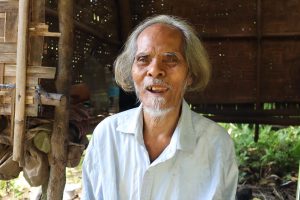 At the age of 14, Florentino started joining missionary works in different religious sects. With this calling, he was able to live in different places in Mindanao until he reached Barobo, Surigao Del Sur, where he decided to permanently stay. However, as the months and years passed, time took away his youth, and started to take a toll on his body – he began having illnesses such as impaired vision due to eye cataract and body pains. He lost contact and communication from his family and relatives.
Florentino lived a hundred kilometres away from the city proper – a place where no one would decide on staying permanently.  It was the farthest barangay in the municipality of Barobo.
Given the situation, Tatay had no access to basic services, and his only source for his needs was the available resources from nature, which surrounded him. After his interaction with Kagawad Pedro, his situation was endorsed to the Local Social Welfare and Development. Good thing, there was an on-going assessment for the Social Pension for Indigent Senior Citizens Program (SPISC) of the Department of Social Welfare and Development (DSWD). With the help of Kagawad Florentino, the Social Worker of the said program was able to locate Tatay Florentino and conducted the assessment – luckily he qualified as beneficiary of the program.
"Mapasalamaton ko sa balaod sa gobyerno nga tabangan ang mga seniors. Gitabangan ko nila nga mutaas pa akong kinabuhi. Natuman gyud akong pag-ampo nga matabangan ko, (I am thankful to the government's extension of aid, especially in helping the senior citizens. It helped me live a longer life. The program is an answer to my prayers)," Florentino said.
Gratitude compels Tatay Florentino to express his personal experience as a beneficiary of the program that improved his quality of life, and which made his existence more sensible. As stated by Tatay Florentino, he cannot return the favour to the government; he can only express how grateful he is that beyond the hopeless situation he was in, the government provided him a ray of hope for a better life.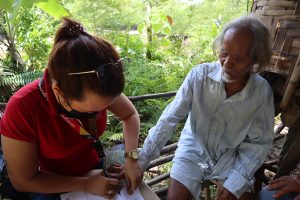 "Nibati gyud kog kalisod sa kinabuhi dinhi pero sukad nga gitabangan ko sa DSWD, nalipay ako kaayo. Nahatag akong mga kinahanglanon wala ko nila gipasagdaan, (I have been through a difficult life, but since DSWD extended help to me, my needs have been addressed – they never neglected me.)" he said.
Due to his age and condition, he cannot work as he used to before. With this, he is entirely dependent on the SPISC Program. The Barangay Local Government Unit on the other hand has also extended services by facilitating him with government's assistance thru the Department's Social Amelioration Program (SAP) during the ECQ period of the COVID-19 Pandemic in 2020. Part of the Php5,000 grant he received was utilized for the construction of his small nipa house where he currently lives. He is also a recipient of the relief goods during the Tropical Storm Auring operation. Furthermore, Florentino Aldaya was also referred to the Assistance to Individual in Crisis Situation where he received cash assistance.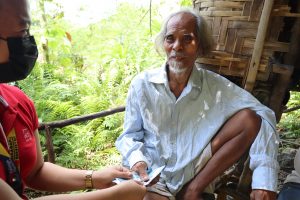 Many people today think life is a race where you must be the best at everything. Yet, there are still people like Florentino whose happiness speaks of contentment. A bit of one's time already means so much for him. For someone who has visual impairment, someone's voice calling out his name, even from a far, asking how he was doing, speaks volumes.  Though he has no family to comfort him and provide for his needs, he has an alternate family, the government, who has been comforting him by giving him his needs. Though his story is somewhat sad, but Tatay Florentino is happy and contented of his situation.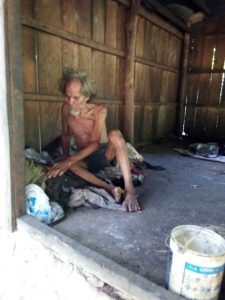 Apart from the cash assistance he is receiving, the Department is extending its aid by facilitating the tracing of the whereabouts of his family or relatives.
Tatay Florentino O. Aldaya is dependent on the stipend he gets from the SPISC. DSWD sees the importance of this stipend in the lives of its beneficiaries, this is why the agency seeks to conduct timely payouts in the different cities and municipalities in the region. DSWD seeks to locate other senior citizens, isolated, just like Tatay Florentino, and provide them with the necessary aid they need.