"A mistake cannot be corrected by another mistake."
These are the deep words uttered by Anjelina Juanite Ellazo, a beneficiary of DSWD's Pantawid Pamilyang Pilipino Program, who managed to get up after being struck down by life's challenges.
Anjelina is the last eligible child monitored (for the 4Ps program) amongst three children of Nanay Felipa Ellazo and Tatay Marcial Ellazo of Brgy. Roxas, Municipality of Mainit, Surigao del Norte province in Caraga Region.
The couple is blessed with nine (9) children of whom eight (8) now have their families of their own (including Anjelina), and one remaining child who is still single.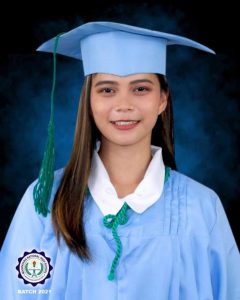 As a means of living, the couple farms coconut in their 1.5-hectare land and earns Php6,000 a month, an amount that could barely suffice their needs.
Despite the financial insufficiency, the couple doubles their effort just to provide the basic needs of the children especially their studies, because they believe in the importance of education for their success.
"Waya man kami mag-asawa nakatapos sa pagskwela tungod sa kalisud pero hingpit namun tagpaningkamotan na dili ma singud among mga bata sa amo (Because of poverty, we were not able to finish our studies, this is why we will do our best for our children not to experience the same life)," Nanay Felipa shared.
But things did not go as planned. After seven of the Ellazo children finished high school, they got married right away and opted not to pursue college. The couple was disappointed because of their children's decisions.
"Maningkamot man untana kami na mapa skwela sila sa Kolehiyo pero dili naman gajud mapugos kay jaoy namay ilang Pamilya (We are more than willing to do everything just for them to pursue College but they made up their minds on focusing with their own families)," Tatay Marcial said in frustration.
'Bonfire'
But there is still Anjelina, their youngest daughter who they have high hopes would finish college.
Anjelina, as the youngest child, is the family's apple of the eye. She grew to be everybody's favorite because of her innate wittiness and sweetness, and her gracefulness in dancing. She has been a consistent top honor student since 1st grade up to High School. She actively participates in school activities, both Academic and Non-Academic. She is one of the Student Leaders in her school.
She attended and facilitated the series of Youth Development Sessions in her school. She is known on the campus as "Bonfire" because of her height which is associated with a Bonsai plant and fire which symbolizes her strong personality.
Her desire to fulfill her parent's dreams to pursue college is what keeps her going. Despite the financial instability, they never run out of ways to provide for her educational needs. Her studies are their top priority.
Burnout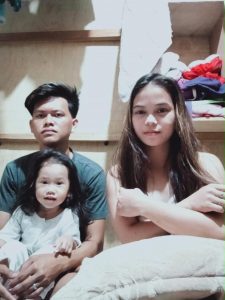 But a test in her life changed the course of her journey. The flame of her innocent heart was put out of the fire because of the magic that only love can explain.
At the age of 17 years old (grade 10), she had her first intimate relationship with her senior schoolmate, James. They belong to a group of Folk-Art Dancers in school that is why it is difficult for her to resist what their closeness brought.
Days passed by and her feelings became more intimate. They hid their relationship from both of their parents because "to finish their studies" was their promise. However, after seven months of keeping the relationship a secret, something had to give – a "blessing" (as Anjelina describes), was formed.
"Pagka 7 months namo na panag uyab, waya ra lamang sa akong isip na kabdos na baja ako. Waya ko kasabot sa akong tagbati permiro, pero isa ra ang sigurado ako adto na tungura…ini na blessing unexpected, pero dili unwanted…so ipadayun ko gajod ini (After 7 months in our relationship, I wasn't aware that I was pregnant. I can't describe what I felt when we found out but I knew from the start that this child is not unwanted but rather a blessing)," Anjelina said.
Anjelina's parents were in deep sorrow, full of disappointment and frustration as they knew about the pregnancy. Their world turned upside down thinking that their last card has already been laid down and this fact pains them like a blade cutting through their hearts.
A burning desire
But Anjelina, stood firm. With her partner James, they decided to continue their studies as well as the pregnancy with the help and support of both their parents.
"I made a mistake, I stumbled but I know I will finish this strong," Anjelina said. "Dili gajud lalim ang magkadaku an tijan tapus graduating pa gajud sa Junior High, pero kayanon naku ang tanan dili para sa ako pero para sa akong ginikanan labi na sa akong anak (It's not easy to have a baby bump when you're about to graduate Junior High. But I'll do everything I can for my parents and for my child)," she added.
Anjelina continues her life as a student and as a young mother. She strived hard in school just to make her parents proud. James' parents were also supportive of her needs in all aspects. She graduated from Senior High School in June 2021 with honors.
"I will make everything right. I got pregnant at a young age, but pursuing my pregnancy is by far the most righteous decision I have ever made. Ang sala dili ma sakto kung dugangan pa nan isa ka sala (A mistake cannot be corrected by another mistake). So here I am now, pursuing and living my dream with my little bunch of blessing," Anjelina said.
At present, Anjelina lives with her little family together with her partner's parents. She is well-loved and taken care of by her partner who is taking Bachelor of Science in Marine Engineering.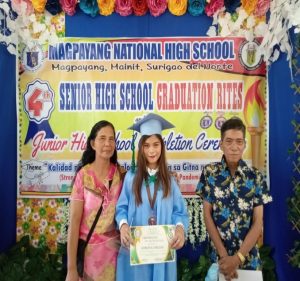 "Dili baja gajud lalim ang magminju ug sajo mam. Ug sa tanang mga kabataan maminaw gajud sa mga ginikanan kay walay tambag nila na makadaot sa ato, (It's hard to get married at a young age. I advise all teenagers to heed to your parents' advices)," Anjelina said, realizing the importance of every piece of advice her parents gave her. She did not regret having a child, but according to her, "I should have done better".
Moreover, she plans to enroll in the Bachelor of Technology & Livelihood Education course at the SSCT-Magpayang this August 2021. They are planning to get married after James finishes his degree.
"I am not proud of the person I was but I am more excited about the person I would become. Every day brings new chances to learn, to grow, and to be better. To my fellow youth, do not follow the deed I did, but keep the fire burning within you to fuel yourself with courage and strength every time you stumble," Anjelina proudly shares.