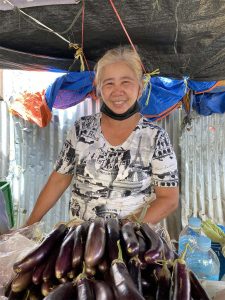 It is most parents' dream to leave a legacy for their children. For these parents, family legacies are important as these are passed down from one generation to another.
Family legacies come in many forms. Many parents would say that their legacies lie behind their accomplishments, business, or power.
But some, especially those who don't have much in their pockets, family legacies mean preserving attitudes, beliefs, traditions, and values.
In Surigao City, Nanay Nilma Figuracion, a 61-year old mother and vegetable vendor from Surigao City, Surigao del Norte, education is the legacy she wishes to impart to her children. All she desires is for her children to have happy, healthy, and successful lives.
In order to be able to leave her children with these legacies, Nanay Nilma would start her day early at the market and peddle vegetables. Even if she only earns just enough, she is grateful because she is able to send her twin children to school.
Luckily, Nilma has also been blessed with a hardworking and loving husband. To make ends meet, her husband left their hometown and worked as a driver in Metro Manila.
Everything was going well within the Figuracion family until the pandemic happened.
Due to the lockdown, Nilma's husband's work was severely affected. He couldn't provide for his family's needs and going home to Surigao City was almost impossible.
Nilma felt defeated. She had no choice but to strive for her family, especially her children, even if her own livelihood was also affected because of the crisis.
Aside from trying to pull things together and putting food on the table, Nilma also had to find means to support her twins' education. Despite the pandemic, classes were still ongoing and done online. The poor mother was forced to use almost all of her capital in her vegetable vending business to pay for everything.
"Lisod gyud kaayo ang kinabuhi katong nagka-pandemic. Naglibog ko asa ko mukuha para sa among pagkaon, panginahanglanon, ug pang-eskwela sa akong mga bata (Life was so hard during the pandemic. I didn't know where to get the money for our food, needs, and education of my children)," Nilma said as she wiped off the tears from her eyes.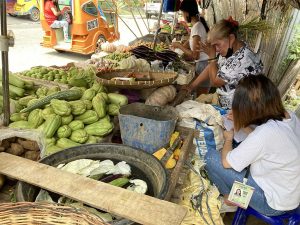 Nilma never stopped believing that a breakthrough in their situation would come. She knew that help would arrive soon.
One day, the good news she prayed for finally came.
Nilma was selected as a beneficiary of the livelihood assistance from the Department of Social Welfare and Development. After a thorough validation, Nilma was deemed to be eligible to receive PHP 15,000 from the DSWD's Sustainable Livelihood Program.
"Kuman, aduna nakoy mahigit PHP 30,000 nga capital gina-rolling. Nalipay gyud ko ani nga assistance kay tubag kini sa akong pag-ampo (Now, I have almost PHP 30,000 as my capital. I am really happy with this assistance because this was the answer to my prayers)."
She also shared that she now earns almost PHP 2,000-PHP 3,000 a day from her vegetable vending business. From her income, she is able to provide for the whole family and most of all, she can continually support her twin's education.
"Kun wala ang additional capital nga gihatag sa DSWD, basin mahurot ang ako capital or basin maundang sa pag-eskwela akong kambal (If not for the capital given by the DSWD, I could have exhausted all of my capital on hand or maybe, my twins would have stopped going to school)," Nilma tearfully said.
Right now, Nilma is just grateful that her family survived the crisis they went through in 2020. She's confident that she can continue making the legacy she wants to leave her children: their education.
Nilma further shared, "Kun makahuman na ang akong kambal, mupahuway na ako. Di nako magtinda sa kilid sa dalan. Sakto naman siguro jaon nga mapahuman ko ang akong kambal (Once my twins finish school, I'll take a rest. I'll stop selling on the streets. I think I've already done enough once my children graduate)."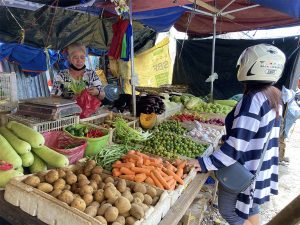 At present, Nilma's children are preparing for their second year in college and taking a course in Criminology. In a matter of four years or so, she will have two professional police officers in her family.
Every parent has a different legacy to leave to their children. But for Nilma, she believes that her children's education can be the best thing she can leave them.
Through her livelihood, Nilma knows that building her family legacy is just within reach.