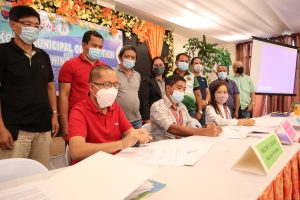 Lockdowns and strict health protocols due to COVID-19 pandemic doesn't wear out the spirit of KALAHI-CIDSS Caraga staff; instead they find ways to complete the Launching of Additional Financing modality and Municipal Orientation (MO) of the program to 15 municipalities under Batch 1 areas.
KALAHI-CIDSS have adapted to the new normal and are now adept in operating teleconferencing with LGUs, which some, prohibits face-to-face activities in their areas.
"Today's activity should go on because KALAHI-CIDSS has a very tight timeline. Mao nang by hook or by crook ato jud ning ipadayon ug ang mga umaabot pa nga activities sa KC-NCDDP Additional Financing (Thus, by hook or by crook we should continue t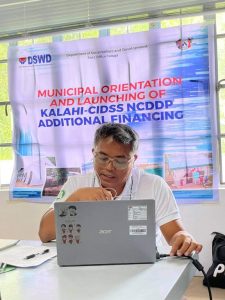 o conduct this activity including upcoming activities under KC-NCDDP Additional Financing)," OIC-Assistant Regional Director for Operations Jean Paul S. Parajes said during one of the virtual.
"As much as I want to meet you personally for this event, this pandemic has prevented me from doing so. Nevertheless, we need to adapt to these changes because we need to continue serving the poor and vulnerable communities," Parajes said.
The Municipal Orientation is one of the activities under Social Preparation Phase of the KALAHI-CIDSS, which stands for Kapit-Bisig Laban sa Kahirapan – Comprehensive and Integrated Delivery of Social Services – a program implemented by the Department of Social Welfare and Development (DSWD).
Having proven its effectiveness as a poverty alleviation strategy and empowerment mechanism, the KALAHI-CIDSS National Community-Driven Development Program (NCDDP) has been granted Additional Financing to expand its reach.
In Caraga Region, the Additional Financing cover 55 municipalities: 15 local government units (LGUs) under Batch 1 and 40 LGUs under Batch 2.
The LGUs under Batch 1 are:
1. Carmen, Agusan del Norte
2. La Paz, Agusan del Sur
3. San Benito, Surigao del Norte
4. Pilar, Surigao del Norte
5. San Francisco, Surigao del Norte
6. Malimono, Surigao del Norte
7. Bacuag, Surigao del Norte
8. Tubod, Surigao del Norte
9. Alegria, Surigao del Norte
10. Carmen, Surigao del Sur
11. Madrid, Surigao del Sur
12. Bayabas, Surigao del Sur
13. San Agustin, Surigao del Sur
14. Barobo, Surigao del Sur
15. Cagwait, Surigao del Sur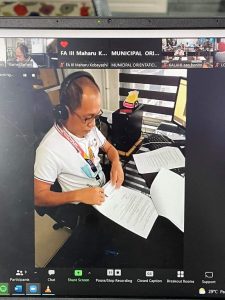 "This grant is intended to address the impact of COVID-19 pandemic to the poor and vulnerable communities. Despite the pandemic, KALAHI-CIDSS is working harder for these poor communities," OIC-Regional Director Ramel F. Jamen said after he ceremonially signed the Memorandum of Agreement (MOA) between the DSWD and LGUs during the virtual Municipal Orientation of the program.
"The MOA we signed is a testament of our long and warm partnership. For that, I would like to thank both LGUs for your unending support to the programs and services of DSWD," Jamen said.
"Thank you also to the KALAHI RPMO and field staff for your dedication to your respective jobs. I hope the fire in serving our fellow Caraganons will keep on burning," the regional director said.