In its relentless efforts to help its livelihood program participants in developing their respective products and services, the Department of Social Welfare and Development (DSWD) initiated a learning visit at Amparitas Integrated Natural Farm in Hinatuan, Surigao del Sur, on August 6, 2021.
The Regional Program Management Office, Provincial Coordinators, and Provincial Monitoring and Evaluation Officer of the Sustainable Livelihood Program participated in the said visit.
The Sustainable Livelihood Program is the livelihood intervention arm of the DSWD which aims to hone the capacity of its program participants by providing them with access to opportunities that increase the productivity of their livelihood assets.
SLP Regional Program Coordinator Mary Ann Manla emphasized that the learning visit was an essential activity for the SLP staff so that they can provide proper technical assistance to the SLP participants and associations in marketing and developing their products.
"It is a must for us to equip ourselves so that we can give the appropriate support and inputs to our program participants. Also, this activity can help us develop possible innovations and practices that can also improve the delivery of our services," Manla said.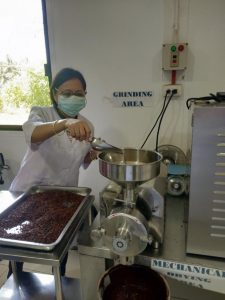 Because most of the goods and services of Amparitas Integrated Natural Farm (AINF) are similar to the products offered by the SLP associations or participants in the Caraga Region, the SLP-RPMO reckoned that the said institution was the ideal place to benchmark innovations and best practices.
AINF presents a wide range of products such as organic fertilizers made from coco peats/coirs and food/edibles like virgin coconut oil, coco sugar, coco blossom tea, coco cola, coco aminus, coco nectar, buko juice, coco vinegar, buko bukayo, natures pal, tablea, ground coffee, banana chips, tablea and dragon fruit ice cream. The farm also offers chocolate and coffee scrubs.
The learning visit kicked off with an orientation about the farm which included its humble beginnings. This was followed by a tour led by the owner, Engr. Ramon Barbosa, at the farm's poultry area and coffee and cocoa plantation.
During the tour, the SLP staff also had the chance to make a coco net – one of the products manufactured by the AINF.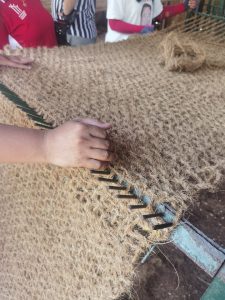 "The activity was something new, fun, and fulfilling! We got great inputs and takeaways which we are very excited to share with our program participants in our respective provinces," SLP Provincial Coordinator for Surigao del Norte Jhunrey Betonio expressed.
The DSWD-SLP staff eyes to conduct more learning and benchmarking activities not just for the staff, but for the program participants as well to help them enhance their skills and to produce quality and exceptional outputs.