A happy home is essential to the growth of a child. It is every child's right to feel safe, happy, and loved in their respective homes.
Sadly, this isn't the case for all children. Many children, especially girls, suffer from abuse and neglect in their own homes. What should have been these children's safe haven has become a house of horror.
Fortunately, the national government, through the Department of Social Welfare and Development, established a residential facility to house abused, abandoned and displaced girls, female children in conflict with the law, and other children in crisis situations and help them recuperate from their awful experiences.
In Butuan City, Agusan del Norte, the Home for Girls continues to serve as a temporary home and shelter for girls in need of special protection since 1997.
Currently, the HFG houses 23 clients. Most of these clients are victim-survivors of physical abuse. The experiences of these children have been undeniably terrible and traumatic but slowly, they are able to recover through the services of the facility.
On a sunny Thursday morning, three of these clients boldly shared their healing journey at the HFG and how the facility, including its staff and residents, has contributed to their rehabilitation.
Serbisyong May Malasakit
For as long as she can remember, 18-year-old Janine (not her real name) has known the Home for Girls as her home. Since she was a little child, she has been at the facility already. As a matter of fact, it is already her third time being housed at the HFG. It was her mother who personally brought her to the facility.
"Diri na gyud ko nagdako. Akong mama ang nagdala diri sa ako katong bata pa kaayo ko (I grew up here. My mother brought me here when I was still young)," Janine said. "Ikatulo na nako ning balik diri, pero wala ra pud sa ako kay ganahan man ko diri. Malipay man ko diri (This is already my third time being admitted here but I don't mind because I like it here)."
Even as a kid, Janine knew that her own mother had abandoned her. It took her a long time to forgive her mother, much longer than her perpetrator, but she eventually did through the intervention of the HFG.
"Sa tinuod lang, mas dugay pa nako na-forgive akong Mama kay sa akong abuser. Mas sakit ang gibuhat sa akong Mama pero mapasalamaton ko sa mga staff ug house parents diri sa HFG kay tungod sa tabang nila, ako ra hinay-hinay napasaylo akong Mama (Honestly, it took me more time before I was able to forgive my mother rather than my abuser. What my mother did to me was more painful but thankfully, through the support of the staff and house parents at the HFG, I was slowly able to forgive my mother)," Janine said as she wiped off the tears in her eyes.
When asked what she liked most about the facility, Janine paused and took a deep breath. Her eyes started to well up once more.
Janine shared, "Akong pinakaganahan diri sa HFG kay diri ko nakabalo unsa na ang love. Diri nako nailhan ang love ug pamilya (I learned what love was. That's the thing I like the most while staying here in the HFG. This is where I knew about love and family)."
She further explained that at the facility, she felt that all the staff and house parents truly cared for her. Even if she was the oldest resident at the facility and it was already her third time being housed there, the HFG staff and house parents were consistent in treating her fairly and nicely.
"Maskin daghan mi diria ug maskin pa ikatulo na nakong balik diri, ma-accommodate gihapon ko nila. Gi-love jud gihapon ko nila (Even if we are a handful here and it's already my third time staying in the facility, they would still accommodate me properly. They continued to love me)."
Janine expressed that she'll forever be grateful to the Home for Girls. She said that the facility, especially all the staff, will always have a special place in her heart.
With a wide smile and hopeful eyes, Janine uttered, "Dili gyud nako sila makalimtan diri. Sila gyud ang akong ginaturing nga family (I'll never forget them. They will always be my family)."
Walang Puwang sa Katiwalian
Joan (not her real name) is a 16-year-old teenager from Agusan del Sur whose story of abuse began at the young age of 10. She was abused for five years but only realized that it was abuse when she turned 15.
Unlike the other residents, Joan felt relief when she was housed at the facility. Since she realized her ordeal, she had been praying hard to get away from her frightening situation. Hence, it was definitely an answered prayer for her when got admitted to the HFG.
Joan loved staying at the HFG. She said that she experienced a lot of great things inside the facility which she wasn't able to do when she was still outside. She remembered that even as a child, her perpetrator had always restricted her inside their house and forbade her to go out. Joan was locked up inside her own home.
"Diri sa home, mahatagan gyud mi sa among kinahanglanon. Di gyud sila magkulang. Sa pagkaon, ikatulo jud mi makakaon naa pa gyud nay snacks. Sa mga sanina, tanan jud mi mahatagan. Sa mga sabon ug uban pang personal needs, tanan mi mahatagan og issuance. Kung magsulti sab ta og health, mahatagan sab mi ani. Sama nako, naka-adto ko og dentist para mapaayo akong sakit sa ngipon (Here at the Home for Girls, we are well-provided. The staff never misses to give us what we need. In terms of food, we get to eat three times a day and we can even have snacks. As for clothes, we're all given our shares. For soaps and other personal needs, everyone is given and issued with those. Our need for health services is also addressed. I was able to go to the dentist when I had a toothache)," Joan shared excitingly with much amazement in her eyes.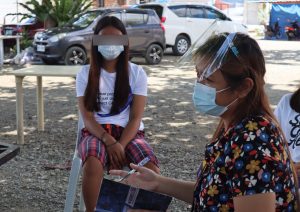 Despite her terrible experience, Joan said that she has already forgiven her abuser.
"Tungod sa mga services diri sa center, ako naman sab napasaylo akong abuser. Pero dili pasabot nga dili nako ipadayon ang kaso. Kinahanglan gihapon managot akong abuser kay unsaon na lang kung makagawas ko diri, basin balikan na sab ko niya (Through the services designed by the center, I was able to forgive my abuser. But that doesn't mean that I won't push through with the case. My abuser needs to pay and be accountable for what he has done. If I won't do it, he may come back for me once I get discharged here)."
After attending all the sessions at the HFG, Joan developed a passion to become an advocate against child abuse. She said that once she gets discharged, she wants to promote awareness about abuse in remote communities and help those who are in need.
"Gusto ko makatabang sab sa ubang mga bata nga pareha og kahimtang nako. Gusto nako sila makagawas ana nga sitwasyon labi na katong naa sa mga bukid, Kay sama nako, usahay sa balay magsugod ang pag-abuso pero wala dili makasumbong ang mga bata kay tungod mahadlok sila or wala sila kabalo nga mali ang ginabuhat sa ilaha (I want to help other children who have a similar situation with me. I want them to get out of that situation especially those who are residing in far communities. Just like my story, some abuse starts at our own homes but children are afraid to report or maybe, they don't have any idea about their situation)," Joan boldly expressed.
Presently, Joan is being trained by the HFG staff to lead small sessions or discussions as a way of supporting her dream of becoming an advocate against abuse.
Patas na Pagtrato ng Indibidwal
According to Ethel Jalapit, HFG Staff and Social Worker, Liza (not her real name) was quiet when she was first brought to the facility. She was aloof and she didn't want to mingle with other residents.
Eventually, Liza lightened up and began to spend more time with others. As she'd describe herself, Liza said she is very talkative and bubbly now.
When Liza entered the facility, she was 17 years old and pregnant. Sadly, her abuser impregnated her. But once she knew she was having a baby, she took the risk and fled away from their home.
Staying at the Home for Girls for two years now, Liza never felt discriminated against. She had always felt safe and secured inside the facility – the feeling she never experienced at home.
"Sa una nakong pagsulod, nakulbaan ko kay basin di nako kagawas. Pero dili ra man diay. Diri kay ginapa-feel nila nga safe mi ug pwede mi maka-eskwela (When I first got here, I was nervous because I thought I might never be able to go out. But I was wrong. Here, they made us feel safe and we can go to school)," Liza narrated.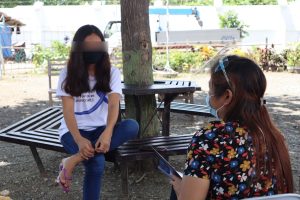 Further, Liza shared that all of the staff at the HFG treated them fairly. No one was given special treatment. She felt that the staff made sure that every resident was noticed. Liza felt that in the eyes of the staff, each resident mattered.
Liza added, "Ginatudluan jud mi diri og sakto sa mga staff ug sa mga house parents. Sama sa livelihood unya maskin naa mi diri sa sulod, maka-income gihapon mi. Tudluan sab mi nila mag-gardening (The staff and house parents teach us well. Even if we are admitted here, we get to earn because they taught us about livelihood. They also teach us gardening)."
Aside from all these things, Liza also emphasized her gratefulness to the staff for their patience in helping her process her feelings about her pregnancy. She said that she never felt alone while carrying the baby.
"Nalipay ko nga nakasulod ko diri kay ilaha ko gitabangan sa akong pagbuntis. Ilaha sab ko gitabangan sa akong gibati bahin sa akong sitwasyon. Mao na makasulti jud ko nga love jud mi nila diri (I'm happy I got here because they've helped me in my pregnancy. They also guided me in processing and understanding my feelings regarding my situation. I can really say the people here love us)."
For Liza, her most favorite restorative session or activity at the facility is socialization and family dialogue. Through those socialization sessions, she gathered that she could still improve herself and be more confident. As for the family dialogue, it allowed her to talk about her feelings to her mother and everything that she felt during her time of the abuse.
Once she gets discharged, Liza is confident that she is ready to take on the world. The Home for Girls has helped her how to protect and stand for herself. Most importantly, the facility has taught her that she is special and has a special place in this world.
A safe haven
Just like Janine, Joan, and Liza, many of these victims of abuse have also suffered much pain and trauma. But through facilities such as the Home for Girls, these girls stand a chance of having a bright and hopeful future.
The Home for Girls will always be a safe haven for all the abused. As they heal, the facility will serve as their home filled with love and affection.