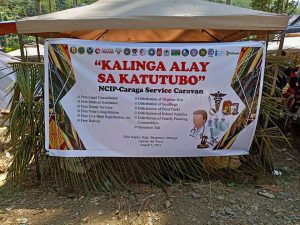 In line with the "Kalinga Alay sa Katutubo: NCIP-Caraga Service Caravan," the Social Pension for Indigent Senior Citizens Program of the Department of Social Welfare and Development, took part in the Serbisyo Caravan on August 5, 2021 at Sitio Inajaw, Brgy. Bangonay, Jabonga, Agusan Del Norte.
The said activity aims to provide steadfast protection and promotion of the interests and welfare of the Indigenous Cultural Communities/Indigenous Peoples (ICCs/IPs) through the different programs and services of the government agencies – by reaching out to communities in geographically isolated and disadvantaged areas (GIDA).
During the NCIP-Caraga Service Caravan, the Social Pension Program laid its services for IP seniors who participated in the activity. Project Development Officer I Violeta Namoc came in handy, brining with her the General Intake Form to make sure to collect issues and concerns, especially those yet to be validated.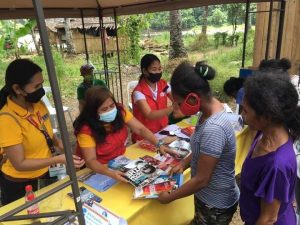 "So far sa activity, dunay pipila ka mga seniors ang akong nakahinabi and all of them mga active beneficiary na. What I did ako silang gitagaan ug brochures labina sa SocPen para ilang masabtan ug maayo ang programa para sa mga tigulang at the same time, I talked to them unsay mga kalibog nila sa programs nga pwede natong mahatagan ug immediate response. And so far, they are thankful sa program, (So far in the activity, I've talked to the seniors, and luckily all of them were active beneficiaries of the program. What I did, I gave them the brochures, especially SocPen, so they could comprehend better what the program has to offer. I also asked them if there's anything that bothered them to give them an immediate response. And so far, they were just grateful for the program.)" – Violeta Namoc, said.
Ms. Namoc was able to facilitate issues and concerns from the Mamanwa seniors by reiterating to them the programs, distributing informative communication materials, and responding to queries.
"Wala man mi lain maingon ma'am, mapasalamaton lang man mi kaayo ma'am nga naay tabang ang gobyerno sa amua nga mga tigulang, (We have nothing to say, ma'am. We are just grateful for the assistance given by the government to us seniors.)" – Pacita Yubos Maturan,an IP SocPen beneficiary.
Aside from the Social Pension Program staff present, different programs and services also fielded in their workers to provide assistance during the caravan. Other programs and services showcased includes the Sustainable Livelihood Program, KALAHI-CIDSS, Supplementary Feeding Program, and Assistance to Individuals in Crisis Situations.
The NCIP-Caraga Service Caravan is pursuant to the goal of integrating government programs and efforts by actively engaging the involvement of the sectors and communities in the farthest barangays of the region to provide services to those in need.