"I may have a missing part in my right hand, but still I have a complete left hand," a realization of Milka P. Almeda, a child beneficiary, after overcoming low self-esteem and self-confidence because of her disability.
Milka, third among five siblings, was born to Mercedita Almeda who works as labandera, and Lonito Almeda who works as a fisherman. The family currently resides in Barangay Banban, Tagana-an, Surigao del Norte. At present, the family are recipients of the Pantawid Pamilyang Pilipino Program (4Ps), with two qualified, monitored children, Milka and Lonitor.
Life was well for the family, until their livelihood was deeply affected when Lonito was diagnosed of Hepatitis A – a disease that is highly contagious liver infection which causes inflammation and affect the liver's ability to function. This forced Mercedita to carry the burden of providing for their family.
WITNESSING HARDSHIPS
The 18-year old Milka was born with a congenital hand malformation (no palm and fingers on her right hand). She is a shy person who only mingles with close friends. She is very reliant to her close friends, that whenever they decided to skip school, she would also not attend, which affected her compliance to education.
Though she did not experience being bullied because of her disability, she was embarrassed and always presumed that everyone judges her physical appearance. This lowered her self-esteem which made her distant from other people.
Due to financial constraints, lack of self-confidence, and peer influence, she stopped attending school after completing Grade 8 in 2018. She opted not to enroll the following year. This was the reason why the Almeda family was deactivated from the program.
Right then, Milka was in-charge with the household chores as her mother is busy looking for a living. She witnessed her father's hardships dealing with the Hepa-A, especially that they could hardly buy medicine for his condition.
She also witnessed the struggles of her mother looking for nearby households who wanted her services. The family struggled financially as the income of Mercedita is not enough to cover their daily expenses.
During this time, Milka had to look after the welfare of the family, together with her mother since her two elder siblings were already living separately.
REGAINING SELF-CONFIDENCE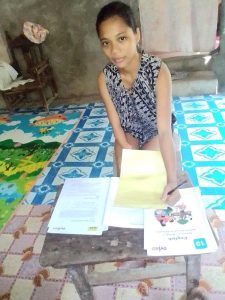 Even though Milka stopped from going to school in 2018, her parents didn't stop in encouraging her every day. The advice she received from her parents, motivated her to go back to school and be self-reliant.
The Almeda family's situation was included in the Case Conference and Focused Group Discussion intervention from the Program through the Municipal Link Officer. Issues and concerns of why their family became non-complaint was tackled. They were encouraged to comply with the conditions so that they will be placed back in the roster of the program.  This encouraged the reluctant and shy Milka to pursue her studies, so that they will be back in the program.
Her story is one of the testimonies/stories of the Bata Balik Eskwela (BBE) Campaign of 4Ps, which aims to encourage children who stopped going to school. The campaign targets student-beneficiaries referred as "Not Attending School" (NAS). With the intervention of the Program handlers, and cooperation of the household grantee, special meetings and Case Conferences were conducted to encourage children to regain interests in enrolling for school.
After seeing the importance of her education, and the impact it has in complying with program requirements, despite the three-kilometer distance from her home to school, she made an effort by walking to and fro everyday. This shows her commitment to finish her studies, and fulfilment of the promise she made for her parents. She believes that God has a purpose for her, especially for her family – even with her disability.
For now, she continues to draw strength and confidence by seeing stories from other people who also have deformities, but successfully attained their dreams.
"Gusto ko nga makatabang sa kalisod sa among pamilya ug dili nako ni mabuhat kung dili ko mohuman sa akong pag-eskwela. Mao ni ang time nga kelangan namu ang usag-usa para ma-sustain namu among gikinahanglan. (I want to help my parents and I cannot do such if I will not finish my studies. This is the time that we need each other for us to sustain our needs)," she shared.### Social Marketing Section