"Sa una, ako ang naga-train ug naga-recruit og mga tao para mag-apil sa among grupo."
This was the life that Anna (not her real name), used to have. As a member of the New People's Army (NPA), Anna was delegated to recruit and train new members. She would remember enlisting young individuals and enticing them to join their group – leaving them with shady promises of a better and improved lives.
Anna was only 18 when she was recruited to join the NPA. She was falsely promised that the group would help her go to school. Because of her desire to finish her studies and become successful someday, she was blindsided and affiliated herself with the communist group.
"Ning-apil ko sa ilaha kay ingon man gud sila nga maka-school ko. Gusto man ko mahuman mao niuban ko sa ilaha (I joined the group because they said I would go to school. I badly wanted to finish schooling, hence, I came to them)," Anna shared.
As she walked down memory lane, Anna shared that there were numerous instances in her former life where she almost died for the sake of the wrong ideologies planted in her mind.
"Kadumdom jud ko nga ikapila gyud mi nagka-engkwentro sa una sa mga sundalo. Ikapila na sab ko hapit mamatay. Hantod sa nakahuna-huna ko nga kapoy ug hadlok mag sige og tago (I remember having several encounters with the military. I also almost died in most of these encounters. Eventually, I realized that life in hiding was exhausting and terrifying)," Anna tearfully expressed.
Realizing that the organization she believed in was only manipulating and using her for their personal gains, she decided to quit and turn away from the group. Without hesitations, she gave up the principles she used to fight for and surrendered to the national government.
"Naa koy kahadlok nga gibati pero kabalo ko nga mao kato ang tama nga desisyon. Kabalo ko nga maskin pa og magpabilin ko sa grupo, walay magbag-o sa akong kinabuhi (I was scared but I knew that it was the right decision. I know that if I opted to stay with the group, my life will not change)."
After surrendering, Anna received assistance from different national agencies of the government – which included the Department of Social Welfare and Development.
Through the DSWD's Sustainable Livelihood Program, Anna received the Livelihood Settlement Grant last September 17, 2020. In total, she acquired an amount of PHP 20,000 which she used to start her Abaca Production business in their humble abode in San Miguel, Surigao del Sur.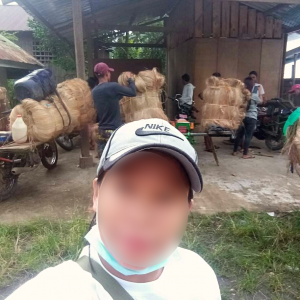 "Tungod sa tabang ug suporta sa gobyerno, nakasinati na jud mi hinay-hinay sa kabag-uhan na among ginadahom (Because of the help and support of the government, we are able to slowly experience the change we've always hoped for)," she said.
With the income from her small Abaca business, Anna bought chicken livestock so that their family can have an additional source of income. She aims to expand their livelihood so that they can also be of help to their other relatives and the people in their community.
Further, Anna stressed that she is grateful to the DSWD-SLP for the opportunity they have given her whole family. It brought them hope and confidence knowing that someone believes that they are bound for something great.
"Dako gyud kaayo og natabang sa akong pamilya ang gihatag sa DSWD-SLP. Nagpasalamat ko sa livelihood assistance nga gihatag nila kanamo. Gamit ani, maka-ponder na kami para sa among kaugmaon kauban ang akong bana ug mga anak (The DSWD-SLP has extended great assistance to our family. I am grateful for the livelihood assistance they have given to us. Through this, my husband and children can now save for our future)."
Anna is aware of how difficult it is to manage a livelihood, especially if one doesn't have any experience. To use her skills in leading and training people, Anna assists other SLP beneficiaries in their respective businesses. During her free time, she would visit them and give them advice on how to improve their businesses.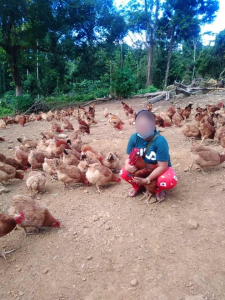 "Kabalo ko lisod mag-manage og negosyo gyud. Gusto ko makatabang sa akong mga kaubanan maskin pa og ginagmay ra na nga tabang kay gusto ko nga kami tanan, maplastar ang kinabuhi ug mulambo (I know how hard it is to manage a business. This is why I want to help my fellows even in my own little ways because I want all of us to be able to settle properly and to be successful)."
Anna understands that she can never bring back all those years she invested fighting and pursuing the wrong ideologies. But all of that remains in the past now.
The strong and courageous Anna knows that she is all set to take this new direction in her life.
For her, it was about time to turn over a new leaf.