Upon staring above the horizon under the scorching heat of the sun, Antonio C. Iglesia Sr., reminisced the things that happened in the past, and how he surpassed it all.
"Puhon, kung maminyo ko dili ko gusto nga mahisama ang sitwasyon sa among pamilya. Buhaton nako ang tanan nga dili mag-antos sa kalisod ang akong mga anak nga sama sa akong naagian. (Someday, if I get married I don't want my family to experience the same difficulties I had. I will do everything for my kids not to go through what I have been through)," recalled Antonio.
Living in Barangay Hornasan, San Agustin, Surigao del Sur, Antonio was the eldest son among the 14 children of Marciana and Manuel. Life seemed difficult for the family everyday as they needed to work hard in order to have food on the table and that made education the least priority for the family.
"Miserable ang among kinabuhi kay wala gyud nagpakabana ang among ginikanan sa pagpa-eskwela sa amoa tungod napud sa kalisod (I had a miserable life because my parents were not able to send us to school due to poverty), he added.
It became more difficult when his father died at the age of 46, which left her mother all the burden in raising their family. At to that the challenges his mother had, because she was not able to go to school.
SELF-DETERMINATION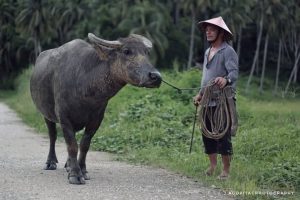 He never wanted to follow the footsteps of his mother. Instead, he worked hard in order for him to go to school. He gathered firewood and sold it to nearby barangays. He became a fish vendor, and sometimes went barefoot into their conjugal land to cut abacas and sell them downtown. The money he earned were divided for their daily expenses and his educational needs.
As a result of self-determination, he completed his secondary education. He then decided to leave his birth place, and find his fate in Davao City where he worked as a baggage in-charge at Gaisano Illustre. Unfortunately, he got sick which prompted him to quit his job, and go home.
NEMESIS OF THE GOVERNMENT
During the Marcos regime in 1982, he joined the movement of an anti-government group. Aside from peer influence, he became member of the group because of the lack of interventions from the government for the poor.
"Wala ko ato ganahi sa pamalakad sa gobyerno kay wala kini programa nga para sa mga kabus ug naghatag lamang kining dakong problema sa amoa. (That time, I did not appreciate the efforts of the national government, as I did not witness their programs for the poor people. It gave us a huge frustration)," Antonio said.
Antonio became an opposition of the government for two (2) years. The group was involved with the illegal movement against the administration. But right then, realization came to him and he started questioning himself why he was involved, thus, he decided to quit and never returned in 1984.
A NEW BEGINNING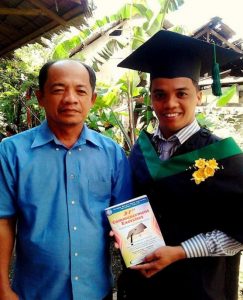 Three years after quitting, Antonio got married in 1987. He and his late wife, Surlita Cruda were blessed with five children, Antonio Jr, Analito, Ann Gelyn, An Mark, and Angelo Jay. As a father of five, he prioritized his children's education unlike his own parents. This made him work even harder to meet their daily needs at home and school. Being a local farmer and a tenant, selling copra was his means of living.
"Maningkamot ko mintras liskog pa ang akong kabukugan bahala og nagkalisod ko basta ang importante naay makab-ot ang akong mga anak. Dili ko gusto nga mapareho sila sa akong pamilya nga maskin isa walay nakahuman. Buhaton nako ang tanan kay kana lang ang kabilin nga akong ihatag nga dili makuha ni bisan kinsa. (I strived hard while my bones are still healthy, it doesn't matter if it's hard, as long as my children would achieve their dreams. I don't want them to experience the life I had where no one in the family completed college. I will do everything because that's the only gift I can give to my children that no one can take away)," Antonio shared.
He was so proud when his eldest son graduated from college, thinking he would have someone to share the burden of raising the family. Unfortunately, his married right after graduating – this was the same year that his wife Surlita suffered a complicated illness and died a couple of years after due to her malign condition. Despite the discouragement, Antonio did not give up for he still has remaining children to support.
Until the Pantawid Pamilyang Pilipino Program (4Ps) came and literally knocked on their doors in 2013. When they became the Program's recipients, Antonio was relieved. Before, his mind would often wander as to where to find finances for his children's allowances, and school needs; but with 4Ps, his mind was at ease. Before, he considered the government as a nemesis, but with 4Ps, now he found a confidante.
BEHIND EVERY SUCCESS
All his sacrifices paid off when all his children, except his youngest son, were able to wear a toga and earn a degree. His second son, Analito, graduated with a Bachelor of Arts in English Language course from the Surigao del Sur State University (SDSSU) in Tandag City. He applied for the employment requirements assistance through the Sustainable Livelihood Program (SLP) of the Department of Social Welfare and Development (DSWD) where he received Php5,000.00 when he was complying for his requirements. Currently, his son now works at Lianga National Comprehensive High School (LNCHS).
Antonio's only daughter, Ann Gelyn, graduated Bachelor of Science in Information Technology at the Davao Del Norte State College in Panabo City, and now lives with her own family. His fourth child, An Mark availed the Expanded Student Grants-in-Aid Program for Poverty Alleviation (ESGP-PA) of DSWD. This scholarship was of great help for the family which made him graduate with flying colors with a degree in Bachelor of Secondary Education Major in MAPEH at SDSSU. Now, his son works at Tagbina National Comprehensive High School in Tagbina, Surigao del Sur.
On the other hand, a year after the demise of his first wife, Antonio met Maria Vilma Imbay and got married in 2011. They lived separately from his sons and daughter, except for his youngest son, Angelo Jay, who is a monitored child under 4Ps. He is a Grade 8 student achieving high honors at Sto. Niño National High School in San Agustin.
MANEUVERING TO SELF-SUFFICIENCY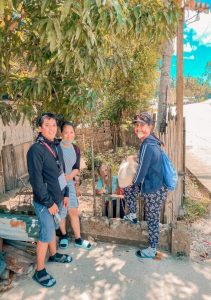 Antonio is not just a hands-on father to his family, but an active member of the community. He served as President in the Self Employment Assistance-Kaunlaran (SEA-K) in their community from 2016-2018. He is also the chairman of Dayong – an association for the bereaved family members who need financial assistance, and he is also one of the Purok Presidents in their barangay.
With the rise of COVID-19 in 2020, the Iglesia family shared what they had to those families who were heavily affected. They personally distributed family food packs composed of rice and canned goods. They also gave a small assistance to families affected by Typhoon Auring.
At present, the family is categorized as Level 3 self-sufficient household by the Program. This means that the family can provide for their own needs, with or without the cash grants. They will be part of the re-assessment which will be the basis for the recommendation of graduating families from the Program. ###(Social Marketing Section/DSWD Field Office Caraga)