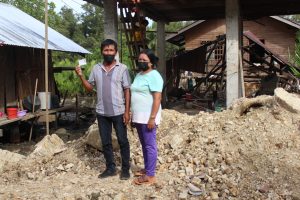 "Hugno akong kalibutan" (I was devastated). That's how Estrellita Cotamora, described her experience that night when Auring hit her hometown, Brgy. Pongtod, San Agustin, Surigao del Sur. Living with her 62-year old husband, Eduardo, they fled their home that night hurriedly – not even able to grab any of their belongings as they headed to the evacuation center.
"Sakit kaayo tan-awon among naanod ug naguba nga balay. Wala gyud mi nasalbar ato nga gamit, maski isa. Tanan among gamit ron gikan sa donations (I can't stand seeing our damaged house. We were not able to save anything from our house. Everything that we have now came from donations)," she added.
Growing up in a coastal area of Brgy Pongtod, the sea was a friend to the community. Safe, warm, and familiar—this was how she described the neighborhood and the nature that surrounded their homes. She could not believe that it was also nature that would destroy their house during the storms onslaught.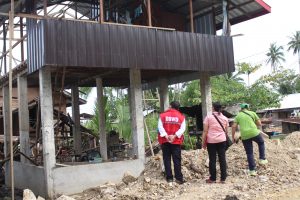 The DSWD with its Emergency Shelter Assistance (ESA) provided the family of Estrellita received PhP30,000. Qualified households with damaged houses during disasters could receive as much as Php10,000 for their partially damaged houses, and Php30,000 for totally damaged houses. Estrellita is just one of the 238 ESA beneficiaries in San Agustin town. 113 households qualified to receive Php10,000 for their partially damaged houses, while 125 households received Php30,000 for their totally damaged houses.
The listing of ESA beneficiaries was based on the terminal report submitted to DSWD by the Local Government Unit (LGU) who identified the eligible recipient of the said cash grant. The list underwent a thorough validation process of beneficiaries before conducting the payout.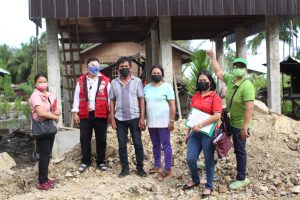 "Sukad sa among pagminyo, pangandoy gyud namo makatukod ug balay. Adtong Auring, murag nawad-an ko ato ug pag-asa pero mapasalamaton kaayo ko sa DSWD kay nahatagan mi ug assistance kay tungod ato murag nibalik akong kadasig nga makatukod gyud mi anam-anam (Ever since we got married, it is our earnest dream to build a house for us. When Auring hit, that dream became a blur. We are so thankful to DSWD for the assistance. It gave me the hope to have that dream back; to eventually build our own house)," Estrellita stated with sheer delight.
As high as the posts of their newly-built house is the hope that Estrellita and Eduardo have for their family. With apparent joy, the couple were so grateful and proud to say that they have made a good start. A humble amount of assistance is enough to spark a light of hope in their hearts and to start building the dream.