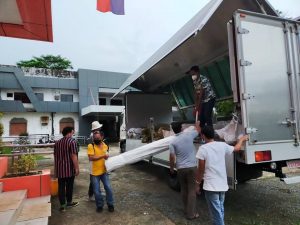 As of September 29, 2021, a total amount of PhP 71,330,757.87 worth of food and non-food items was provided by the Department of Social Welfare and Development (DSWD) Field Office Caraga to 38 Local Government Units (LGUs) for affected families of community quarantine in different cities/municipalities in the region.
Through its Disaster Response Management Division (DRMD) the agency has furnished the following breakdown: PhP 60,583,257.95 for the 151,129 Family Food Packs (FFPs) and 20 Family/Modular Tents; PhP 150,559.20 for the 19,010 500mL bottled water intended for the Locally Stranded Individuals (LSIs) and/or Returning Overseas Filipinos (ROFs); and PhP 10,596,940.72 for the 6,420 Hygiene Kits given to the National Commission on Indigenous Peoples (NCIP) and to the LGUs of Bayugan City and Sta. Josefa, Agusan del Sur.
Since the onset of the pandemic the agency has augmented support to requesting LGUs. Increasing number of COVID-19 cases in different areas of the region made local quarantine facilities in full capacity. With this at hand, the agency through the DRMD has primarily ensured its provision for Family/Modular Tents.
In her FB post, Mayor Maria Clarita G. Limbaro of LGU Bayabas shared, "Ang mga hospitals dili na maka dali-dali ug pagdawat sa mga pasyente kay mi sobra na sa admission capacity ang ila mga pasyente kuman (Hospitals are already in full capacity and can no longer easily admit patients), LGUs are advised to establish respective Holding Areas for patients."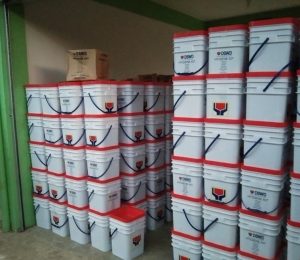 LGU Bayabas received 10 Family Tents and 10 Modular Tents and were able to install a Holding Area for referred patients while waiting for available slots for their admission.
"Salamat sa DSWD Regional Office sa gihatag nga tents na magamit nato para sa ini na panginahanglan, ug iban pa na kakuwangan sa isolation/quarantine/treatment/ labi na may kalimbigitan sa COVID-19" (Thank you to DSWD Regional Office for the Family and Modular Tents that we can use to meet these needs; especially for isolation/ quarantine/ treatment or those that are COVID-19 related) Mayor Limbaro added.
Maribel O. Cubio, Municipal Social Welfare and Development Officer (MSWDO) of LGU Sta. Josefa, Agusan del Sur, also shared that the tents they received will be installed as an additional quarantine facility since their existing facility deficits to the number of cases in their locality. "The LGU Sta. Josefa is very thankful for the tents to meet this immediate need," Cubio stated.
The provision of the said assistance was based on the LGUs request sent to DSWD Caraga. Requests were then assessed against the availability of supply in the hope of equally providing the requesting LGUs without prejudice of the prior request specifications.