For 12 years, Arlene strived hard so as to provide the needs of her children. She earns a meager income by doing laundry and being a masseuse. She also engaged in whatever income generating opportunities in their place. "Kayod Kalabaw (working like a carabao) best describes the extra effort made by the Arlene who willingly doubled her efforts to do everything for her children.
Arlene S. Algarme is an active 4Ps beneficiary from the Municipality of Carmen, Agusan del Norte, Caraga Region. Her household has only two remaining monitored children namely Maryjane (daughter) and Jaki Hero (grandson). Arlene has been a solo parent for 12 years as her husband, Felipe, left their household for another woman. They have never heard of him since the day he walked away from his responsibilities. Arlene and Felipe had 5 children, but 4 of them are already married and living on their own.
Arlene once doubted her capacity to raise her children, especially in times when they get to go through hardships in life. One of these circumstances is when flooding season starts, and their house would be flooded, sometimes, partially destroyed. She always lamented what their future is bleakbecause she had a hard time providing for her family's needs, especially that she is a solo parent.
The household prayed for strength to keep up with the impediments of life. They prayed for blessings. Providentially, the backyard garden helped the household in providing healthy and fresh green, leafy vegetables for the children. They do not have to go to the market and spend money so as to have their regular intake of nutritious vegetables.
Faith and determination are the two words that they have learned to live by and get through the hurdles of life. The very same two words that accompanied Maryjane and Jaki even in days when they had to consume corn grits with salt and cooking oil for their meals – or in days when they had empty pockets on their way to school; or days where they have to go to school with only rice and salt in their lunch box.
There was a point in time in the children's lives where they willingly skipped classes to earn money – they collected plastics and bottles and sold them to earn some coins. Never minding the scorching heat of the sun, they toiled and scavenged for plastic bottles to sustain their needs for their studies. Thus, the household was grateful when they became one of the beneficiaries of the 4Ps program.
The two monitored children-beneficiaries were diligent in school. However, one of the monitored child, Maryjane, was influenced by her classmates when she was in 8th grade. It was in 2018 when she learned cutting classes, drinking liquor, and lost her interest in her studies. She stopped schooling and worked as cashier in a bakeshop. She thought it was only right as she considered it as a means of providing financial support to her mother. She though it was the better option than going to school with an empty pocket.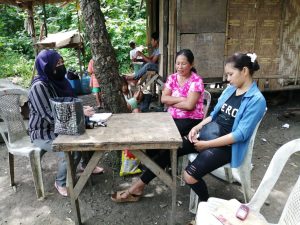 The household was constantly encouraged to have the children back in school. Maryjane was also one of the participants of the focus group discussion (FGD) facilitated by the Pantawid Pamilyang Pilipino Program together with one of the Civil Society Organization (CSO) partners of 4Ps—iHELP Caraga. It was an activity intended for the not attending school (NAS) children to inculcate the significance of education.
While her hopes are flat lining, she realized how hopeful the government is in ushering them out of poverty by investing in their health and education. She realized that education is their only way to change the course of their lives.
For two years while she was out of school, only then did Maryjane realize that she doesn't want to be a bakeshop cashier all her life. She looked back to the efforts she has done before to keep up with her studies. She was reminded of the days where she woke up early to scavenge for plastics and bottles and sell it so she may have the money in going to school. She was able to introspect about her life and her dreams. She acknowledged how difficult life for them is and giving up on her dreams is cowardice. That giving up on her dreams means allowing life to take them to a much worse situation.
She had enough of the hardships her family had to endure. She realized that life indeed was hard for them, but they managed to surmount the everyday challenges. It took Maryjane two years to realize the power of education. It took her two years to revive her hope with the help of the Program and its partners.
"Nakahuna-huna ko nga ug dili ko makabalik ug eskwela, magpadayon ko nga walay padulongan sa akong kinabuhi. Gusto ko nga maplastar akong kinabuhi, ug sap ag-eskwela, mamahimong mabuhat nako kini (I thought to myself, if I will not pursue my studies, I will continue to live an uncertain life. I wanted to be in the right path, to succeed, and it was through school that I thought I would achieve this)," Maryjane said.
Maryjane knew that no dreams are too late, and no dreams are too impossible with faith and determination. In 2020, she decided to go back to school and determined to finish her studies. She is now enrolled at Carmen National High School, and an upcoming Grade 9 student for school year 2021- 2022. Maryjane took advantage of the modular classes. As soon as she is finished answering her modules, she would help her mother in selling bananas to their neighbors.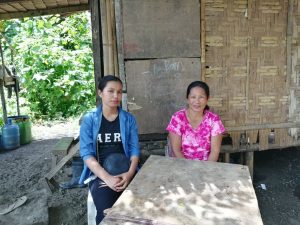 When asked what piece of advice Maryjane could give to her co-student beneficiaries, she was teary-eyed as she expressed that hardships in life should not be considered as reasons to give up, but a driving force to keep going. "Dunay mga adlaw nga walang-wala gyud ta, walay sulod sa bulsa. Pero Pwede nato dalhon atong mga damgo. So sa panahon nga moagi napud kita ug kalisod, duna na ta'y baon nga pangandoy nga maoy magdasig nato (There may be days that you go to school with empty pockets, but you can always fill your pockets with your goals and dreams in life. So that when life gets rough again, you always carry in your pocket those goals you have identified for yourself which will serve as your motivation to go on with your life)," Maryjane shared.
Maryjane also wanted to tell the NAS children that it is not too late to start anew. Dreams are for everyone regardless of the circumstances, and that no one is too old to fulfill it. Furthermore, she wanted to convey how important it is to choose your circle, your friends – to choose those who will not corrupt your character.
Above all, she reminds everyone to always choose your family more than anybody else – for your family only wants what is the best for you. They believe that 4Ps has helped them, especially Maryjane, in recharging her hopes and dreams.
For Arlene, she considers the Family Development Sessions (FDS) as a venue for her to acquire new knowledge and skills, especially in improving their family's situation and their relationship – something she did not learn when she was still a student.
Arlene will continuously guide her children as she doubles her effort in helping them achieve their dreams. They know that education is one of the ways to break the intergenerational cycle of poverty they are in – now, they know better. ###(Social Marketing Section/DSWD Field Office Caraga)