Sapupo is a Tagalog word which means to cradle a child on your lap. At an early age of 17, Katrina Mae Caga of Barangay Cayawan, Malimono, Surigao del Norte, does this almost every day with her son, Tristan Jack.
Katrina, along with her sibling Gerald, grew up in their grandmother's care as their parents got separated. Her mother, Catherine, is now residing in Manila with her own family while her father, Jerome, is a jeepney driver in Cebu, living with his own family also.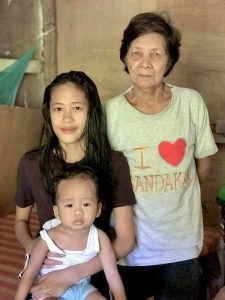 "Si Nanay Clemencia ra gyud ang nagsuporta naku ug ni Kuya kadtong mga gagmay pa mi. Manlasik siya para lang makakwarta mi arun naa mi pagkaon mapalit (My grandmother was the one who really supported me and my brother then. She would look for old coconut which fell from the tree, collected them, and sold them, so that we would have money to buy food),"Katrina reminisced. Clemencia, the Pantawid Pamilyang Pilipino Program (4Ps) grantee, has long been separated from her husband also – it has just been recently that she found out that he is already dead.
In 2019, Katrina became one of the children beneficiaries who dropped out from school (Not Attending School – NAS) because she got pregnant. She did not expect to get pregnant since she was young then and still in school. She was afraid. She did not know what to do.
"Grade 9 pa lang ko kadtong nabuntis ko. Maong nakahuna-huna ko na di na lang magpadayon og eskwela kay wala man ko nasayod unsay akong buhaton (I was Grade 9 when I got pregnant. So, I decided not to continue my studies because I didn't really know what was I should do)," Katrina remembered.
During the first two months of her pregnancy, Katrina was not able to return to school. She was not ready for people's opinion; she was too embarrassed to come out because of her situation.
But, one of her teachers, Jenita Morta, reached out to her and gave her a piece of advice. "Si Ma'am Morta gajud ang nag-ingon sa ako na mubalik og eskwela kay ingun niya bisan og nabuntis ko dapat dili gihapon muundang sa pag eskwela. Sayang kaajo kung muundang rako. Ug ingon pud nija na pasagdi na lang ang ubang mga tawo kung unsay masulti, dili man sila ang maghawid sa akong kaugmaon (Ma'am Morta actually told me to go back to school and she convinced me that even if I was pregnant I should not stop studying. She also advised me not to worry about what people would say to me because they do not control my future)," Katrina recalled.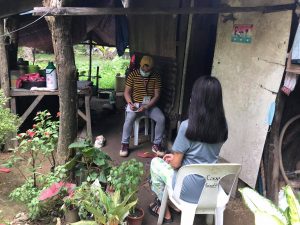 Some of the teachers of Malimono National High School were concerned about what she is going through. They have conducted home visitation and always told her to continue to pursue her dreams no matter the circumstances she was facing. Sheila Dela Pena, assigned RHU staff in the barangay and a midwife, also conducted series of interventions to the condition of Katrina since she is still a teenager and her reproductive health is a big concern. The Municipal Link Officer of the Pantawid Pamilya assigned in their area also conducted home visitations and advised her that giving up was not an option.
Because of this, Katrina was encouraged to return to school. She had to do it for her child, and for her future. And, she was not mistaken. Still, some of her classmates and schoolmates judged her, saying that they should not be friends with her, because she is a "disgrasyada," or brought shame to herself for having been pregnant at an early age. However, she just ignored the issues and she kept on going.
Katrina had only two close friends then in the barangay who always visited her and were concerned about her condition. They always motivated her not to get affected with what others would say, as it may also affect her baby's condition.
Katrina was inspired. She was influenced by those people who gave her new hope and encouragement. She used to be bullied, but she now has the courage to overcome the bullying. Today, she now has a cute and cuddly baby boy, Tristan Jack – the child who gave her hope and confidence. The sweet baby who gave her reason to smile when she is weary, and gave her the desire to move on. Good thing for her and for Tristan that she has kept her relationship her baby's father civil.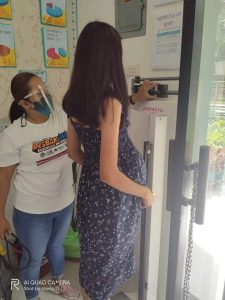 "Sa una, dili gajud lalim nga bisan pa og kugos kugos nako ang akong anak, kinahanglan gihapon na magtuon. Kinahanglan gihapon mulihok sa balay kay si Nanay tiguwang na, dili na kaajo makalihok-lihok maong tabangan nako sija. Magpakaon pa sa akong anak, mag atiman kung unsay ijang panginahanglanon. Maong makaingun ko na dili sayon ang mahimong inahan. Labi na nga sayo ka nahimong inahan (At first, it was not easy to take care of my son, and at the same time, attend to my lessons. I also need to do household chores since Nanay cannot fulfill these due to her age. In addition, I had to feed my child, and to take care of his needs. That is why, I can say that it is really not easy to be a mother, especially that I became a mother at an early age)," Katrina shared.
Today, Katrina has already completed the Grade 10 level and will be enrolled as Grade 11 student for school year 2021-2022 at Malimono National High School. They may have financial problems as of the moment, but she is confident that emotionally, she is strong and stable. Physically, she had already delivered a beautiful and a normal child wherein she considered this the biggest blessing she has ever received.
To Katrina, cradling a child is not a sign of weakness nor a burden. It is not an indication of "pasan ko ang mundo (the weight of the world is on my back)," but it is a manifestation of success, because Tristan is her world. For her, giving up is not an option. She reminds all her co-teenagers that there might be a lot of obstacles in life, but there are also ways to conquer each one of them.  ###(Social Marketing Section/DSWD Field Office Caraga)