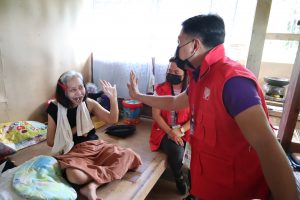 To have a loved one be stricken of immobility does not only post a physical challenge, but also impose an emotional burden to those who take care of them and love them.
Forty-six years ago, Virginia C. Aboloc, 64 years old, a resident from Quezon, Tandag City, became sick for a few days. But instead of recovering from the illness after a few days of rest, her situation worsened. Her energy level dropped while pain and discomfort increased. It came to appoint that even sitting down or lying down caused her discomfort.
During this time, the young Virginia was a working student. She had to juggle the demands of both academics and work. In order for her to cope with her demanding schedule, she would usually compromise meal-time until her body got used to her skipping meals. She thought everything was fine, not until her body demanded for rest. What was thought of as normal fatigue and fever became severe. Due to destitution, she foregone being checked by a physician – besides, the family thought it was just a prolonged sickness, which would eventually subside.
Unfortunately, Virginia's fatigue and fever worsened – her hands began to curl inward or technically called contracture, her legs could not move, she could not get up and cannot speak articulately. At first, they were perplexed as to what had happened. They waited and thought, the unknown paralysis was just temporary, and would simply go away just as suddenly as it came. But unfortunately, her condition became permanent.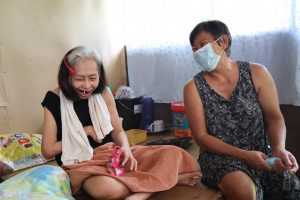 As much as the family would want to get Virginia treated but budgetary constraints hindered them from getting her an appropriate treatment. Virginia was fostered by her sister Bonifacia Aboloc way back then – and apparently, she stayed with her until this present day. While taking care of Virginia, Bonifacia, hurdled to provide for her sister's needs. She did not have sufficient income to support extensively for Virginia because she also has children to take care of.
DSWD Kalinga at Pagmamahal for the elderly.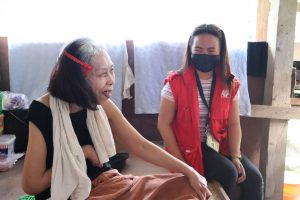 "Samtang nagkaedad siya nagsugod pud ug tungha iyang mga kinahanglanon. Nagsugod napod dayon ko ug kabalaka, asa ko manguha ug kwarta para sa iyang tambal ug pagkaon. Sauna bisan ug lisod, makaya-kaya ra kay kasagaran sa akong mga silingan manawag man nako magpalabada pero lahi na kaayo karon. Pero naa toy time nga nakadungog ko mahitungod sa Social Pension for Indigent Senior Citizens Program, akong giapply akong igsoon ug maayo gani kay ni-qualify, (As she aged a lot of needs began to emerge. I started to feel anxious, where would I get money for her medication and foods? Before, I would get by since I have neighbors who would let me do their laundry but it's far different from now. And there was a time, I heard about Social Pension for Indigent Senior Citizens Program, I applied my sister to avail, and fortunately she qualified)," Bonifacia shared.
Virginia is solely dependent with the pension she gets from the program. During pay outs, Bonifacia would get the pension on her behalf and hand over the exact amount of stipend to Virginia.
"Akong gipahipos sa iya iyang kwarta kay gusto nako sya ang naay control ana. Ug kung an-awon iyaha man gyud sab na. Ug kung naa syay gusto kaunon orgustuhon, iyaha ranang isulat unya maghatag siya ug kwarta. Dili pud siya hakog or dalo kay muhatag na siya ug pangpallit ug pagkaon namo pero akong balibaran kay gusto nako naa siya pondo para emergency simbako lang (I let her keep the money because I want her to have the control of it. After all that's hers. And if she wanted to eat something or anything she want, she'd just write it down and give us money for it. She is neither inconsiderate nor greedy, she'd actually set out money for our food but I would refuse because I want her to have savings, god-forbid for any kind of emergency)", Bonifacia added.
To get away with boredom, Bonifacia would either take her sister to the beach and have a good time, or borrow a laptop to watch some movies because Virginia is also a K-drama lover.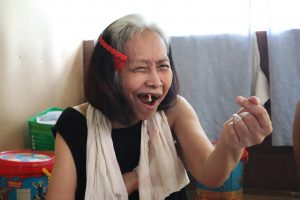 "Kung pasultion ko ug mensahe para sa DSWD kini ra gyung "Salamat ug ang Ginoo magpanalangin ninyo. Salamat sa pagtabang nako nga masustini ra ang panginahanglanon sa akong igsoon (If I am to say a word for DSWD, I would say thank you and God bless you. Thank you for helping me sustain the needs of my sister)," Bonifacia gratefully expressed.
"DSWD's aid for my sister gives me an instant hope that an agency out there is perceptive on the needs of the elderly like her." – She added.
The Social Worker Officer and Project Development Officer of the Department of Social Welfare and Development (DSWD) Field Office Caraga under the Social Pension for Indigent Senior Citizens Program, randomly visits and checks on her in order to provide assistance if needed. The City Government of Tandag also granted her a wheelchair as an aid for mobility.
Gratitude is the most essential expression of a beneficiary which proves that the program is valuable and meaningful. Moreover, this program does not just limit to those seniors who are suffering from infirmities but also to the seniors who are considered indigent with no permanent source of income and support from their families.