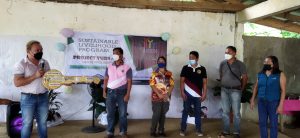 In the continuous efforts to provide the poor, vulnerable, and marginalized communities with access to opportunities that increase the productivity of their livelihood assets, the Department of Social Welfare and Development turned over livelihood projects to three associations in Surigao del Norte, recently.
Through the Sustainable Livelihood Program, the Tinogpahan Hugpong Bayanihan Association in municipality of Sison, and the Brazil Farmers Association and Brazil Womens' Organization in Surigao City, received various livelihood projects that they proposed.
Tinogpahan Hugpong Bayanihan Association acquired a swine production livelihood project with a total amount of PHP 477,750. For the Brazil Farmers Association, a PHP 586,000 tilapia production was turned over to them, while the Brazil Womens' Organization received a root crop and vegetable production project with a total project cost of PHP 536,800.
These recipient associations preferred to propose the said livelihood projects because most of the members have experiences in managing livestock and aquaculture, and production of agriculture products.
Further, each association deemed that their chosen micro-enterprises are the most marketable in their respective communities and most effective income-generating livelihoods these days.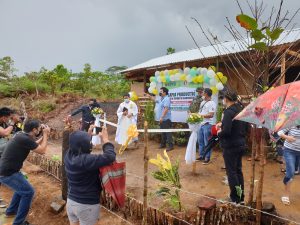 Association members expressed their gratitude to the program and pledged to work diligently to ensure their project's growth and sustainability.
In a message, Tinogpahan Hugpong Bayanihan Association President Eva Solana said, "Dako akong kalipay og nagpalasamat ako nga nibunga na ang among mga sakripisyo ug nakabaton na kami ug dugang panginabuhian nga makatabang gayud sa among mga tagsa-tagsa ka pamilya. Nagapasalig kami nga kini nga proyekto, amo kini paga-ampingan ug dili paasagdan (I'm immensely grateful because we have finally seen the fruit of our sacrifices and gained an additional source of income that can help our families. We commit that we'll take good care of this project and never neglect it)."
Brazil Farmers Association President Evelyn Dingding also expressed her indebtedness to the staff of the DSWD-SLP and the Local Government Unit (LGU) of Surigao City for their hard work and dedication to help communities in need – just like them. "Pasalamat ako ug kaming mga miyembro sa association nga nahatagan kami ani nga higayon sa DSWD-SLP ug LGU maskin pa kami layo sa siyudad (I and the members of the association are thankful that we're given by the DSWD-SLP and LGU with this kind of opportunity even if we're located far from the city)."
The turnover ceremonies were led by the DSWD-SLP staff of Surigao del Norte and witnessed by LGU representatives and barangay officials as well.
After the turnover of projects, a monitoring will be conducted by the DSWD-SLP and LGUs of Sison and Surigao City to ensure that the associations are properly guided and provided with technical assistance. In this way, both parties hope that the associations will get motivated with the relentless support given to them – pushing them to aim for success and to pursue harder.