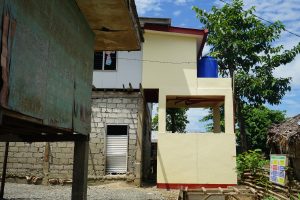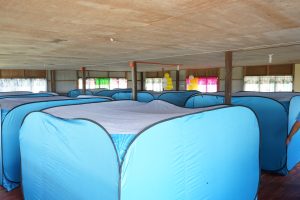 Situated on the outskirts of the Agusan Marsh and on the banks of the mighty Agusan River, Barangay Maharlika is one of the remote villages of the municipality of Talacogon in Agusan del Sur province. Most of the houses are built on stilts and on rafts as the area is very prone to flooding. Fishing and farming are the main livelihood of the residents, mostly members of the Manobo tribe.
Though seemingly cut off and isolated village, help and community projects from DSWD's KALAHI-CIDSS program still reach the area to help its residents, especially the indigenous people that live there.
On board a motorized canoe or "bangka", DSWD staff took a 2-hour boat ride from the town center of Talacogon, heading upstream to Barangay Maharlika, to turnover a project of KALAHI-CIDSS PAMANA Indigenous People Community-Driven Development (IP-CDD) last October 14, 2021.
The project is an Improvement of Barangay Multi-Purpose Hall for Temporary Quarantine that cost Php763,245. It is one of the many projects under Disaster Response Operation Modality (DROM) that address problems related to the COVID-19 pandemic.
Part of the project is the construction of the restrooms; installation of water tank, modular tents, and sink; and provision of alcohol and face masks. Each modular tent is complete with a mattress, a mat, electric fan, table and chair.
"It's not my first time here in Maharlika. I was here two years ago during the turnover of the health station project of KALAHI-CIDSS," OIC-Assistant Regional Director for Operations Jean Paul S. Parajes said during the turnover ceremony.
"Dako namong kalipay nga makita nga nahuman ang project ug napahimuslan sa mga benepisyaryo. Nindot paminawon nga after many years nga natukod ang project, naa pa gihapon. (It is our great joy to see that the projects still serve its purpose for the beneficiaries; that many years after its completion, the project is still there)," ARDO Parajes said.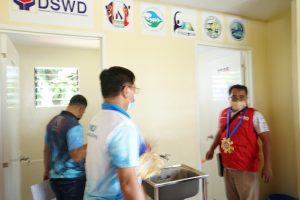 The community has already previously enjoyed 2 community projects, namely, the health station project which was completed in 2019, and the construction of a solar dryer which was completed in 2017. At present, there are three KALAHI-CIDSS subprojects in Barangay Maharlika.
"Due to the COVID-19 pandemic, KALAHI-CIDSS shifted to DROM from the regular project implementation to address needs in this time of health crisis. That is why, this temporary quarantine is installed here in your barangay," Parajes added. The project, which was completed last August 6, 2021, is expected to benefit 224 Manobo households in the area.
Community volunteer Marlyn O. Encarnacion, Barangay Subproject Management Committee (BSPMC) chairperson, said the DSWD's quarantine facility project in their barangay is a huge help…since long travel to the town center would mean inconvenience and huge cost to the family of someone who will be quarantined, adding that if someone will be quarantined in the said facility he/she will no longer feel lonely since family members are just nearby.
"Dako kaayo ang tabang ang quarantine facility labi na kay layo kami sa sentrong bahin. Layo ang pag biyahe, gastos ug hasul kaayo sa pamilya sa naka-quarantine. Apan karun nga aduna nay amung quarantine facility sa amng barangay dili na kami mahasul sa pagbyahe ug syempre dili kaayo mabati ang kamingaw sa naka quarantine kay naa ra man sa duol ang pamilya," she said.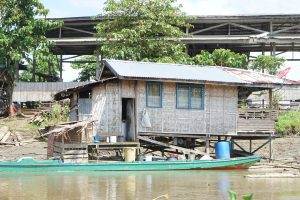 Encarnacion said she's very grateful to be part of the project. "Apan dili kini mahimong posible kung wala ang pagtinabangay sa tanang buluhaton. Ang programa dala og dakong kaayuhan sa tribong komunidad (This would not be possible without the cooperation and unity of everyone. This project is indeed beneficial to the tribal community), she added.
Tribal chieftain Datu Fernando O. Plaza expressed his gratitude to the program for the knowledge taught to them on how to run projects in the future.
"Salamat sa taga KALAHI kay kabalo na ang mga volunteers unsaon pag-purchase, paghimo, ug pagtrabaho niini (nga project). Siguro kung mo-out sila sa 2024, ug dunay pa pay mga proyekto nga idugang kanato, kaantigo na kita mopa-igo kung unsa pag mugna (Thank you KALAHI that volunteers now know how to purchase, construct, and oversee this kind of project. If KALAHI will be out by 2024 and projects like this will be given to our village, we know how to manage it), Datu Plaza said.
Meanwhile, Talacogon Vice Mayor Melchor Demegillo and municipal councilors Yvonette Cano and Nila Madelo reminded the residents to take good care of the said project.