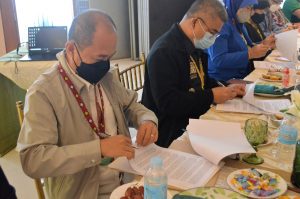 In its commitment to mitigating hunger and reducing poverty in the country, the Department of Social Welfare and Development (DSWD) Field Office Caraga inked a memorandum of understanding (MOU) and sealed partnership with various government agencies in the region, through the Enhanced Partnership Against Hunger and Poverty (EPAHP) Program on November 16, 2021, Tuesday.
Present during the MOU signing were the DSWD, Department of Agrarian Reform (DAR), Department of Agriculture (DA), National Irrigation Administration (NIA), Department of the Interior and Local Government (DILG), Department of Education (DepEd), Department of Health (DOH), Department of Science and Technology (DOST), Department of Trade and Industry (DTI), Technical Education and Skills Development Authority (TESDA), Commission on Population and Development, Landbank of the Philippines,  National Nutrition Council (NNC), and Bureau of Jail Management and Penology (BJMP).
The EPAHP, a convergence initiative of the national government under the Inter-Agency Task Force "Zero Hunger" banner programs. Specifically, this program aims to address social and inclusive economic growth challenges by initiating actions and approaches to mitigate hunger, ensure food security and health, and reduce poverty in rural communities. In this program, DSWD serves as the secretariat committee.
During the event, Acting Presidential Spokesperson Karlo Nograles gave his support to the implementation through a virtual message. Nograles said that this partnership and collaboration between the national agencies is crucial as the matter of hunger and poverty is a concern of all. He emphasized that the involvement of every agency is needed to be able to effectively respond to this matter.
DSWD Undersecretary for Policy and Plans Luzviminda Ilagan also graced the event and shared some words to inspire the involved agencies to continuously work together and help the customer-stakeholders that are in need.
"This initiative is a tall order to implement. But with the government's collaborative approach of addressing continual, persistent problems – especially that this is a trademark of the Duterte administration's governance, it is the perfect approach in ensuring effective, sustainable impact on the government's drive to mitigate the menacing problems of hunger and poverty," Ilagan emphasized.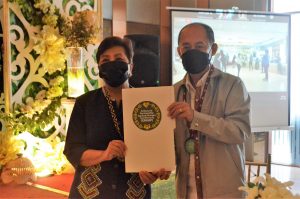 Sustainable Livelihood Program (SLP), Supplementary Feeding Program (SFP), Centers and Residential Care Facilities (CRCF) are three of the programs under the DSWD that are enrolled in the EPAHP. Associations created under SLP shall act as suppliers along with other community-based organizations (CBOs) of other partner agencies while SFP and CRCF are categorized as demand markets – being institutional feeding programs of the DSWD.
Aside from linking CBOs to institutional markets, EPAHP also capacitates these organizations through various training that would equip them with proper knowledge and skills especially on demand and supply mapping, procurement, financial literacy, entrepreneurship, and leadership skills. Other than this, topics on responsible parenthood and reproductive health are included as well to widen the learning of the program participants.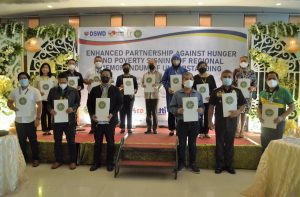 EPAHP's goals are projected to be attained through the following strategic measures: (1) provisions for institutional feeding programs of the partner agencies; (2) credit assistance to support food production, processing, and marketing; (3) linking of participating CBOs to prospective markets like the institutional feeding programs; (4) Enhancing provision of farm production technologies and extension services to DSWD, DA, DAR, and NIA-assisted family farms and rural-based organizations; (5) Enhancing the sustainability of the program through policies, engagement of the private sector and institutionalization of mechanisms in LGUs that would allow the adoption of the EPAHP; (6) Adoption of Community Participation Procurement to allow participation of CBOs in the program, and; (7) Construction, repair and improvement of irrigation facilities and appurtenant structures in irrigable areas in the countryside.