"Nalipay ko pag abot nako diri. Nakita na nako akong kaugmaon."
(I was so happy I found my future, the moment I arrived here.)
These are the heartfelt words uttered by Max Manabat (not her real name), 16 years old, when asked how she is in the confines of the Home For Girls Facility (HFG).
For Max, learning about the facility and having the chance to be one of the residents is an answered-prayer.
At a young age, she experienced violence and abuse. Good thing she was rescued and became a resident, and has since been freed from all the trauma and struggles she has experienced in the past.
It was during her exposure to talk to a DSWD's Social worker that she realized that her bitter experiences were already forms of violence – violations against her right as a child. She always thought all along that those abusive experiences were just part of growing up.
"Pag abot nako diri, nahayagan ko nga dili diay sakto ang akong mga na experience sa una – nga gi abuso na diay ko (It was only when I was brought her that I was enlightened by the fact that my past experiences were already forms of abuses)," Max shared.
Because of this, Max expressed her sincerest gratitude to HFG – for allowing her to live a new life. A life full of hopes, a worry-free and purpose-driven life.
"Dako akong pasalamat sa DSWD-HFG kay kung wala ko ni abot diri, basin wala koy kaugmaon. Wala ko kabalo kung asa ko padulong. Tungod sa HFG wala nako nag-lisod karon kay naa sila, naghatag sa serbisyo ug nag-tabang sa amo kanunay (I thank DSWD-HFG because if I haven't been brought here, perhaps I wouldn't have the opportunity to have a good future. I do not even know where to go. Because of the HFG, I am no longer struggling now because they provide services which help us with our needs)," Max added.
With smiles on her eyes, she mentioned how grateful she is for having the chance to learn a lot of new things through the different services offered – Livelihood services, Education, Recreational activities, and Spiritual enhancement, among others.
"Gipa-skwela mi nila. Naa pud mi mga sessions nga daghan mi makat-onan sama sa pag-luto, pag-tahi, ug labi na ang unsaon pag protekta sa imong kaugalingon batok sa mga pang-abuso (They send us to school. We also have sessions that helped us learn a lot like cooking, sewing and especially how to protect ourselves against violence)," Max said.
Furthermore, she opened-up about not having to worry much of her parents' whereabouts while she's inside the facility because she was kept updated through the social workers. DSWD social workers made sure that immediate families of residents are being monitored and is also given intervention through its programs and services.
As part of their sessions, house-parents and social workers shared a story to the resident entitled "Sonia Story". Upon hearing the said story, Max realized that she wanted to share this story to other people who are struggling and are being abused too.
She developed a dream to become an advocate against child abuse and wanted to share her story in hopes that people who experience violence will also speak up. She wanted to inspire other people that even though she had unfortunate experiences in the past, she was able to overcome it through the intervention of HFG.
Right now, her case is also being investigated and in due time, justice will be made available for her through the help of DSWD and HFG.
"Pasalamat sad ko kay ila ko gi-tabangan sa akong kaso. Sila ang nag asikaso para sa akong hustisya (I am thankful that they helped me with regards to my case. They are doing everything so that I will get the justice I deserve)," Max said.
Max may not have a perfect childhood but through the initiatives and interventions of the HFG, her life was redirected.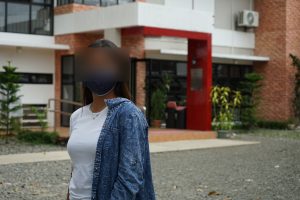 Her story is a story of inspiration; despite her terrible experiences in the past, she still wants to help other youth who has the same experience with her by raising awareness on child abuse and exploitation.
Nowadays, violence among children has been rampant. If one child will not speak up, chances of children getting abused and not being able to get justice will grow even higher. Considering that, DSWD through the initiatives of the Center for Residential Care Facilities (CRCF) made sure that services are extended to children in need.
For Max, the best way to protect yourself is by speaking up on what is happening to you before it becomes too late.
"Akong e encourage ang tanan kabatan-onan nga mo istorya sad sa ilang mga experiences, dili mahadlok kay naa ang DSWD andam mo sabot ug tabang sa ato nga mga biktima (I encourage every child to speak about their experiences too. Do not be afraid because DSWD is ready to understand and help victims like us)," Max bravely shared.#