In back to back occasions, the Department of Social Welfare and Development (DSWD) Field Office Caraga bagged multiple major awards during the recently concluded Sulong Bayanihan 2021 which was held via Zoom on November 24-25, 2021.
Organized by the National Program Management Office of the Sustainable Livelihood Program (SLP), the Sulong Bayanihan is a two-day event that primarily aims to recognize the milestones of SLP throughout the years. It serves as a venue for SLP associations to showcase their leadership and good practices in enterprise and organizational management, share remarkable micro-enterprise development and employment facilitation models, and present partnership models to various stakeholders.
The said competition had seven categories, namely: Market, Lupa-Atbp, Gawang-Kamay, Transform, Libot-Serbis, Sikap-Tiyaga, and Dunong. During the first day of the event, SLP associations and program participants competing under the said categories were judged by validators from different private organizations. Prior to the final judging session, an initial validation had been conducted by the SLP-NPMO technical staff last October 2021.
On the second day of the activity, guests from private organizations were invited to give a short talk on SIBOL Kabuhayan, SIBOL Kakayahan, and SIBOL Kaagapay. This was followed by an open forum and sharing of insights from the participants.
During the awarding ceremony, three SLP Associations from the Caraga region bagged major awards. Rattan Handicraft Weavers SLP Association from San Jose, Dinagat Islands and Nabago SLP Association from Surigao City, Surigao del Norte won the Gawad Sibol (Champion) Award under the Gawang-Kamay and Lupa, atbp Category, respectively. The Womens Association of Barangay Sta. Irene from Prosperidad, Agusan del Sur also secured a spot in the roster of winners and was awarded the Gawad Punla (3rd Place) under the Libot-Serbis Category.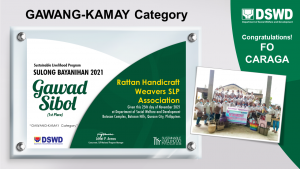 "Dako gyud kaayo among pasalamat ani nga award. Wala mi nagtuo nga kami ang makadaog. Pero kabalo mi sa among kaugalingon nga naningkamot gyud mi. Salamat kaayo sa mga staff sa DSWD-SLP nga nagtabang namo mag andam para ani ug sa ilang assistance gikan sa nagsugod mi sa among negosyo hantod karon (We're immensely thankful for the award we've received. We didn't expect to win; but we know that we did our best. We're thankful to DSWD-SLP staff as well for helping us prepare [for this event] and for all their assistance since we began our livelihood project up to this day)," Rattan Handicraft Weavers SLPA President Evelyn dela Cruz said.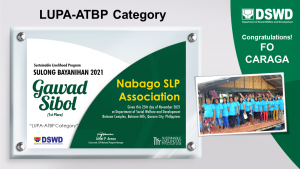 The winners received plaques and cash prizes amounting to PHP 20,000 for the first placers and PHP 5,000 for the third placer.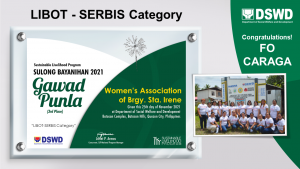 Aside from these awards, the SLP Regional Program Management Office of FO Caraga was also given a commendation for the completion of its commitments to the 2021 SLP Performance Governance System (PGS) last September 2021.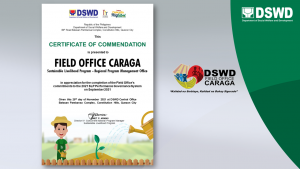 The Department of Environment and Natural Resources (DENR) – Region 13 was also awarded as Outstanding Regional Partner for their effort and dedication in strengthening ties with the DSWD-SLP to help and uplift farmer and fisherfolk communities in the region.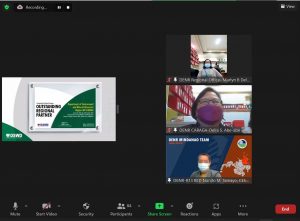 In 2019, three associations from DSWD Field Office Caraga have also won during the Sulong Bayanihan and took home major awards under the Serbis (two entries) and Gawang-Kamay Category (one entry).