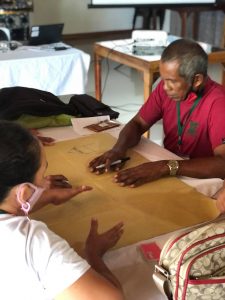 Community-based organizations (CBO) in Agusan del Norte and Surigao del Norte participated in a training on demand and supply, and processing of legal documents initiated by the Department of Social Welfare and Development (DSWD) Field Office Caraga, through its Enhanced Partnership Against Hunger and Poverty (EPAHP) Program, on October 18-19, October 21-22, and October 28-29, 2021, held in General Luna, Surigao City, Surigao del Norte, and Butuan City, Agusan del Norte, respectively.
The community-based organizations are composed of agrarian reform beneficiary organizations (ARBOs), irrigators associations (IAs), farmer associations (FAs), and Sustainable Livelihood Program associations (SLPAs).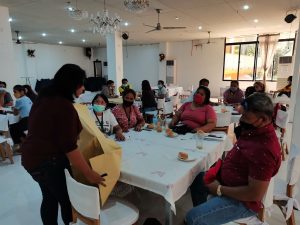 The said training aims to introduce the EPAHP Program to CBOs, update the participating organizations with the current demand and supply situation in the region, and orient these organizations on how to process documents needed by an organization to operate and transact with government procurement opportunities such as certifications and permits from the Bureau of Internal Revenue (BIR), Department of Trade and Industry (DTI), Cooperative Development Authority (CDA), and Philippine Government Electronic Procurement System (PhilGEPS).
EPAHP Monitoring and Evaluation Officer Ryan Surban said that the training was organized to establish partnerships with CBOs and capacitate the organizations to enhance their ability to produce and perform.
"This is a capacity-building training which aims to help our CBO organizations and ensure that they will become more eligible, sustainable, and self-sufficient in the long run," Surban said.
Representatives from BIR, DTI, CDA, and DSWD were present and served as resource persons during the training. Other than the discussions, workshops/hands-on activities were also included in the program to pave way for the participants to share their inputs and ideas about the market demand and supply situation and procurement opportunities.
To maximize the training opportunities, the Commission on Population and Development and the National Nutrition Council graced the activity as well and talked about Responsible Parenthood and Family Planning and Healthy Lifestyle amidst COVID-19, respectively.
One of the participants shared that they were delighted when they were invited to join the activity. The participant said the training was an opportunity for them to feature their products.
"Nagpasalamat kami nga adunay ing-ani nga activity kay mahatagan kami og pagtagad labi na ang among mga produkto. Importante kaayo ni nga activity kay usahay maproblema mi kay tungod sa kadaghan sa supply, wala name kabalo aha kini i-dispose or ibaligya. Pero tungod ani nga training, nakahibalo mi og mga alternative solutions bahin sa supply (We're thankful for this activity because we felt seen, as well as our products. This activity is very important for us especially that sometimes, we encounter problems such as high supply but we don't have any idea where to sell it. Through this training, we learned about alternative solutions to solve our issues on supply)."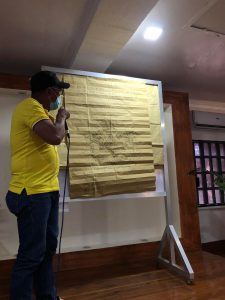 This November, another batch of CBOs from Surigao del Sur will also undergo the same training.
EPAHP is a convergence program of the national government which aims to help mitigate hunger, ensure food and nutrition security, and reduce poverty by increasing the income of CBOs in urban and rural communities.