In support to the month-long Elderly Filipino Week celebration, the Department of Social Welfare and Development (DSWD) Field Office Caraga served as Resource Persons during the Senior Citizens Day Celebration of the Local Government Units of San Agustin and Tago, Surigao Del Sur, through their Municipal Social Welfare and Development Offices, on October 29, 2021 at the San Agustin Covered Court.
In order to raise awareness of seniors on their rights and privileges, and to protect them from any form of abuses, Jeanellie Gruyal, Project Development Officer I (DSWD), reiterated the Memorandum Circular No.4 Series of 2019 of the Social Pension for Indigent Senior Citizens Program (SPISC), presenting the contrast of the previous and current guidelines for participants to be guided on the attachments and provisions on claiming their Social Pension stipend.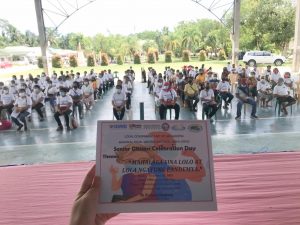 Based on the recent issued memo, detainees are entitled to avail of the program. However, Barangay Officials, including Barangay Tanods and members of the Lupong Tagapamayapa receiving honoraria should be delisted.
"As to the concerns of the Barangay Tanods and members of the Lupong Tagapamayapa, we are following on the memo not unless amended by Central Office, hopefully," Gruyal  shared.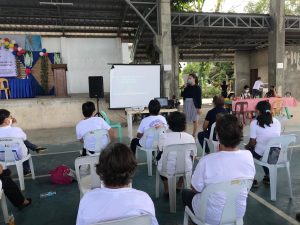 Rosemarie Sarabosing, Social Worker Officer I (DSWD), also shared some preventive tips on elderly abuse, stressing the elderly's right to be treated with dignity and respect regardless the race, religion, nationality, sex, age, disability, and economic status.
"Encouraging our dear lolo and lola to speak up if you are unhappy with the care you get, may it be at home or in a care facility. It would be best to talk to someone you trust about the abuse you've been through," Sarabosing said.
With the theme "MahALAGA sina Lolo at Lola Ngayong Pandemiya," the conduct of the activity highlighted the importance of addressing the needs of the elderly, especially during the time of the pandemic. The activity was attended by members of the Barangay Senior Citizens Association along with the distinguished guests from the Provincial Social Welfare and Development Office (PSWDO), and barangay officials. San Agustin Municipal Vice Mayor Mamerta P. Milo was also on hand to attend the said activity.