"With hard work and effort, you can achieve anything." – Antoine Griezmann
17-year-old, Aces R. Dagala, believes that hard work and consistent efforts are important to achieve one's dreams. Aces is the second among four siblings, and is the daughter of Mr. Christopher and Mrs. Criselda Dagala from Barangay Plaridel, Libjo, Province of Dinagat Islands. The household became part of the Pantawid Pamilyang Pilipino Program (4Ps) in 2008 under Set 1A.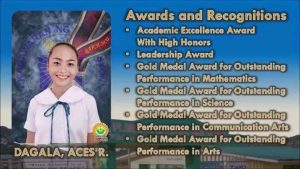 Amidst the pandemic, Aces demonstrates excellent adaptive skills, which has helped her keep a steady pace in adjusting to the new normal. Her mother is a full time housewife while her father works in the Provincial Capitol under Job Order status with a monthly income of Php8,000. Given the growing family and changing needs, it is undeniably challenging to sustain the needs of a household of five. Dagala's resiliency was tested when her youngest sibling died after-birth, but instead of being shaken, it solidified their family's relationship.
Aces with her two sibs are monitored children of the program which means they are recipients of the educational grants. "It is a great help for us to continue our studies the fact that my parents would no longer be burdened by the school fees. I can really feel the government's support to the children with higher dreams like us," Aces shared.
Academic and Extracurricular Achievements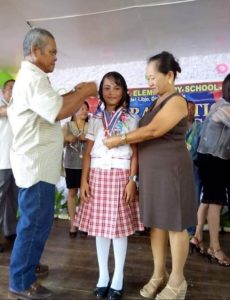 Being accustomed to academic competitions, Aces topped both her academic and extracurricular engagements. She graduated class valedictorian in elementary and was considered as the best student in her class every year. She has been a consistent representative for division meets, in fact, for three consecutive years she brought fame and honor to her school, bagging multiple medals in different competitions. She has won several awards for Journalism and Copy Reading contests at the Division and Regional Levels.
Aces, not only excels academically but also in extracurricular activities. She is a member of the Plaridel National High School Dance Troupe and is a majorette in the school's Drum and Bugle Corps. She also plays table tennis where she bagged the third place during the Second Dinagat Provincial Athletic Meet.
When she was in grade 10, she was awarded as Class Topnotcher – she was given the Academic Excellence Award with High Honors, Leadership Award, Gold Medal Award for Outstanding Performance in Mathematics, Gold Medal Award for Outstanding Performances in Science, Communication Arts and Arts.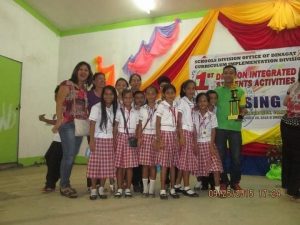 Characteristics and Values
Honed by her parent's upbringing, Aces learned to do household chores and was trained to be thrifty in handling her allowances. She has put so much value in everything that her parents taught her, and reciprocates her parent's hard work with respect and obedience.
During an ocular visit of the 4Ps staff, Aces was described by her neighbors and friends as responsible, diligent, good-hearted and helpful in academic related matters.

Current Status and Life Updates
Aces, now a grade 12 student studying in Surigao Del Norte National High School, Surigao City, is being supported by her oldest brother who's working in Manila. Her father still works in the Provincial Capitol under the Vice Governor's Office as a Job Order.
Aces is determined to give her best in school and make her parents proud. When asked about who her inspiration are, she answered "My parents and closest friends."
When asked what her message is to her co-4Ps beneficiaries, she encourages them to try harder and never lose hope. "Muabot ra ang panahon nga kita na sab ang muangat (The time will come that we will progress)," she added.
Life is difficult especially during the pandemic; most of the lives have been affected. But for Aces, she has so far been one of the lucky children who have not been immensely affected. In fact, the pandemic has even challenged her to aim higher, perform better, despite the odds.