"I don't believe that legitimacy is needed for me to be me".
These are the profound words expressed by Karissa Jun Mustacho, a child beneficiary of the Pantawid Pamilyang Pilipino Program, who maintained her vibrancy and positivity despite life's challenges.
Karissa Jun Mustacho was the sole eligible child monitored and the minor grantee under the Pantawid Pamilyang Pilipino Program under her late maternal grandmother Josefita Q. Mustacho of Brgy. San Isidro, Mainit, Surigao del Norte.
Karissa Jun grew up in a broken family. She was only 1 year old when her biological parents separated. Her mother, Carol Duallo is also a 4Ps grantee from another household. As a young solo parent, Carol needed to work in order to provide for the needs of her child Karissa Jun, whom she left to her mother.
"Nagdako ako na akong lola ang akong perme kauban maski sa akong pagkatulog. Wala paman ko kasabot sa sitwasyon sa akong pamilya sauna kay gamay pa ako pero nabati nako ang paghigugmam sa akong pamilya sa ako" (As I grew up, my grandmother was always with me even when I slept. Although I don't understand yet the situation of my family before because I was still a little child, but I can feel the love of my family towards me) Karissa said.
When Karissa Jun was 4 years old, her mother married her stepfather, Eudelo Duallo. She had a close relationship with her stepfather. "Dili nako ma feel nga dili ko niya tinood nga anak kay maski sa akong mga panginahanglanon naa siya nag provide, maski pa ug naa na silay anak sa akong mama (I never felt that I'm not his real child because he always provides for my needs, even though they already have their own child), she shared.
As means of living, the couple worked at a gas station in Brgy. Magpayang, Mainit, Surigao del Norte. Carol works as a cashier and Eudelo as an around helper – they couple earned 5,000 a month. The couple were trusted by the owner to run the business. They also worked as tenants in a coconut farm where they earned a minimal income – additional income for their family's needs. Despite the minimum wage they are earning, they still provide for the needs of their children, especially their school needs, because they believed that education is a very importance matter for their children.
For Karissa, though her family is complete, and there to provide for her needs, there is still that longing that she feels – something is missing in her life.l
"Maski jaon sila, pero usahay, labi na kung maka-bisita ko sa balay sa akong biological father, maka question pud ako, what if wala sila nagkabulag? Unsa kahay duyog sa akong kinabuhi karun? Makabati pud ko nang insecurities usahay sa naay legal nga pamilya ug makapangandoy ko nga untana parehas ako sa ila nga uban sa ilang balay ang biological parents ug naay normal nga family (My mother and step-father are physically present. But sometimes, especially when I get to visit my biological father, I would ask myself, what if they did not separate – what would my life be right now? I also feel insecure, especially when I see children with their legal/biological family – I wish I could be like them, living with their normal family)," Karissa Jun said emotionally.
Aside from her insecurities and emotional bottlenecks, she also struggled before with school activities where her parents are required to be present.
"Isa gajud sa akong difficulties sa school sauna ang pagmaghimo ng Family Tree, maglibog ako kung kinsa ang akong ibutang kay sa akong heart, ang akong pamilya is ang akong stepfather, mama ug akong half-sister, kay siya (stepfather) ang akong gidak-an, so para nako siya akong papa, pero kay para sa akong teacher dapat biological parents man gyud daw ang ibutang, so maglibog ko kinsa sa ila ug unsaon nako paghimo sa Family Tree, idugang pa ang akong mga half siblings sa both sides, asa nako sila ibutang? Makaingun ko, ka-complicated ba sa akong pamilya (One of the difficulties I had before was when we were tasked to make a Family Tree. I was confused as to the composition, because in my heart, I really wanted to place my stapfather, mother and my half-sister, because he (stepfather) wqs the one who raised me – so for me he is my father. But my teacher insisted that it must be the biological parents that should be placed in a family tree, so I was placed in a dilemma – what should my family tree look like. In addition, I have my half-brothers/sisters from both sides, where should I put them? This is why I would say that I have a very complicated family)," she frustratingly shared.
Cliché as it may sound, Karissa Jun motivates herself by accepting her fate, but she remained motivated and positive in life. She claimed that everything has a reason and she has an important purpose in life. She only thinks that it is a blessing in disguise because she belongs to two unique families.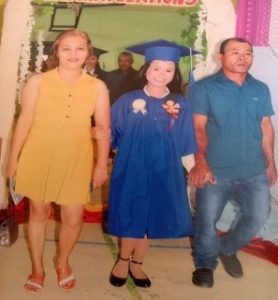 Her goal to finish her studies and the desire to help her parents is what drives her to keep going – even with the emotional baggage she carries.
"Nagtoo ko na 'Education is a key to success' kay makita man nako na kung naa kay nahuman mas daghan ang opportunity nga moabot ug mas matagaan nako akong kaugalingon ng ticket for brighter future (I believed that "education is a key to success' because I can see that when you have a degree, there will be more opportunities that will come and I will be able to give myself a ticket for a brighter future) she said.
Karissa was a consistent honor student way back her elementary and high school years in school. As a student who was enrolled to a special class in ESEP (Engineering and Science Education Program), it was her bragging rights to be in the special class from 1st year to 4th year high school. She also attended series of Youth Development Sessions in her school, where she learned a lot.
At present, Karissa Jun is attending 3rd year college for a Bachelor of Science in Business Administration Major in Financial Management course at the North Eastern Mindanao College (NEMCO). She is one of the outstanding students in her class.
"Thankful gihapon ko sa kung unsa man akong nadak-an nga kinabuhi kay nahimo nako siya nga stepping stone para maningkamot. Murag gehatagan ko sa Ginoo nang purpose para maningkamot ko kay kung siguro lahi ang akong story sa kinabuhi, kung hayahay rako karun dili pud ingun ani akong mind-set (I'm still thankful for the life I have lived because I've made this a stepping stone for me to succeed. It seems like the Lord has given me a purpose for me to venture because if maybe my life story is different, if I'm comfortable now, I won't be able to have this mind-set) she shared.
Moreover, when she graduates, she plans to look for a job to help her family, financially and save money to start her dream business (like Rice Trading and Grocery Store).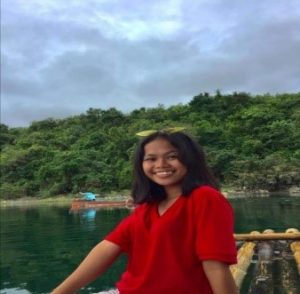 "There are times when people struggle to fit in with society. And as a child born out of wedlock, I found it extremely difficult to fit into the society in which I grew up. I'm frequently asked why my surname is differs from my mother's, who my biological father is, and other personal questions. Making a family tree used to be a difficult task for me because I have a complicated family set-up. But, despite all of the challenges I've had as a child, I don't believe that 'legitimacy' is required for me to be me. I am a princess, whether I was born of wedlock or not, I am a princess in my own right. I am a strong, independent young lady who doesn't need the approval or acceptance of anyone in the society to be referred to as a princess. I am tenacious, brave, and self-assured. Thus, the belief that every illegitimate child should be treated with empathy since they have endured the repercussions of their parents' mistake must be modified. Illegitimate offsprings should be commended for their ability to overcome the obstacles that have been thrown in their way. I am an illegitimate princess who aspires to be my life's legitimate queen. I am an illegitimate child and I am just as worthy as any of the legitimate princesses out there," Karissa Jun proudly said.#