When the pandemic took over communities worldwide, almost everyone was affected. People lost a lot. Among these things that people lost are their livelihoods. Hence, many struggled a lot just to survive each day.
In the Caraga Region, most residents had to temporarily cease or close down their small businesses to abide by the health protocols set by the national government.
The national government saw this terrible reality of people becoming hopeless due to lost jobs and livelihoods. They knew they had to do something to help these families survive and get through the depressing situation.
To address the cry for help of the Filipino people, department secretaries signed the Joint Memorandum Circular (JMC) No. 01, series of 2020 or the "Special Guidelines on the Provision of Social Amelioration Measures by the Department of Social Welfare and Development (DSWD), Department of Labor and Employment, Department of Agriculture, Department of Finance, Department of Budget and Management, and Department of the Interior and Local Government to the most affected residents of the areas under enhanced community quarantine".
In DSWD, a social amelioration program was created to help families whose jobs or livelihoods have been severely affected by the implementation of the community quarantine. This measure was called the Livelihood Assistance Grant (LAG) – a livelihood financial assistance provided to families who are qualified as low-income households. LAG was implemented under the Sustainable Livelihood Program (SLP) – the Agency's core program focused on the provision of livelihoods to poor, vulnerable, and disadvantaged communities.
In Barobo, Surigao del Sur, many families were able to benefit from this program. These families proved that with the combination of opportunities and the right amount of patience, hard work, and perseverance, a person is capable of recovering and restoring their life.
Faith over fear
Jenalene Panquico, a resident of Barangay Poblacion, Barobo, sells fish for a living. Fish vending was their family's major source of income. But when people were instructed to stay at home to avoid getting the COVID-19 virus, Jenalene had no choice but to temporarily stop selling.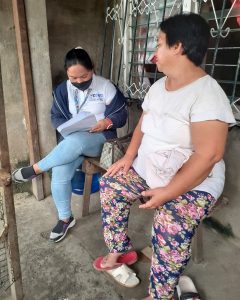 This became a huge obstacle for her and her family. They had a hard time meeting financial obligations – which also includes putting food on the table. Jenalene remembers borrowing many from many people just to get by.
"Pag-declare sa lock down, naka-experience gyud mi og kalisod sa akong pamilya tungod kay dili mi makagawas ug makapamaligya og isda sa kalye. Nagkautang-utang mi para sa among pang adlaw-adlaw nga panginahanglanon sa akong pamilya (When [the government] declared the lock down, my family experienced difficulty because we couldn't go outside of the house and sell fish on the streets. We had many debts just so we can buy our family's everyday needs)," Jenalene shared, as she recalls their experience.
Despite their tough situation, Jenalene never stopped praying and hoping. She knew that her faith will lead her to something good. She thought that her family has already survived many stressful events and no pandemic can falter her faith. Fear had no room in her life.
True enough, Jenalene's positivity and faith paid off when their household was deemed as one of the eligible beneficiaries of LAG. On December 11, 2020, she received PHP 15,000 as a seed capital fund.
Fortunately, when she received the said assistance, fish vendors were also allowed to vend and display their fish products again. Without second thoughts, Jenalene immediately used the grant to buy fish that she can resell and display.
Now, Jenalene has already been able to earn from her restored livelihood. They were also able to settle their debts through her small livelihood's sales.
"Nalipay gyud ko nga nakadawat ko aning LAG gikan sa DSWD-SLP. Nakabalik jud mi sa among panginabuhian nga fish vending ug hantod karon, nagpadayon pa gihapon kini nga panginabuhian (I'm very happy that I received the LAG from the DSWD-SLP. Through this, we were able to have our fish vending business again and until now, our business is still thriving)," she said.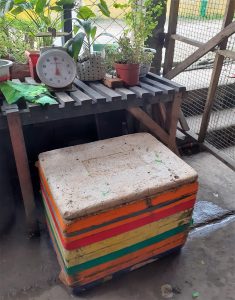 Unexpected blessing
Providing for their family wasn't a burden for Roberto and Cheery Mie Catarman of Barangay Tambis, Barobo. The family owns a tricycle, which they use for passenger transport services, and a small sari-sari store. With their two livelihoods, income was always good and sufficient for them.
But this changed when the municipality imposed the enhanced community quarantine. Although their store didn't really close, sales decreased because people couldn't afford to buy goods anymore due to the loss of jobs too. Left with no choice, Roberto and Cheery Mie also had to get their needs from the store. To make matters worse, the couple also had to borrow money from friends to provide for their children's other needs.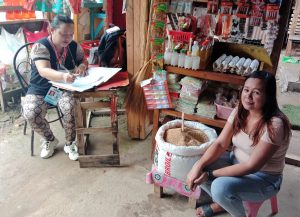 It was a hard season for Roberto and Cheery Mie's family. But the couple knew they needed to stay strong for their children.
Then one day, the couple was informed that their family was one of the identified beneficiaries of the livelihood assistance from DSWD-SLP. Roberto and Cheery Mie felt huge relief when they heard this. On December 13, 2020, Roberto received the grant amounting to PHP 15,000. The couple decided to use it to buy supplies for their store.
Three months after they received the assistance, the Catarman family's living condition improved significantly. Their income helped them pay their loans and purchase assets like appliances. Cheery Mie also shared that their small sari-sari store had already paved way for them to have a total savings of PHP 13,118.53.
"Dili gyud namo sayangan ning tabang nga gihatag sa amo sa gobyerno pinaagi sa DSWD-SLP. Usa gyud kini ka blessing para sa amoa (We'll make sure not to waste the assistance extended to us by the government, through the DSWD-SLP. This is truly a blessing for us)," Cheery Mie elatedly shared.
Rehabilitating livelihoods, restoring lives
Jenalene, Robert, and Cheery Mie continue to work hard today to make sure that their livelihoods will grow and become more stable. They desire for their respective livelihoods to boom and be of help not just to their families, but to serve as an inspiration for others not to lose hope in the midst of any circumstance or struggle.
These beneficiaries remarked that they will be forever grateful to the hands that helped them rehabilitate their livelihoods and restore their lives.