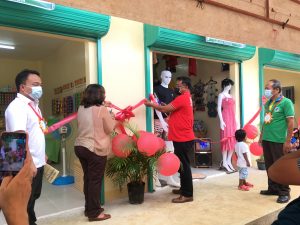 Dapa – After the groundbreaking ceremony and signing of the memorandum of agreement last August and September, respectively, the Department of Social Welfare and Development (DSWD) Field Office Caraga and Local Government Unit of Dapa turned over the 1-storey Sustainable Livelihood Program (SLP) Livelihood Center to four SLP associations in Dapa, Siargao Island, Surigao del Norte on November 18.
Funded through the DSWD-SLP, the Dapa Livelihood Center is a 190 sq.m. infrastructure project located at Sitio Daru, Barangay 2, Dapa that will serve as the new home for the livelihood projects of the Dapa SLP Federated Pangkabuhayan. The said federation is composed of the following associations: Subangan Daylight Store SLPA, Ten Paint Center and Supplies SLPA, Dose Mini Mart SLPA, and Cabatuhan Rice Trading SLPA.
The livelihood center will be housing the aforementioned associations' livelihood projects such as ready-to-wear (RTW), meat and frozen products, general merchandise, and rice trading.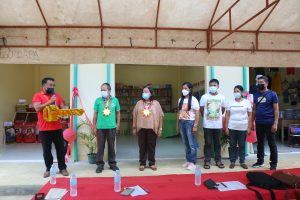 The DSWD-SLP deposited a total of PHP1,982,702 to the savings accounts of the recipient associations to establish their respective livelihoods. From the said amount, PHP 900,000 was allocated for the construction of the livelihood center.
On behalf of the Dapa SLP Federated Pangkabuhayan, Federation President Celia Mantua shared her gratitude and joy to the DSWD-SLP and the LGU Dapa for being the major contributors to realize this project. She said that the center will genuinely be of great help to them and to their livelihood.
"Daghang salamat gyud sa inyong tabang ug pagtrabaho aron matukod ni nga center. Naghinaot mi nga tungod ani nga center, mas mulambo pa ang among mga livelihood inubanan sa among pagtinabangay ug paningkamot (Thank you very much [to DSWD-SLP and LGU Dapa] for all your help and hard work to build this center. We're hoping that through this center – together with our effort and collaboration – our livelihoods will prosper)," Mantua expressed.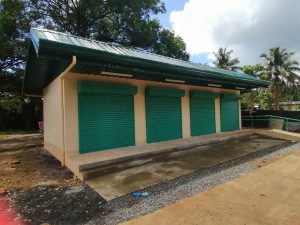 The launching activity was attended by OIC-Asst. Regional Director for Operations Jean Paul Parajes and Dapa Mayor Elizabeth Matugas. They were joined by SLP Regional Program Coordinator Mary Ann Manla, Financial Management Division Chief Asuncion Flauta, and Provincial Administrator Lauris Congeso. Staff from the MSWDO Dapa, DSWD-SLP, and Sangguniang Bayan members witnessed the activity as well.